---
February 5, 2014 3:19 PM
The Cisco Learning Network's got a "Military" web page set up especially for transitioning or ex-military personnel, with some interesting info, and pointers to some "Special Military Programs." These are worth investigating, not just because of the specific Cisco-oriented information they provide, but also because they make mention of specific military operation and service codes that map readily into civilian IT jobs.

Though not all vets and transitioning military may want or need to pursue Cisco certs per se, these Cisco resource provide useful info and pointers.
Under a heading of "Special Military Programs" readers can learn more about the Joining Forces Initiative and the Michigan Shift Careers: Networking Certifications Program for Military Servicemembers. The former is particularly interesting because it maps the career designation "Network and Computer Systems Administrator" to the following table of Military Operation and Service Codes:

Each of the major branches of the military has codes that map into network/systems admin training — and jobs.
Even for those who may not be interested in pursuing Cisco credentials (perhaps they're more inclined to chase down Juniper or Fortinet stuff instead, or perhaps they'd rather dig into Red Hat or other Linux sysadmin credentials), these mappings are still useful to help them figure out how their military MOS codes might lead them into network and systems administration jobs in IT.
February 3, 2014 2:35 PM
In poking around the Born to Learn blog this morning, I discovered a TechNet page entitled "E-Book Gallery for Microsoft Technologies." The blurb for the page reads "Download content for ASP.NET, Office, SQL Server, Windows Azure, SharePoint Server and other Microsoft technologies in e-book formats. Reference, guide, and step-by-step information are all available."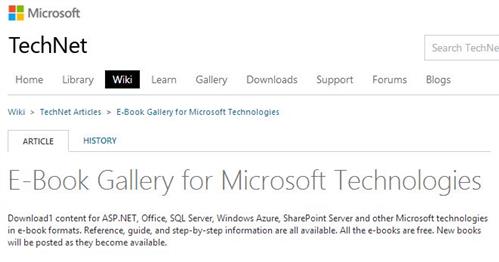 The header for this TechNet Wiki page precedes a massive collection of free e-books and other great reference and learning material.
Originally posted in June 2012, the listing was most recently updated last Friday (1/31/2014) and now also includes information on Lync Server, System Center, Visual Studio, Windows 7 and 8, Windows Phone, Windows Server 2012, and even Career advice. There are over 100 free downloadable items here, including at least a dozen lengthy reference guides for most of the platforms covered. It's a real treasure trove of free material, much of it suitable for exam preparation or basic learning for IT pros. Be sure to check it out yourself, and take advantage of such items as may interest you. Amazing!
---
January 31, 2014 4:14 PM
I love finding surveys, stats, and wish lists related to IT jobs and certifications. They're always interesting, they often have useful things to say, and there's always a catch (or two) involved in interpreting their proclamations. The ITBusinessEdge slideshow entitled "Twenty IT Certifications Project to Make Pay Gains in 2014" is no exception. It's based on Foote Partners Q4 Update to its 2013 Skills Demand and Pay Trends Report (which is actually based on results for Q3 2013, and covers 348 noncertified IT skills along with 293 IT certifications). The big takeaways from that report were that (a) average page for noncertified IT skills increased by a niggling 0.4%  that quarter, up by 1.8% over the previous year, and (b) that average pay for IT certifications were up by 1.5%, the biggest jump since 2005, and the first time since 2006 there had been two consecutive positive quarters in this area.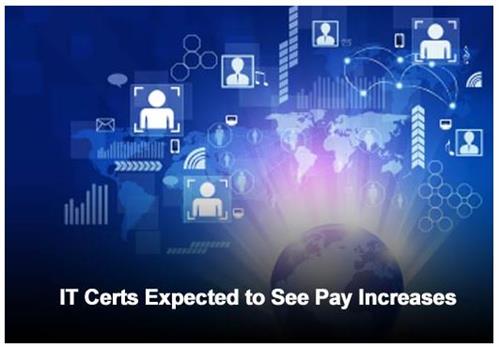 The lead-in slide from the ITBusinessEdge story sets a somewhat breathless tone for the 20-cert lineup that follows.
The slideshow proceeds to list the following 20 IT certifications where pay hikes have been highest, or where demand is strongest (and thus most like to command higher pay for entrants and bigger raises for those already in the game):
ITBusinessEdge/Foote Partner's 20 Raise-worthy IT Certs for 2014
Name
Acronym/Link
Sponsor
Certified in Risk and Information Systems Control
CRISC
ISACA
Certified Wireless Security Professional
CWSP
CWNP/Planet 3
Certified Wireless Network Expert
CWNE
CWNP/Planet 3
GIAC Certified Forensic Analyst
GCFA
SANS/GIAC
GIAC Certified Intrusion Analyst
GCIA
SANS/GIAC
HP Accredited Solutions Expert (All)
HP ASE
HP/ExpertOne
HP Master Accredited Solutions Expert
HP MASE
HP/ExpertOne
HP Master Accredited Systems Engineer
HP Master ASE
HP/ExpertOne
Information Systems Security Engineering Professional
CISSP-ISSEP
ISC-squared
Microsoft Certified Architect
MCA
Microsoft (retired)
Microsoft Certified Solutions Master
MCSA
Microsoft (retired)
Open Group Certified Architect
Open CA
The Open Group
Open Group Certified Master Architect
Open CA
The Open Group (up-level from Architect*)
Oracle Certified Expert MySQL 5.1 Cluster Database Administrator
OCE
Oracle
Oracle Certified Professional MySQL5 Database Administrator
OCP
Oracle
Oracle DB Administrator Certified Master
OCM
Oracle (various available for different DB versions)
PMI Risk Management Professional
PMI-RMP
Project Management Institute (PMI)
Program Management Professional
PgMP
Project Management Institute (PMI)
Red Hat Certified Architect
RHCA
RedHat
Teradata 12 Certified Enterprise Architect
None
Teradata
Here's what's interesting to me about the results of this survey:
1. Two of the credentials mentioned are no longer available, and thus useful and meaningful only to those who've already earned them. This shows only the lag between what people have accomplished and what still lies ahead.
2. Information security, aka infosec, remains a pretty strong expertise card to play, with 6 directly related credentials under that heading, and several others including partial or tangential coverage of infosec as well.
3. High level certifications — those with Master, Expert, and Architect in their labels — account for half of the 20 credentials included. These are high- or pinnacle-level certs, and reflect high seniority, serious skills and knowledge, and valuable experience. Such people are at the top end of the salary scale, so of course their raises are going to be big, along with everything else about their positions. But there are relatively few such individuals in the overall IT population (I'm guessing less than 5% for sure, and possibly less than 2%).
That's why I always recommend taking surveys like this one with a healthy dose of skepticism, and suggest they're best used to show trends and possibilities, rather than to provide detailed career guidance (except, perhaps, for those already en route to some of the pinnacle or high-level certs mentioned in the preceding table). Buy this information remains interesting and informative nevertheless.
[*Note added 3/4/2014: Thanks to feedback from David Foote and Aida Zepeda, I am informed that the Open Forum's Master Architect is still available (it just doesn't have a Web page of its own, and functions as an add-on to the base-level Architect credential). In fact there's also a "Distinguished Architect" version of this certification as well, though it's seldom bestowed.]
---
January 29, 2014 2:43 PM
Late last week, MS Learning's "Professional Flash" newsletter featured an interesting offer: 20% off on the costs of exams 70-687 and 70-688. With Microsoft exams at $150 in the USA nowadays, and similar prices elsewhere around the globe, that's a useful savings of $60 or thereabouts for the credential. But in following up on the voucher offer in the e-mail I discovered that even more exams are covered in this Second Shot deal as shown here:
Various Windows Server 2012 and SQL Server 2012 exams are covered, too.
The wording of the offer on the voucher page does seem to contradict the MS offer in the newsletter, so I reproduce that here as well (and for the record it's from the "MCP Weekly Flash: January 23, 2014" in case you need to remonstrate with MS or Prometric about this):

The newsletter clearly says "20 percent discount on exams 70-687 AND 70-688″ so be sure to quote this if you get pushback.
For those pursuing MCSA on Windows Server 2012 or SQL Server 2012, it's still a decent discount on one of the exams involved. But for the MCSA on Windows 8 combining double discount with Second Shot (free retake for those who don't pass on the first try), this offer is pretty compelling. It's only good until May 31, 2014, though (including the proverbial Second Shot exam attempt for all such exams), so you'd better get cracking!
If you'd like to sign up for the "Professional Flash" newsletter, or other MS newsletters, you can do this through your Microsoft profile (here's the "How to Subscribe…" link at TechNet).
---
January 27, 2014 3:14 PM
Thanks to the folks at GoCertify.com, I had a chance to peruse the "Digital Leaders Survey" for 2014 compiled by the BCS aka The Chartered Institute for IT. Based in London, this group's report includes a pool of respondents from around the globe, but over 4 out of 5 of them reside in the United Kingdom. The results of this survey are quite interesting nevertheless.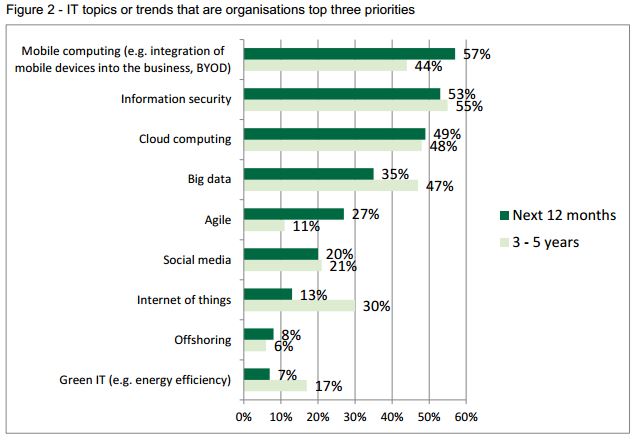 Surveying IT trends and issues from a mix of mostly British firms from around the globe produces some interesting results.
The Top Three IT topics or trends over the next twelve months for organizations surveyed are as follows:
1. Mobile computing (further explained as "integration of mobile devices into the business, BYOD") occurred at the top of the rankings for 57% of the pool, up from 44% looking 3-5 years out
2. Information security stood at 53%, down slightly from 55% looking further out as above
3. Cloud computing at 49%, up slightly from 48% looking out
Other items on the IT radar at the companies surveyed included Big Data (35% down from 47% further out), agile development (27% up from 11% further out), social media (20% down slightly from 21% further out), the Internet of Things (13%, down significantly from 30% further out, as you'd expect), offshoring (6% down from 8% further out), and Green IT (further explained as "energy efficiency"; at 7% down from 17% looking 3-5 years out).
The Top 3 looking 3-5 years out shuffles the following items to the top of this list:
1. Information Security (55%)
2. Cloud Computing (48%)
3. Big Data (47%)
Mobile computing drops to fourth place in the more forward-looking lineup, at 44%. Both the Internet of Things (which jumps from 13% near-term to 30% further out) and green IT (moving from 7% near-term to 17% further out) show the biggest projected increases when the time horizon expands.
The same survey also showed a need for enhanced IT skills among the existing workforce from over half the respondents (57%), a need for additional, suitably qualified IT staff (48%), and increased IT budgets (37%) as the top three gaps in need of closing so as to "address the management issues and IT trends your organization has prioritized." No surprises there, perhaps, though these items do validate the potential utility of high-demand IT certifications, especially in identified "hot areas" — namely, mobile computing, information security, cloud computing and Big Data.
Be sure to check this survey out for yourself. It's definitely worth a look-see.
---
January 24, 2014 2:49 PM
Earlier this week, Cisco announced some changes to its information security certification lineup. They've even put together a landing page entitled "Security Certification Program Redesign," that features a video from John N. Stewart, Cisco's CSO and Senior VP, who explains why Cisco is adding to and expanding its security certification, curriculum, and coverage. He talks about upcoming opportunities in the information security area, especially for qualified IT professionals who have worthwhile credentials to demonstrate their security skills and knowledge. The gist of his message is that Cisco is committed to both security products and platforms and to training to make sure that IT professionals understand information security, and how to put relevant products and platforms to work.

Cisco mounts a full-court press on infosec training and certification, along with a revamped CCNP Security and a new Cybersecurity Specialist cert.
You'll find pointers to all the details on the afore-linked landing page, including:
A link to the CCNP Security home page, along with another link explaining the exams migration path from the old regime to the new and updated one (this PDF chart provides a succinct visual that explains things pretty clearly, though, so if you're in that particular boat this should be your first stopping off point). The extremely brief rendition is that various options in the required areas will be retiring on either April 21, 2014 (642-637, 642-627, 642-618, and 642-648) or on December 31, 2014 (641-502/3/4, 642-532/3, 642-522/3/4, and 642-515), with a new slate of exams to replace them (300-208, 300-207, 300-206, and 300-209). There's even a link to the Cisco Learning Network Store's CCNP Security Training page, which lists all of the various course offerings (including a coupon code for free access to the first module, and a 10%-off code for a subscription to Cisco's entire online learning library).
A link to the new Cybersecurity Specialist home page which takes a CCNA Security or any valid CCIE as a pre-requisite, and requires passing exam 600-199 SCYBER "Securing Cisco Networks with Threat Detection and Analysis." This credential focuses on topics related to event monitoring, analysis of security events, alarms, and traffic analysis, plus incident response concepts, processes, and best practices.
Cisco is apparently ready, willing and even eager to help companies and organization address a looming shortage of infosec-savvy IT professionals with training and certification offerings. And indeed, most analyst firms and infosec professional organizations foresee the same shortage, and all players are no doubt anticipating an upsurge in activity (and certifications granted) to help meet those needs, Cisco among them.
---
January 22, 2014 2:38 PM
Last October, I blogged about free online training for MS exam 74-409 Server Virtualizations with Windows Server Hyper-V and System Center ("MS Offers Free Server Virtualization/Hyper-V Jump Start Class"). That was already a pretty good thing for prospective Hyper-V and Virtualization mavens. Just this morning, I found a post from Veronic Sopher on Born to Learn that adds a free exam voucher for 74-409 to that mix ("Earn Your Microsoft Certified Specialist: Server Virtualization Title with a Free Exam").

If MS was interested in having lots of people take this exam before, they're obsessed with it now!
For those who work with virtualization technologies (or are thinking about doing same), this is simply too good a deal to pass up. Free training + free exam = Free certification. This offer is available through a voucher claim page, but these vouchers must be claimed and the Prometric exam signed up for and taken, no later than June 30, 2014. Time's a wastin! Go grab yours now!!!
The certification you'll receive is called Microsoft Specialist. Though the 74-409 exam doesn't appear on the program's home page, it apparently also confers that same designation. I'm a little curious about why MS found it necessary to add this cert to its portfolio, and to learn where the 74-xxx exam designations came from (some of the exam designations on the afore-linked Microsoft Specialist page use 70-xxx exam, others use 74-xxx, and I'll be darned if I know how or why this happens) . Stay tuned, and I'll report back as soon as I learn more.
---
January 20, 2014 2:55 PM
When I followed up on an interesting Learning New title on the Cisco Learning Network home page this morning, I immediately understood the lead-in "Exam Topics Provide More Clarity Now." Cisco has revamped its detailed exam topic lists to include "weighted percents and additional subdomain detail." In plain English, this means that Cisco is organizing and listing out its exam topics by domain areas in some detail, along with weights to indicate how much of total exam content and coverage is devoted to each domain.
A blurb at the top of the Exam Topics Master List explains the newly-added information and details for all Cisco exam topic lists.
Here's an illustration, from the Cisco 640-722 Cisco Unified Wireless Networking Essentials exam: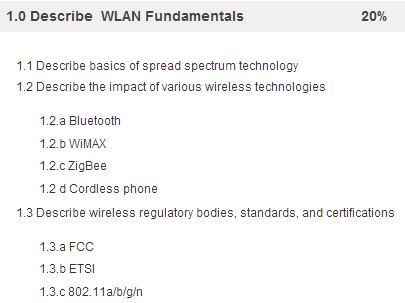 The new scheme shows weighting by domain/category, along with a lengthy and detailed list of subtopics
(information showing is less than 50% of coverage for indicated subtopic).
In general, I'm in favor of anything and everything an exam sponsor can do to shed more light on exam content and coverage. This not only helps candidates prepare for an exam, it also lets those who work with related platforms and technologies assess their exam readiness more directly, and guides them toward topics where they need to focus learning and preparation efforts.
---
January 17, 2014 3:44 PM
Last week, Erika Cravens published a blog post at Born to Learn entitled "MSCA: Windows 8 and MCSA: Windows Server 2012 exams to be updated January 28, 2014." That Tuesday, the MS exams for those two MCSA credentials will add elements to include coverage of Windows 8.1 and Windows Server 2012 R2, both released in October, 2013. Furthermore, the exam pages that relate to each of these certifications now offer downloadable documents that explain what content is changing, or being added or dropped to take cognizance of these new Windows versions. Here's a nifty little table that includes pointers to all this stuff:
MCSA Exam Updates for Windows 8.1 & Server 2012 R2
Exam ID
Exam Title
Update document
70-410
Installing and Configuring Windows Server 2012
.docx link
70-411
Administering Windows Server 2012
PDF link
70-412
Configuring Advanced Windows Server 2012 Services
PDF link
70-687
Configuring Windows 8.1
PDF link
70-688
Supporting Windows 8.1
PDF link
Of course, there are two other exams affected by these changes — namely 70-417 Upgrading Your Skills to MCSA Windows Server 2012 (for those who possess older but relevant Windows certifications that qualify to take this all-in-one exam; see exam page for details) and 70-689 Upgrading Your Skills to MCSA Windows 8 (likewise). But these roll-up exams simply incorporate those from the 70-41* and 70-68* exams listed above, and do not have separate update documents themselves. Instead, candidates for these exams must basically prepare for all the relevant exams listed above, and use the update documents to understand what new or changed content they might encounter.
---
January 15, 2014 8:38 PM
AWS stands for Amazon Web Services, perhaps one of the most popular and widely-used sources for cloud-based services around. Amazon is getting serious about its AWS certifications, and has now laid out a roadmap for its overall certification offerings. Here's what that roadmap currently looks like, straight from the "AWS Cloud Computing Certification Program" home page: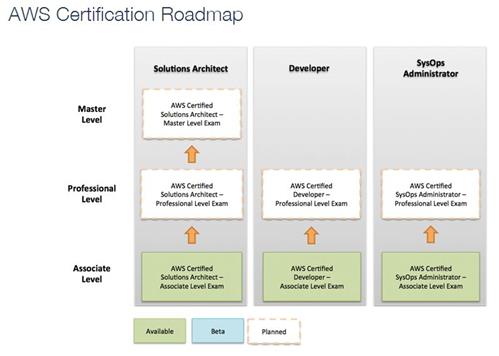 Items in light green are currently available while those in white are in the planning stages right now.
As is so often the case with new cert programs, Amazon's initial salvo is horizontal at the entry/Associate level. With cert categories — namely Solutions Architect, Developer, and SysOps Administrator — they've got three associate level exams with certifications to match:
1. AWS Certified Solutions Architect – Associate Level
A "… candidate has hands-on experience using AWS services to design highly available, cost efficient, fault tolerant, and scalable distributed systems. Candidates have the ability to identify and define requirements for an AWs-based application, as well as follow best practices for building secure and reliable applications on the AWS platform. Single exam, 80 minutes, no prerequisites (Amazon recommends the Architecting on AWS class). An exam blueprint and sample exam questions are also available for exam PR000004.
2. AWS Certified Developer – Associate Level
A "… candidate has an understanding of core AWS services, uses, and basic architecture best practices, as well as proficiency in designing, developing, and deploying cloud-based solutions using AWS. Candidates should have knowledge of developing and maintaining applications written for Amazon Simple Storage Service, Amazon DynamoDB, Amazon Simple Queue Service, Amazon Simple Notification Service,  Amazon Simple Workflow Service, AWS Elastic Beanstalk, and AWS CloudFormation." Single exam, 80 minutes, no prerequisites (Amazon recommends the Developing on AWS class). An exam blueprint and sample exam questions are also available for exam PR000013.
3. AWS Certified SysOps Administrator – Associate Level
A "… candidate has experience provisioning, operating, and maintaining systems running on AWS. Candidates have the ability to identify and gather requirements to define a solution to be built and operated on AWS. Additionally, they can provide AWS operations and deployment guidance and best practices throughout the lifecycle of a project." Single exam, 80 minutes, no prerequisites (Amazon recommends the System Operations on AWS class). An exam blueprint and sample exam questions are also available for exam PR000014.
Amazon has also broken with tradition by adopting Kryterion for exam administration and delivery rather than either Pearson VUE or Prometric. There are now over 150 proctored exam sites up and running, with 3 within 25 miles of my home office. Exams cost $150, payable by credit card or other acceptable means.
Looking ahead, Amazon is obviously working on professional level exams for all three categories, and even a Master Level exam in the Solutions Architect realm. I'm going to chase down the folks at Amazon training and certification to see if I can get some more information about timing, cost, and coverage of the exams and related training costs. Count on me to report back with more details when I've got some to share. In the meantime, it looks like this cert program is off to a very good start.
---