---
May 15, 2012 7:12 PM
A couple of months back (March 20, 2012, to be more precise) I blogged here to report that Cisco-oriented training company INE.com had recognized this blog and my blog for Tom's IT Pro ("Making it in IT") as two of the Top 20 IT Career blogs on the Web. Thus, when another e-mail from INE popped into my inbox late last week, I was both curious and interested to see what it had to say.
Turns out that INE is soliciting entries for its 2012 Scholarship program, which essentially offers 10 full-boat tuition and exams packages for the CCIE Routing and Switching and Voice certifications (details below). The organization will award one scholarship to a person from each of the following geographical regions: Africa, Asia, Canada, Europe, Middle East, North America (US/Mexico), Oceanic (Australia and the islands), and South America. For those who've counted the items in that list (there are only 8), two additional scholarships for CCIE Voice will be chosen from the entire global applicant pool.
Scholarship recipients will receive the following elements, intended to cover CCIE Lab training from start to finish:
   1. 2 year all access pass to all of INE's training videos.
   2. 1500 tokens for rack rentals or mock lab exam use.
   3. CCIE Lab exam voucher (worth $1500 for CCIE S&R, $1800 for CCIE Voice)
   4. A complete set of CCIE workbooks
   5. Live onsite 10-day bootcamp training
INE represents the value of each such package as $12,000. To be eligible to win, candidates must be able to travel, at least 18 years of age, and already have scheduled or passed the CCIE written exam. Because the Lab exam is the biggest hurdle to earning a CCIE, this is a pretty handsome offer, and one that's bound to help its winners earn their CCIEs sooner rather than later.
Find the application form at the foot of the INE 2012 Scholarship Web page. If you're in the running for a CCIE you owe it to yourself to fill out the application form and submit it soon, along with the requested 400-800 word application letter. The sponsors have indicated a range of potential topics for applicants to tackle. Good luck!
May 14, 2012 2:05 PM
BTL stands for Born to Learn, Microsoft Learning's catch-all blog clearinghouse for all things related to training, education, certification, and career development. In the past month, in the wake of the reborn MSCE and MCSA certifications, BTL has launched a dedicated forum area called "60 Days to MCSE." Given that five exams are required for this new credential, I hope it's obvious that this kind of aggressive time line only applies to those individuals who already have an MCITP (or multiple MCTS) credentials, and who simply need to pick up one or two more exams to meet all of the requirements for the newly-relaunched MCSE in one of its subject areas (Business Intelligence or BI, Data Platform/SQL Server stuff, and Private Cloud/System Center 2012).
Even if you're not ready to climb aboard the MCSE bandwagon in a couple of months if you're interested in digging into this newly-revised Microsoft cert program (and the MCSA and MCSD besides), you'll find this online forum worth digging into. There's ongoing status info and updates on the forthcoming MSCA (and I expect news about the MCSD to surface here soon as well), along with three discussion groups for the various MCSE specialties already declared (BI, Data Platform, and Private Cloud), plus general news and information.
In addition, Matt Griffin, an IT blogger based in Indianapolis and driving force behind "Matt Blogs IT" has been blogging about his personal approach to and experiences with 60 Days to MCSE since April 20, 2012. Read his first post from that date at "#60Days2MCSE Challenge – The Plan – The Resources," then follow forward links to learn about his progress from that point forward. Note further that the hash tag in the post title — #60Days2MCSE, that is — is a Twitter handle for the stalwart group of cert-heads who are hell-bent to meet this objective, where you can tune in to hear about their progress, experiences, and bumps in the road to a new MCSE. Matt's initial post also includes a compendium of cert prep resources for the new MCSE that is worth a visit all by itself.
This should be an interesting wave to follow, or perhaps even to surf, if you're so inclined. Lots of interesting stuff going on in the new MCSE/MCSA arena, so be sure to check it out!
Follow-up note: 5/14/2012, 1:14 PM: Thanks to Veronica Sopher of Microsoft Learning, I can also now provide a link to the original "60 Days to MCSE" BTL post. She adds that this is an organic, community-initiated and widely followed group that's working together (and both asking for and getting Microsoft support) to jump on the MCSE certification early. Start your journey at this link, please!
---
May 11, 2012 4:48 PM
I heard a story on NPR morning edition that rocked me back on my heels, HARD. It's entitled "College Grads Struggle to Gain Financial Footing," and its basic point calls on a recent Rutgers survey of former students who graduated between 2006 and 20011 to report that "just half of those grads are working full time" (emphasis mine). Holy cow!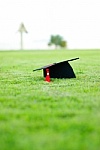 Recent grads face coin-toss odds
The story goes on to report that many recent grads are settling for part-time employment when they can't find full-time positions, and that others often end up taking work outside their fields of study just to generate some income. What makes this situation doubly dangerous, beyond the difficulty of finding work in a slow and tight labor market is the inescapable statistic that many graduates are leaving school with significant student loans to repay following graduation.
The Rutgers study, from the Heidrich Center for Workforce Development there, found that 6 of 10 students who graduate leave school with over $20,000 in debts to repay. Cliff Zukin, a senior research fellow with that Rutgers organization remarks that "there's certainly a suggestion that the American dream has stopped at these guys' doorstep."
More depressing findings from this study include:
half of those grads who do find full-time work are in jobs that don't even require a college degree
the majority of respondents indicate they see no career potential in their first jobs
one-third of recent grads "say they no longer believe education combined with hard work will necessarily lead to success"
To me, that concluding statement is completely antithetical to the American dream as we've always understood it. To counter this kind of despair and ennui, I can only recommend to IT students and pending graduates that they do everything they can to get experience in the field before they graduate–be it through internships, part-time on- or off-campus jobs, and even volunteer work for local school systems, charities (especially Goodwill Industries), churches, and small businesses. This not only gives you something to learn from and practice skills and knowledge on, and something to help add substance to your cover letter and resume when the time comes, but also puts you in contact with people who might point you to, or even offer you, that all-important first job once you graduate.
Many graduates also said they wished they'd done more internships, or chosen fields with better employment prospects, too. I have to believe that IT remains an excellent choice for study, now and for the foreseeable future. I honestly believe that if you do study hard, and take every opportunity to work hands-on with IT, you will be able to corner your own part of the American Dream, whether "survey says" yea or nay when you matriculate!
---
May 9, 2012 2:19 PM
Because Pearson Publishing owns numerous well-known IT certification imprints and also VUE (a major dispenser of IT certification exams at their testing centers), the company can sometimes offer some interesting come-ons to prospective IT certification candidates. This is one of those times, where if you visit the home pagefor the site, then click the right-hand button depicted below, and click the Facebook like button on its landing page, you can register for a contest to win exam vouchers for either Cisco, CompTIA, or Microsoft exams and thee print books to go with them (first prize) or three e-books on any subjects of your choosing (second prize). Three first-place  and seven second-place winners will be selected after June 23, the day this sweepstakes closes.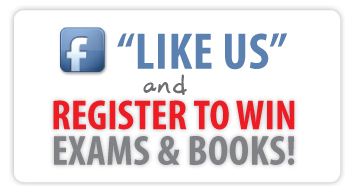 Obviously, the exams involved cover only those from Cisco, CompTIA, and Microsoft that Pearson VUE offers in its exam centers. Also, all chosen print or e-books must come from a Pearson imprint. But because such exams vary between $150 and around $500 in cost, and the books or e-books involved generally retail for $100 or more (for three titles you can easily rack up $180 at MSRP prices), it's still a pretty good prize for providing your name, e-mail address, and your certification preferences. If you've got one of these exams in your future, it's worth the two minutes it will take to register. See the registration form for details, and good luck!
---
May 7, 2012 1:30 PM
HP is putting a large number (66) of its ExpertONE certifications to pasture this summer, with 17 slated for retirement on June 30, 2012, and another 49 on August 31, 2012. You can check the complete list of retired items on the company's Expiring Certifications page, or download a PDF version of this information for offline perusal.
Here's a summary of what's going by the wayside in the company's Professional Career certifications (a lesser but still large number of Partner-only credentials will also retire on those same dates, but I don't cover them here in this blog, though they are completely spelled out online in the HP items linked in the preceding paragraph):
Desktops and Workstations: two AIS and two ASE credentials, all on 8/31/2012 (total 4).
Networking: four Master ASE, five ASE, and one AIS credentials, all on 8/31/2012 (total 10).
Operating Systems: one Master ASE, two CSA, one CSD, and two CSE credentials, all on 8/31/2012 (total 6).
Servers: six master ASE, six ASE, three ASIC, all on 8/31/2012 (total 15).
Software for Business Management: nine ASE, eight AIS, all on 6/30/2012 (total 17).
Storage: three Master ASE, five ASE, four AIS, all on 8/31/2012 (total 12).
Even with all these pending retirements, there are still many credentials left in the HP to choose from. Because their technology base turns over quite frequently, their cert offerings do likewise.
HP Cert Acronym Key (Cert Overview Page)
AIS: Accredited Integration Specialist
ASE: Accredited Systems Engineer
CSA: Certified System Administration (?)
CSD: Certified System Designer (?)
CSE: Certified System Engineer (?)
Master ASE: Master Accredited Systems Engineer
From what I can see and read online the older CS* credentials are on their way out (and I am unable to confirm an official expansion for these acronyms), and look to be replaced by AIS, ASE, Master ASE credentials, along with the the addition of Accredited Technical Associate (ATA) entry-level credentials through a new partnership with Certiport to support and test for ATA credentials.
---
May 4, 2012 4:27 PM
OK, it's the Friday of the month when the US Bureau of Labor Statistics releases its Employment Situation Summary, this time for April 2012. This one is something of a mixed bag, because while it once again shows modest improvement — an uptick of 115,000 jobs, in fact — that improvement is even more modest than the 120,000 uptick originally reported for March 2012. That number, in fact, has been revised upward to 154,000 as of this latest summary, and partly as a consequence of that revision overall unemployment takes a dip from 8.2 to 8.1 percent this month. The other notable revision is for February, 2012, which was retroactively raised from 240 to 259 thousand jobs as well. But the overall emphasis in this report is best summed up as "little change across the board."
A follow-up story from Employment Screening Resources dated this morning makes some interesting observations, however:
Professional and business service jobs are up by 62,000 in April, an increase of 1.5 million jobs since these categories hit their low points in September of 2009.
Retail employment is up by 29,000 jobs for April, with most of those additions (21,000) in general merchandising outlets.
Leisure and hospitality and health care each added about 20,000 jobs in April (with most of the health care positions — 15 of 19 thousand — going to ambulatory health care jobs for home health services or in private physician-owned medical practices)
Manufacturing experienced an even smaller bump of 16,000 jobs in April, while mining and logging, construction, wholesale, information, finance, and government were flat. Only transportation and warehousing lost jobs in April, to the tune of 17,000 positions.
Given the recent reduction in the pace of recovery, some charting experts believe that it might presage an actual down-turn in the economy. For example, you can find an interesting argument for this at Abigail Dolittle's blog "Charting the Employment Situation" (be sure to click the PDF symbol at the upper right, to see the charts discussed herein, or you'll be as nonplussed as I was before I finally figured that out). If you do look at this blog in PDF form, you'll see some very suggestive and visually compelling signs that there may be some bumps in the road to recovery ahead. This will make next month's numbers for May, 2012, particularly interesting and compelling to watch.
In the meantime, cross your fingers, and hope for the best!
---
May 2, 2012 1:35 PM
These are unquestionably boom times for wireless networking, so it stands to reason that wireless networking jobs are also on the upswing. That helps to explain the likewise burgeoning popularity and reach of the Certified Wireless Networking Professional (CWNP) certification program, which now even features  a Twitter jobs feed (@CWNPJobs, which lists 20 open positions for the period from 4/30 through 5/2/2012).
But wireless technology keeps changing all the time across the board, what with faster WLAN technologies on the way (802.11ac, for example, with its 1 Gbps speeds) as well as a rapidly expanding wide-area wireless networking infrastructure through such technologies as WiMAX, and LTE which are moving into true fourth generation (4G) capabilities around the world. That's undoubtedly why Planet3 Wireless (the company behind the CWNP program and its content) is revving the Certified Wireless Network Administrator (CWNA) exam in a couple of days, from version PW0-104 to PW0-105 (which also happens to be this cert's Pearson VUE exam code as well).
Next week, on May 8, 2012, long-time certification study guide publisher Sybex (now an imprint of J Wiley & Sons) will also release the first study guide for this new exam: CWNA: Certified Wireless Network Administrator Official Study Guide: Exam PW0-105(David D. Coleman and David A. Westcott, ISBN: 11812779X, 768 pp, paperback, list $59.99, Amazon: $37.79). It won't be too long before other publishers follow suit, and offer competing products for the new CWNA exam, either, and the usual other supporting materials — practice exams, flash cards, and so forth — are sure to hit the market soon, too.
The old exam will remain live through then end of July (7/31/2012) so those prepping for the PW0-104 version still have some time to finish prepping for and take this exam. But after that, it's PW0-105 all the way!
---
April 30, 2012 3:36 PM
In the last couple of weeks, Cisco has changed its cert program to retire some credentials primarily aimed at individuals who work (or want to work) for service providers, while introducing new credentials to round out this part of their program and to take their place. Thus on April 18, the company announced the retirement of the Cisco Certified Internetwork Professional (CCIP), while at the same time announcing the launch of Service Provider and Service Provider Operations versions of its primary credentials, including CCNA SP, CCNP SP, and CCIE SP, plus CCNA SP Ops, CCNP SP Ops, and CCIE SP Operations.
The CCIP will no longer be available as of October 29, 2012, so individuals who wish to earn this credential had best get a move on to get the exams taken and passed in the 6 months that remain as I post this blog. For those already in pursuit of CCIP who'd like to switch over to CCNA SP, there's a Migration Tool that explains what exams you can count toward the new credential, and what other exams you'll need to take to qualify as well.
As far as I can tell, the primary distinction between plain-vanilla "Service Provider" and "Service Provider Operations" (aka "SP Ops") credentials in the three major Cisco certs (CCNA, CCNP, and CCIE) deals with designing, implementing, installing, and optimizing carrier-grade IP next-generation networks (plain vanilla) versus day-to-day operations issues on such networks, including isolating network performance issues, implementing proactive fault measures using ops management techniques, and working with network management and monitoring on service provider networks (service provider operations).
Should be interesting to see how all this pans out. There must be a lot of work available to help run service provider networks and backbones, because Cisco's going all in on these new credentials!
---
April 27, 2012 5:17 PM
A recent training and certification vendor survey from Global Knowledge (with Website TechRepublic) and a Gartner survey on IT spending both dispense some rays of welcome sunshine on an otherwise cloudy economic landcape for the industry. I'm talking about these items:
Taken together, we can construe these surveys to represent good news for IT workers, both at home and abroad. Please read on for some highlights … and for my speculations as to why you can read these reports in somewhat less rosy terms if you like!
2012 IT Skills and Salary
High points from the survey include a jump of 17 percent in job satisfaction among survey participants, up from 43 percent in 2011 and 40 percent in 2010. Interestingly, the survey also showed that those who trained in 2010 made 8.6 percent more in 2011 than those who did not, where over half (65 percent) of respondents also reported earning some kind of certification in the past 5 years. And half of all managers reported that "their staff was more effective or significantly more effective on the job after receiving a certification" up from 35 percent in 2011.
Pay news is trending up but with some interesting wrinkles. 63 percent of survey respondents report receiving a raise in 2011, but the probablility of getting a raise decreases with salary, so that lower-paid professionals were less likely to get a bump in their paychecks than higher-paid ones, with a $60,000 salary marking the line between those two pay categories. I read this as less than great news, though not exactly bad, because it indicates that roughly 2 out of 5 IT workers got no raises in 2011, and because of the income distributions also reported, most of them probably didn't make that much to begin with!
IT Spending Around The World
The headline from this Gartner story that caught my eye was "Emerging markets will generate $1.22 Trillion in IT spending in 2012…" This includes emerging economies in Asia/Pacific, Latin America, the Middle East, Africa, and Central and Eastern Europe, leaving out Australia, Hong Kong, Israel, Japan, New Zealand, Singapore, South Korea, and Taiwan. The so-called BRIMC countries (Brazil, Russia, India, Mexico, and China) will represent half of that outlay, with the rest ranging from a high of $496 billion in emerging Asia/Pacific countries, to a low of $158 billion in Eastern and Central Europe (a much smaller, less populous geographical region, to be sure).
However rosy this kind of spending outlook might be, Gartner also leavened these enormous numbers with some cautionary prose: "IT spending caution will be a constant in 2012, suggesting IT sales will be more challening than in 2012" said Luis Anavitarte, Research VP and head of emerging markets at Gartner. But IT budget increases are expected in this sector of the world economy, whereas IT spending in the developed world is likely to remain flat.
Before hungry IT job-seekers start making plans to relocate, ponder the relative standards of living between the developed and developing world, and the much lower salaries common in these relatively booming sectors. If entry-level folks in the USA are not getting raises as much or as often as their more highly-paid colleagues, at least their base pay is significantly higher, even than it would be in the BRIMC countries.
---
April 25, 2012 2:23 PM
Last month, Microsoft announced recipients of 13 scholarship awards from a global collection of countries as part of its Twenty Years of Learning and Certification extravaganza, which runs for all of 2012. Lutz Ziob, General Manager of MS Learning (abbreviated MSL) teamed his organization up with the Microsoft Developer and Platform Evangelism (DPE) organization to get behind awards to students from 13 different countries: Canada, China, Columbia, France, Germany, India, Latvia, the Netherlands, the Philippines, South Africa, the United Kingdom, and the United States.
You can read all about this program and its beneficiaries in Microsoft's DPE MSL Scholarship blog (and you can benefit from my legwork to understand that MSL means Microsoft Learning and DPE means Developer and Platform Evangelism organization, both of which acronyms had me initially scratching my head). The scholarship recipients in the various countries were chosen by a committee of representatives from DPE and MSL, and were selected based on a combination of need, circumstances, and ability from a pool of candidates nominated from global Gold Certified Learning Partners over a five week nomination period (most likely some time in 2011, based on the awards made). Reading over the stories about scholarship recipients from the various countries represented, you get a strong sense that all of these men and women overcame some serious adversity to find their way into Microsoft training and certification, and that their selection is going to have a major impact on their future lives and careers.
So what exactly did Microsoft contribute to grant these scholarships? I posed that question to Lorna White, who works for Microsoft Learning with the press and industry analysts. She informed me that every sponsoring Learning Partner received $5,000 to apply toward each winner's formal course plan of training and certification elements, along with a $1,500 per-person hardware fund to purchase computing gear for every winner as well. The money came from Microsoft as a cash grant to help each winner achieve his or her training goals and objectives.
I think this is a great program, and have to applaud MS for the over $70K they put into funding it. Of course, it would be even better if more funding were available so that more deserving and financially disadvantaged students could benefit from their largesse. I'm sure that for every candidate chosen to win, there must have been numerous other equally deserving individuals who could also have used some help of this kind. Hopefully, this program will continue, and others will be able to partake of its support in the future.
---