---
November 12, 2012 4:15 PM
According to Brett Lovins 11/9/2012 Community Cafe blog over on the Cisco Learning Network (entitled "How to Prevent Procrastination"), Cisco has just posted the sixth and final installment of its "Cisco Exam Preparation – Studying for Results" Learning Series online. This free series of online video-based lectures comes from Dr. Stephanie Burns, and aims to provide interesting answers to this question: "How can people get the most our of their learning efforts as they strive for Cisco Certifications." Dr. Burns has her PhD in Adult Learning, and bases her materials on her studies of the habits and strategies that accomplished and successful cert-holders use to achieve their learning goals. This makes for very nicely targeted materials that zero in on best study habits and practices that should also be strongly correlated with positive outcomes on cert exams, too.

A list of titles for all six parts of this series is pretty illustrative of its contents, each of which offers anywhere from four to seven self-contained video "lessons" that run from 4.5 to almost 14 minutes in length (for complete information click the "Show Titles" link after any of the six parts on the series' home page):
Part One: Techniques for Making Learning Memorable 
Part Two: Learning from Text, Formally Known As Reading 
Part Three: Getting the Most from Text – New Words, Terms and Acronyms 
Part Four: Getting the Most from Diagrams – Images, Flow Charts, Topologies 
Part Five: Getting the Most from Lectures – Live or Recorded 
Part Six: Overcoming Procrastination and Myths
This stuff is well worth digging into, even if your interests lie outside the Cisco certification world. Though the examples and illustrations are all perforce drawn from that world, the information, tips, and best practices it covers apply to just about any cert program around. Be sure to check it out: good stuff!
November 9, 2012 4:20 PM
In my capacity as an IT certification guy, I'm often asked to research and opine on hot new emerging job categories, rife with opportunity for employment and possibilities for growth. One topic area or job specialization that keeps popping up on that radar is mobile app development — which is probably best understood as including software design, engineering, development, testing and maintenance of mobile applications for platforms such as Android, iOS, BlackBerry, Symbian, and even Windows Phone (aka Windows Mobile). This is indeed an area that's exploding with opportunity and job potential, and also presents outstanding prospects for future career investment, growth, and advancement.
But when you look around at the infrastructure that supports this subject area, it's not as well-developed or fleshed out as one might wish, nor certainly as much as one might expect given the hype and furious activity ongoing in the whole mobile app marketplace. You can get an excellent sense of the current status quo at ITCareerFinder where there is a series of Web pages devoted to Mobile Application Developer as one of the IT Career Paths documented on that Website. It also includes the inescapable and breathless prose so often used to describe this area such as
Businesses, consumers and programmers have embraced this innovative content, making mobile application developer one of the most demanded and fastest growing IT careers for 2012 and beyond.
But even though you'll find a sizable number of academic and for-profit training programs documented there, you will find what can only be described as "slim pickings" when it comes to relevant IT certifications that target mobile application development. In fact the site documents a pretty paltry list of entries, as follows (in fact, the ESRI offerings are mine own, plucked from a search at GoCertify.com):
Overall, this paints a pretty dismal picture: only 7 credentials, with three of them already retired. Is this a snapshot of a growing and emerging field, or an old and fading scene? Fortunately this snapshot turns out to be terribly misleading: there is a lot of new stuff waiting in the wings to be released where mobile app certification is concerned. CompTIA is working with industry specialist firms on a number of mobile oriented credentials (I'll be talking to their mobile guy next week and report in more detail on what's up there shortly thereafter). Microsoft also plans to offer credentials for the Window 8 Phone environment (more on that soon, too, I hope). I'm sure other things are also in the offing because this industry niche is already too hot to stay quiet for long. If you know of something I've overlooked or haven't mentioned, please drop me an e-mail to share what you know.
[Sidenote added 11/12/2012]This morning, Certification Magazine reports from the Robert Half 2013 Technology Salary Guide that "U.S. starting salaries for technology positions in the coming year will show the largest increases among all field researched." And guess what? They also report that "Mobile application devleopers will see the highest increases (average of 9 percent), as companies look for people to help them build business using mobile media." I've got to be correct in assuming that mobile development training and certification offerings should also start popping up soon, like mushrooms after the rain, don't you think?
---
November 7, 2012 2:37 PM
The MS Virtual Academy strikes again. Thanks to a recent blog post on Born to Learn by Veronica Sopher, I uncovered the item about the "Developing HTML5 Apps Jump Start" in the MS Virtual Academy pages. There you'll find a link to register for the free Jump Start training class, and the voucher code HTMLJMP that you can use to cover the costs when you visit Prometric to sign up for the 70-480 exam: Programming in HTML5 with JavaScript and CSS3. This exam normally costs $150, and counts toward the MCSD: Web Applications and the MCSD: Windows Store Apps certifications. Here's a snazzy graphic that explains the whole shebang:
 Or, if you prefer, you can visit this Facebook page to sign yourself up. If you're at all interested in HTML5 and anything related to the new Windows Store apps UI (the interface formerly known as Metro, or TIFKAM as I sometimes call it), this is simply too good a deal to pass up. Free is good, interesting and useful skills and knowledge even better.
---
November 5, 2012 5:27 PM
This morning, in reading over a blog post entitled "Get ready for the coming employment roller coaster" by Mark Thiele, VP of Data Center Tech at Switch (that's the company that operates the SuperNAP data center in Las Vegas, NV) , I was reminded of the title of my blog for today. It goes all the way back to 17th century French author, François de la Rouchefoucauld, and was probably not the first time this general principle of life was enunciated, either (the translated version of his epigram is usually rendered as "The only thing constant in life is change"). Nevertheless, Thiele is quite accurate to observe that the increasing pace of turnover for skills and knowledge in IT — and the ever-faster introduction of new tools, platforms, and technologies for which new skills and knowledge must be acquired — should be a cause of concern for all those who work in IT, as well as those who hire them (especially HR professionals) and employ them (especially companies whose core competencies revolve around IT).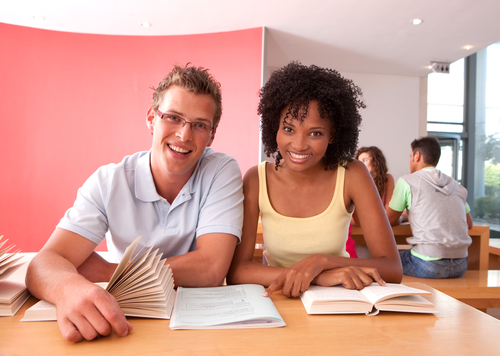 Everybody must hit the books from time to time to keep up with constant change in IT.
[Credit: Shutterstock business image 29694253.]
One of Thiele's major points is enunciated as follows: "I believe we are rapidly approaching a point where 15-30 percent of our work force could be 'worked' out of a job in any given eight to ten-year period." Translated from the percentage to numbers, he goes on to say "that would mean up to 45 million Americans looking for replacement roles in any ten-years span." Major turnover in the overall workforce redounds likewise onto IT, which could see 4.5 to 12.5 million IT services or operations oriented workers likewise affected.
This is profoundly and inarguably true, simply because of the speed with which new technologies are replacing old ones. Thiele's own primary field — the data center — is itself a relatively new phenomenon that burst into consciousness as one of the more enduring — and positive — legacies of the dotcom bubble-and-bust of the late 1990s to early 2000s (roughly 1998-2001). And if we look at the changes in technology, scale, and virtualization that have occurred only since 2000, it's easy to see tremendous, constant, and relentless change and evolution advancement in this field ever since.
Thus, Thiele's point is a very good one: that IT workers, HR professionals, and hiring organizations all need to become sensitive to the need for regular turnover in knowledge and skills, and to pick up their parts in doing so. Workers must plan for a career of continuous learning, where it's a routine matter to identify, pursue, and acquire new skills and knowledge over the course of their working lives. HR professionals must inform prospective job candidates in IT (and other fields) that their ability to learn and absorb new tools and technologies is as important, if not more important, than what they already know (and the longer the time horizon, the more important this capacity becomes). Organizations that hire IT professionals — and which ones don't nowadays? — must also place value on learning and technical master abilities, and be prepared to invest in employee's maintenance of fast-changing technical competencies while also funding ongoing acquisition of new skills and knowledge as well.
Where Thiele loses me in his discussion is when he puts on his management hat, and shows off his philosophy regarding IT workers themselves:
"…employees also have a role to play. Instead of whining about how hard it is to find another system admin job or a manufacturing line operator position, take responsibility for developing your career and working with your leadership to be prepared for what's coming. Keep up your education current through any processes available, from night classes to cross training, industry participation and reading. As employers we need to take more interest in how well our employees are being developed so that they area a greater enabler to our success."
I guess what gets me about his sentiments here is the "whining" part. I don't disagree with his call for employee action or concerted effort, but his tone is a little too strident. Indeed, it is important to keep one's skills and knowledge current, be it through continuing education (and here, to my way of thinking, IT certification has a positive and valuable role to play), as well as proactive research and learning and keeping up with the states of those arts of greatest on-the-job and technical interest. Perhaps if Thiele followed his own advice and took "more interest in how well our employees are being developed" he'd understand that what may sometimes sound like whining is just a very human and entirely understandable concern about being left behind, or rendered unemployable, when the employers' intent to continue to invest in employees' skills and knowledge may not be clearly articulated, well understood, or granted funding to match this entirely laudable rhetoric.
One thing IS for sure, though — and I cannot disagree with Thiele on this any more than you probably can — those who invest in learning to acquire more (and new) skills and knowledge will remain more employable, and come out ahead, when compared to those who choose not to make such investments. Doesn't matter if they're IT people, HR professionals, or executive staff at some company or organization, technology-focused or otherwise. The change keeps coming, and we must all strive to keep up!
---
November 2, 2012 2:55 PM
It's the first Friday of the month: time for the regular report on the preceding month's employment numbers from the US Bureau of Labor Statistics (an arm of the US Department of Labor). And in a time where ups and down are often too much the norm, this report maintains a trend it's shown for the past year and more. The private sector added 171,000 jobs in October, and the monthly average so far for 2012 has been 157,000 (it was 153,000 for 2011). If anything, the numbers are slightly ahead of the steady, monotonous, and vexing "slow growth mode" that's persisted since the beginning of 2011. But at only 8.9% higher than that admittedly low average growth rate, it's really nothing to crow about, either.
Where the IT/information sector is concerned, there's not much news either: the summary reports that employment rates for this industry sector (plus wholesale, transportation and warehousing, financial, and government) "…showed little change over the [preceding] month." So the hunker down mantra I've been repeating steadily for the past couple of years appears to be keeping its currency, and we're not likely to see any dramatic changes any time soon, no matter which of the two presidential candidates finds himself scheduled to take possession of the White House early next year.
I did see at least one faint glimmer of hope in the latest employment numbers, though they could easily pre-sage a period during which "things must get worse before they can get better" — namely part-time workers and the category known as "persons marginally attached to the labor force" (those who are unemployed or under-employed). The number of part-time workers "for economic reasons" (aka "involuntary part-time workers" who take as many hours as they can get part-time when they can't find and fill a full-time position) dropped by 269,000 to 8.3 million in October, helping to offset a big increase of 582,000 in September. This is one tangible and reasonably sized indicator that employers are at least adding more part-timers, even though the floodgates for increased permanent staff hiring may still be mostly closed. Let's hope these numbers continue to bounce (as they almost always do in November, in anticipation of the holiday shopping season), and that permanent job hiring rates will increase next year, too.
---
October 31, 2012 2:50 PM
Folks interested in VMware certification who haven't visited its related Web pages lately might want to return for a quick visit. That's because there have been some big changes to its programs and offerings, as acurrent (as of 10/31/2012) list of certifications will attest. First I show you their new certification roadmap, then I regale you with HTML lifted from the VMware site (slightly edited for validation and minimum whitespace):
Datacenter Virtualization
Cloud Application Platform
Earning the new cloud-related credential — namely the VCP-Cloud that appears in the first list heading above — requires candidates either to hold a VCP5-DV credential (what's been known simply as VCP5 until now) and to take an IaaS exam (covered by an optional VMware vCloud: Deploy and Manage the VMware Cloud [V1.5] course), or for those starting from scratch, to take that same course (mandatory) and pass the VCP-Cloud exam (which isn't available just yet).
What's most interesting about the overall line-up is the categories into which VMware is dividing its credentials — namely Cloud, Datacenter, End User Computing, and Cloud Application Platform — and the presence of Advanced and Design Expert credentials that are making their way into the first three of those four categories. VMware appears to be mounting a concerted effort to develop a well-defined cert ladder across the majority of its program silos.
---
October 29, 2012 3:53 PM
I finally got a chance to talk to a couple of folks in MS Learning last Thursday, about the new MCSA: Windows 8 last Thursday, and learned a number of interesting things that I wanted to pass along to my readers. But first, I'm happy to report that both the Windows 7 and Windows 8 MCSA credentials have made it onto the MCSA web page, as shown in this screen capture snippet:
Thanks to MS Learning PR person Megan Kahn, I met with Jim Clark — a Product Planner at MS Learning — and Shelby Grieve — Director of Microsoft Certifications — to talk about what's up with the newly-completed MCSA: Windows 8, and about MS Learning's thoughts and plans for its desktop credentials. The biggest piece of information I can report from this encounter is that there are no current plans for a purely desktop-focused MCSE. In other words, there will be no MCSE: Windows 8. Instead, MS Learning views the MCSE: Desktop Infrastructure as the logical successor to both the MCSA: Windows 7 and MCSA: Windows 8, as its Windows Client Certification web page clearly depicts:
Looking ahead, in fact, MS Learning views the cloud as the predominant source of client connections into MS networks and services, which means that desktop clients occupy the stage by themselves any more. As Ms. Grieve put it "we're interested in making client connections to any device, from anywhere that users want to access information and services." Interestingly, this included multiple mentions of iOS (Apple's mobile device OS) during our conversation, as well as Windows desktop and mobile operating systems as well. The idea is to support "distributed IT operations" that are nevertheless centralized because they provide a single, coherent view of clients and servers through a consistent console/dashboard, thanks to System Center, and numerous client and server management tools.
I also learned that the evolution from Microsoft Certified Master (MCM) to Microsoft Certified Solution Master (MCSM) — both of which represent skills and knowledge beyond the MCSE level in the Microsoft certification universe — will enable the company to focus more on solution oriented credentials close to the pinnacle of Microsoft certification. Grieve and Clark also indicated that the company is working to make these credentials more accessible by reducing the costs of entry, and opening more testing locations around the world. The idea is to make it easier and less expensive for interested senior IT professionals to advance to this higher rung of Microsoft certification. It should be interesting to understand what this means as more details become available.
---
October 26, 2012 3:12 PM
Every now and then I find a great certification resource. Even more rarely, I have one tossed into my lap. Thanks to my friend and colleague Anne Martinez at GoCertify.com, I recently learned about Matthew Morris and the resources he has assembled at his aptly-named Website: Oracle Certification Prep. I'm especially happy to seize upon his offerings because although Oracle has a huge footprint in the IT certification marketplace, I probably don't cover them as much or as often as I should. Now, thanks to Matthew's marvelous collection of information, study guides, and so forth, I hope to remedy this occasional oversight on my part, while also helping to spread the word about his efforts to make Oracle certification more sensible and attainable for interested IT professionals.

Gotta love his motto!
Among the many good things Morris has done with his site, those interested in Oracle certification will find the following elements particularly compelling:
Exam Info: Links to all current Oracle exams, with further pointers to Oracle documentation, study guides, resources online and in print, and related articles.
Oracle Certification Sites: This list of Oracle and third-party sites that offer certification information, communities, references, resources, and more appears on the right-hand side of every page on Morris's website.
Study Guides: So far, Morris has written 9 Study Guides for the most popular of Oracle's exam offerings, including lots of SQL and PL/SQL stuff, coverage of Oracle versions 9i and 11g, and Web applications. His books — available in both paperback and Kindle form at great prices — are getting rave reviews from buyers on Amazon, too.
FAQ/Tips: Information about Morris's OCP book series, a comparison against other titles in this area, plus various explanations about their content and coverage.
If you're interested in Oracle certification, this is one site you'll want to visit — and probably also, add to your Favorites or Bookmarks in your Web browser. The best part about his approach is that the initials for Oracle Certification Prep and Oracle Certified Professional (the general cert designation that he covers) are the same. All the way around, this is good stuff!
---
October 24, 2012 2:00 PM
 In plowing through my usual blog fodder this morning, I came across a fascinating article from long-time learning expert and CTO for Learning@Cisco David Mallory. It's entitled "Checklists for Studying" and includes several pearls of wisdom well worth chewing over:
1. It does a great job of explaining the virtues and values of checklists: simple lists of items, features, status, and settings to check when embarking on routine or complex technical tasks. Mallory observes that there's a very good reason why pilots and healthcare professionals routinely use checklists to drive task start-ups such as preparing an aircraft for use or starting a shift in a clinic or hospital ward. He puts it like this "The knowledge required to perform complex jobs frequently exceeds an individual's ability to remember or their capacity to apply the knowledge in a time-constrained environment without making mistakes." I think it's fair to observe further that this applies likewise to routine or repetitive tasks, and that learning how to do such things benefits even more from checklists than getting them right once the elements and sequence have been walked through repeatedly.
2. He cites Atul Gawande's excellent book: The Checklist Manifesto: How to Get Things Right. Though the subject matter may sound dry, this book is a real eye-opener and a page turner, according to the many published reviews and accolades it's received. If you really want to understand the whys and wherefores of checklists, and learn from some great and sometimes amusing examples of how they're best used and applied, this is the go-to resource on this subject. It's available on Amazon for under $17 for the physical book, and $10 for Kindle.
3. He uses a great decision diagram — which he explains as a kind of "branching checklist" (aka "decision tree") — to show how checklists apply to a broad range of technical tasks and analyses, many of which are prime fodder for most certification exams I can think of. It's for assigning an IP address to a router interface, and it looks like this:
Working through IP address assignment possibilities.
Source: Charting Technical Learning 9/19/2012.
Don't forget this valuable technique as you take notes and try to distill the skills and knowledge you need to master for certification exams. This technique will not only come in handy for exam prep, it's also extremely well-suited to putting your new skills and knowledge to work on the job!
---
October 22, 2012 3:26 PM
Although there's not much going on at CertCities.com anymore — except for Emmett Dulaney's long-running and always informative "Dulaney on Certs" column — I still make a regular habit of checking on what he's up to, and what he has to say. This morning, my regular check-in produced a couple of unexpected benefits (thanks, Emmett!) in that it taught me something I didn't realize, and reminded me of a certification technology niche that's incredibly worthwhile in and of itself. That cert niche is green IT, and what I never realized was that CompTIA's Strata certification in Green IT aims at technology managers and implementers rather than total newbies, as do its other Strata credentials. So please, check out Emmett's "Focus on Green Certification" (10/16/2012) piece, and then go visit the CompTIA web page for its Green IT credential (as an added bonus this is a short — 60 minutes — and cheap — US$100 — exam, as CompTIA offerings go).
Want more Green IT cert info? Check out these handy resources and references:
There's lots more where this came from (and seeds for an article for PearsonITCertification.com or perhaps TomsITPro.com have been planted) but this should be enough to get anybody started. Go Green!
---