---
December 7, 2012 3:05 PM
As I was listening to NPR this morning, I heard a couple of economists opine that when the US Bureau of Labor Statistics released its jobs report for November, jobs added could be as low as 75,000 for that month, and unemployment might also edge up again as a consequence. The general consensus appeared to be that there was "no way" November numbers could approach the October level of 171,000 because of the hurricane, low consumer confidence, and business concerns about the looming fiscal cliff. But when the latest report hit the wires at 8:30 AM Eastern, its contents flew in the face of these prognostications: jobs created for November are reported at 146,000 and unemployment edged down slightly from 7.9 to 7.7 percent. In fact, a closer look at revisions to the October numbers shows a drop from 171,000 as originally reported, to an adjusted figure of 138,000. Barring future adjustments for this month's numbers, then, it looks right now like November actually beat October by a modest margin of 8,000 jobs.
For the information sector, some signs of improvement were present: whereas unemployment was 225,000 or 7.4 percent for this sector one year ago (November 2011), it dropped to 187,000 or 6.8 percent for November 2012 (Table A-14). That puts information sector unemployment below the general unemployment number for this month, and shows a modestly strengthening information jobs situation. The strongest growth sectors centered around retail (+52,000 for clothing, accessories, general merchandise, and electronics and appliance stores) and the wholesale trade (+10,000) as you'd expect in the run-up to the year's busiest shopping season. This may portend a corresponding dip in those same numbers in January, however, once the shopping season reaches its frenzied conclusion during the sales immediately after Christmas.
Maybe we just got a handful of hard candies in our Christmas stockings, instead of the expected lump of coal? Given this surprising but still modest uptick in employment figures, the markets are expected to react positively today. Let's just hope there aren't other unpleasant employment surprises in store. For now, though, there seems to be a small ray of sunshine on that landscape, even though my advice to IT workers still remains "Stay put. Be cool. Hunker down." We aren't out of the woods just yet, and it isn't clear if the repast at Grandma's will be the usual Christmas ham, or a steaming mess of hamburger helper instead.
December 5, 2012 3:31 PM
Much to my surprise, I saw a Twitter item from GoCertify.com that informed me that the MS Press Exam Ref title is out for 70-417: Upgrading Your Skills to MCSA Windows Server 2012. Prosaically enough, this book is entitled Exam Ref 70-417: Upgrading Your Skills to MCSA Windows Server 2012 (Amazon $24.53, O'Reilly $35.99 ebook, $39.99 print, $43.99 both).
I'm impressed by several things about this book release:
It comes pretty early in the overall release cycle, and covers all three MCSA: Windows Server 2012 exams (70-410, 70-411, and 70-412) in just 384 pages. The 70-410 book is out, but titles for 70-411 and 70-412 from MS Press/O'Reilly aren't due out until April, 2013 — not coincidentally, the same time that the MCSA: Windows Server 2012 Cert Prep Pack is also due for release.
It's the only full-blown 70-417 book currently on Amazon's radar.
It's a great way to get a sense for the overall coverage for the entire MCSA: Windows Server 2012 curriculum in book form right now.
As I blogged back in October (MS Offers Free 70-417 Jump Start…), the half-dozen certs listed in this screencap from the MCSA: Windows Server 2012 cert page qualify holders to take the 70-417 exam to upgrade those credentials: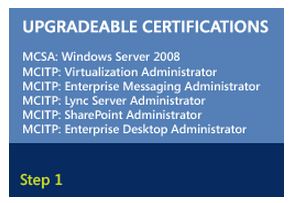 MCSA: Windows Server 2008
MCITP: Virtualization Administrator
MCITP: Enterprise Messaging Administrator
MCITP: Lync Server Administrator
MCITP: SharePoint Administrator
MCITP: Enterprise Desktop Administrator
For those folks who hold one or more of these credentials, the 70-417 is a killer proposition, not only because it provides a single-exam upgrade path to the MCSA: Windows Server 2012, but also because that single exam costs the same $150 that all other MS Cert exams cost nowadays. Sort of a "three-for-one" pricing deal, if you ask me. If you qualify, be sure to check it out!
---
December 3, 2012 4:28 PM
TrainSignal Training is a reasonably big and fairly successful purveyor of training videos for a wide range of IT certification programs including Apple, Cisco, Citrix, CompTIA, Microsoft, VMware, and even the Certified Ethical Hacker (CEH) curriculum. Their courses aren't dirt-cheap (they usually run $300 and up) but their videos offer strong production values, articulate and experienced instructors, and good coverage of certification topics, tools, and technologies. They've been around for a decade now, and have built a reputation as a purveyor of IT cert training materials that manage a very good combination of value and coverage. They also offer a regular blog to which they post almost daily, that I enjoy reading from time to time. Upon a recent visit, I discovered this banner on the blog's home page:

Warning: the download button shown actually takes you to a registration page where you provide e-mail contact info, and you'll get a link to a PDF download by e-mail  pretty soon thereafter. I guess you can't blame TrainSignal for wanting to harvest potential customer leads in exchange for some interesting and potentially valuable content, but I think it would have been clearer as to what was involved if they had labeled the button "Request download via email" or something along those lines. That's a minor beef, however, because what you get in exchange for jumping through the registration hoops is a 14-page document entitled "Ultimate Guide: Job Search Writing for IT Professionals (A Step-by-Step Guide to Writiting Effective Resumes and Cover Letters)."
Here's a snapshot of the table of contents that appears on the front page of this Guide: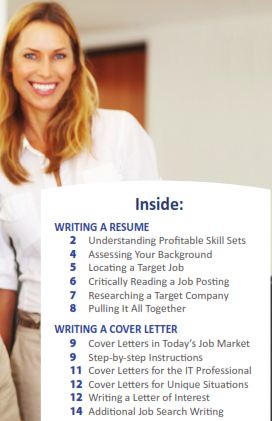 It's pretty useful coverage on an always interesting set of topics — namely, writing resumes and cover letters, with a little bit more on a so-called "letter of interest" and even follow-up material that addresses typical communications that may occur after an interview request is made (interview schedule, travel request, interview agenda, and thank you notes post interview). This useful guide is the work of Alan Ackmann, an instructor of Business and Technical Writing at DePaul University in Chicago, and his breadth of knowledge and experience are on heavy display throughout the guide. He addresses all the key topics in a straight-forward, no-nonsense tone (for example, his discussion of "Cover Letters for Unique Situations" tackles subjects that include career changers, people with gaps in their work histories or who are currently unemployed, and how best to respond to requests for salary requirements and history information).
This is a very nice piece of work, and should be of interest to most IT pros. Unless you're lucky enough to work in a place where lifetime employment is possible, you're going to need to deal with all of this stuff at some point in the future. That's when access to this Guide will be handy, so you might as well register with TrainSignal and grab yourself a copy sooner rather than later.
[Full Disclosure: I am currently negotiating with TrainSignal about creating some editorial content for their Website. Believe it or not, this has nothing to do with my selection of their "ultimate guide" as a blog topic here. I simply collect such resources as part of keeping my own blog current, and when I find a good one, I like to share it with my readers. This is another case in point. However, given the possibility of a business relationship between TrainSignal and myself, I feel that good blogging ethics require me to tell you about this possibility. I will follow up right here to let you know if that relationship is actually formed or not. –Ed–]
---
November 30, 2012 4:33 PM



A couple of days ago, a guest post of mine appeared on Anne Martinez' excellent GoCertify.com website. Entitled "Putting Your Certs to Work on the Job Hunt," it dispenses advice on how best to describe and position your IT certifications in the context of a professional resume and cover letter when conducting a job search or job application process. The guiding principle is to provide additional information — in the form of keywords or hot "search phrases" — that will help HR professionals and search engines match up job candidates who possess certain desirable skills and knowledge with positions for which they would be well-suited. This makes it easier for humans who may not know all the details about specific certifications — say, the MCSE: Private Cloud, for example — to understand what people who've earned such credentials know, understand, and can do. It also makes it straightforward for search engines — say, on a resume posting site like Monster, Dice, or Indeed — to match people up with various skills and subject matters associated with specific job postings.
If you'll jump onto Anne's site and take a quick read over my posting for her, you'll see my detailed  examples of how to use buzzwords and search phrases with the MCSE: Private Cloud as the focus for such illustration, too. It shows how to use the right platform and product names, along with specific in-demand skills. This is further amplified in the lengthier description I also provide for that certification suitable for inclusion in a cover letter, which also documents some hypothetical — but very ordinary — project experience relevant to implementation and use of those subject matters as well.
All in all, you'll find some potentially useful and informative language and coverage in that posting. Please check it out, and let me know if you'd like to add anything to that material, and I'll be happy to add it in, either on GoCertify through Anne, or here as an addendum to this very post.
---
November 28, 2012 3:39 PM
Microsoft runs a very successful academic outreach program for training and certification known as the Microsoft IT Academy. Not only does the program include a specialized series of entry-level credentials specifically aimed at high school and community college students called the MTA (Microsoft Technology Associate), it also encompasses the MCSA, MCSE and MCSD credentials in their professional certification programs and the MOS (Microsoft Office Specialist) credentials from its business workplace curriculum as well.
Just recently I learned that Microsoft Learning has put together a peachy infographic that summarizes and organizes their IT Academy offerings, thanks to Lorna White's recent post to its Born to Learn blog entitled "Infographic: Microsoft IT Academy Certification Roadmap." Realizing that the vast majority of readers of this blog are past their high school or college days, you might be inclined to ask "Why is Ed telling me this?"
Good question! I'm talking about this infographic here because it's one of the best visual depictions of Microsoft's first three tiers of certification (MTA –> MCSA –> MCSE + MCSD with a side order of MOS) that I've ever seen anywhere. Anyone looking for a little clarity on what's out there, and how the pieces fit together is bound to find the infographic worth a look-see. Even the illegible thumbnail I inserted at the head of this blog post is evocative, if not terribly informative. But if you want to see the infographic in its fullest (and most readable) form, you'll need to grab this PDF download to peruse it at your leisure. Do please check it out: it's pretty interesting.
---
November 26, 2012 3:43 PM
Upon checking in with the MS Learning Born to Learn blog this morning, I discovered a 19 November post from Psychometrician and Cert Exam Maven Liberty Munson entitled "Everything You Wanted to Know about Beta Exams: Part 2 (Beta Availability)." It includes some extremely interesting news that led me straight to my own tongue-in-cheek title for today's blog post from yours truly. Revealing the punchline will take a little explaining, so please bear with me. Here's the nub of what's going on, quoted verbatim from Ms. Munson's post: "…given the limited number of free beta seats and the overwhelming demand for some technologies, we have decided to leave beta exams in market until the [final, republished] exam is live." In other words, it used to be the case that you had to get an invite from Microsoft to participate in a beta exam, but when you did get such an invite, the exam was free. Now, you can take the beta exam right up until the final polished version goes live, but you have to pay for it just like any other Microsoft exam (which is usually $150 in the US, or equivalent in other currencies outside the US where applicable).
The good news, bad news part is best understood as follows:
The primary purpose of a beta exam is to distinguish statistically significant questions from statistically insignificant ones, where those that fall in the first category distinguish those who know their stuff from those who don't in a measurable way, and those that fall in the second category are either too hard (nobody gets them right) or too easy (everybody gets them right) to be counted. Thus, some percentage of questions you will answer on a beta exam won't contribute to your score.
Any number of questions that appear on the beta will be stricken from the final, polished version of the exam that gets a 70-xxx exam number (beta exams are numbered 71-xxx). Munson's blog mention that questions may be stricken "…because they are psychometrically unsound, unclear/ambiguous, or technically inaccurate…" This means you'll want to be ready for a wider range of weirdness than usual, when you sit down to take a beta exam as opposed to a published and polished one.
If you take the beta exam for a fee, but early in the post-free period while the results are being analyzed and tabulated, cut scores determined, good questions kept in and bad ones tossed out, you still have to wait quite a while to get your exam results (almost as long, in fact, as those who took the free beta, and for the same reasons).
Nevertheless, for those who want or need to get in on certification as early as possible when and as new exams appear, I believe this is mostly a good news scenario, simply because it accelerates the time-frame during which you can attempt — and possibly even get credit for — hot new topics as they make their debuts. Certainly for folks like me who write about cert exams, this is great news, because if we can sit for a beta exam it tells us a lot more about what the exam developers are thinking a lot sooner than waiting to take the cleaned-up version once it is released. And with many Exam Crams and other study guides seeking to hit the market as close to exam release dates as possible, this is a real boon to folks who make their livings by helping exam candidates learn and understand necessary concepts, tools, and technologies to help them prepare for the final version when it hits the streets.
---
November 21, 2012 4:46 PM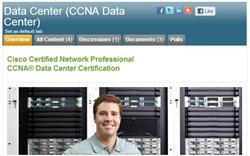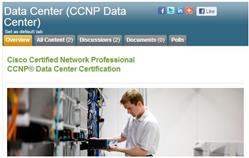 New Banner Art for CCNA Data Center and CCNP Data Center
Yesterday (11/20/2012) Cisco accounced new data center oriented CCNA and CCNP credentials, to flesh out its data center line-up (a data center CCIE made its debut last March). These new credentials come in two different flavors, each weaving together important foundation elements from the Cisco data center architecture:
Cisco Unified Computing: a system that unites computing, networking, storage access and virtualization inside a cohesive and consistent system.
Cisco Unified Fabric: simplifies infrastructure and controls costs through consolidating traffic on a single, general-purpose, high-performance and high-availability network.
Interestingly, neither the CCNA Data Center nor the CCNP Data Center come with base-level cert pre-requisites — that is, it is not necessary to first earn a base-level CCNA to earn the CCNA Data Center, nor a base-level CCNP to earn the CCNP Data Center (though the CCNA Data Center is a pre-req for the CCNP Data Center, as it should be). The role of the foundation elements in the certs — namely unified computing and unified fabric — is designed to permit candidates to customize their data center educations, to focus on data center job roles that include design, implementation, and troubleshooting.
The CCNA Data Center defines the entry level Cisco data center certification, and aim to identify individuals with the skills and knowledge necessary to perform day-to-day tasks in a data center, including network and server virtualization, plus storage and IP networking convergence. CCNP Data Center sits one notch higher in the food chain, and aims to identify individuals with the skills and knowledge to work as data center designers, or as high-level data center networking practitioners. Topics covered include design, implementation, and troubleshooting virtualized computing environments built around the Cisco UCS platform, including storage and network connectivity, memory, adapter and connectivity and booting issues, drivers, BIOS, and more.
With data center numbers, sizes, and usage levels all exploding — the Cisco Global Cloud Index projects that global data center IP traffic will hit 6.6 zettabytes by 2016 — demand for qualified and competent data center professionals is likewise ascending a steep upward slope. That makes these credentials particularly worth digging into, and possibly even pursuing. Exams and training courses are all publicly available, and readers can expect to see follow-on book titles from publishers like Cisco Press some time in Q1 2013. Check out the CCNA Data Center and CCNP Data Center home pages for more information.
---
November 19, 2012 3:01 PM
In a recent blog ("The Interesting Case of Mobile App Development: Where are the certs?" 11/9/2012) I raised questions about certifications for IT professionals wishing to demonstrate proficiency in mobile applications, from their design and development, to their deployment and security. What originally prompted my inquiry was the realization that the partnership announced between Via Forensics and CompTIA for a mobile app developer security certification in December 2011 had more or less "gone quiet." In fact, the most recent news I could find on this topic was dated March 2012, and claimed that a "course and … certification should be available in the second quarter of 2012." Seeing as how we're halfway through Q42012, I had to wonder what was up, if anything!
So I called Steven Ostrowski, the director of corporate communications at CompTIA to ask him that very question. In response, he very obligingly set up a call with Rick Bauer, CompTIA's Director of Research and Development. He informed me that the work with Via Forensics for the mobile app developer security credential – which has yet to receive its "official name" – is proceeding, and that the partners should publish background and exam objectives information for the new credential sometime before the end of 2012. In discussing subject matter with the usual CompTIA partners in industry, research, academia, government, and business, Bauer indicated that consensus emerged that it was important (and a lot more feasible) to certify the people who develop mobile apps to make sure they have a good understanding of how to design in and implement appropriate security protections and controls, rather than trying to test and certify those apps themselves. As Bauer put it: "It's just not practical to certify the huge numbers of mobile apps going public, but we can certify the builders of those apps." Consequently the mobile app developer security credential focuses on:
Best practices in mobile app development and security
Incorporating application security into the overall software development lifecycle (SDLC)
Dealing with network security issues associated with mobile access, protocols, and services
Ensuring appropriate compliance with PCI, HIPAA and other relevant frameworks, including encryption, app hardening, and confidentiality controls
It should be very interesting to see what shape this new cert takes as more information becomes available, and what kind of uptake it provokes from a no-doubt hungry audience for such things. 
At the same time, says Bauer, work on the CompTIA Mobility+ certification also continues. A call is currently out for mobility experts to participate in an SME gathering to help establish content and coverage elements for the new certification from December 11-14 at CompTIA HQ. If I understand the CompTIA Processes and timelines that means the Mobility+ certification and exam will start taking shape by mid-2013, and we should know better what aspects of the "wireless networking, mobility architecture, mobile security (both Wi-Fi and R/F) and policy, and … troubleshooting mobile devices" referenced in the call for experts will actually make it into the objectives and knowledge domains for the Mobility+ exam. Personally, I can't wait to learn more, and am hopeful that Bauer's wish that "Mobility+ can play the same role for IT professionals responsible for mobile technologies that A+ plays for PC bench and hardware technicians" will be granted. Gosh knows, the industry needs a strong general foundation in best practices for planning, deploying and managing mobile technologies in the workplace, and hopefully Mobility+ can deliver just that.
But the jury's still going to be out for a while, and we have a lot more to learn about both of these impending CompTIA-related credentials. Stay tuned, and count on me to dig in and report back as and when I learn more.
---
November 16, 2012 4:37 PM
I've been writing about mobile app certifications lately, because this is such a hot area in the IT industry right now, particularly for software developers who build such things, and for IT operations types who have to figure out how to plan, design, and deploy their use in the workplace. Having blogged earlier on 11/9/2012 that the Microsoft Mobility 6.5 certs are retiring next year ("The Interesting Case of Mobile App Development: Where Are the Certs?") I found myself compelled to look into what Microsoft is offering to catch up its developers on the latest and greatest of their mobile developer credentials.
I'm talking about the MCPD: Windows Phone Developer certification, and what I see there reflects more disarray — and an urgent need for still more "catching up" — that a consistent and coherent plan for Windows Phone stuff in the age of Windows 8, Windows Phone 8, the Windows Store UI and APIs, and so forth and so on. Take at look at the exams required for this credential and my points will prove themselves:
Exa 70-599 Pro: Designing and Developing Windows Phone Applications (released 7/14/2011). Still references the soon-to-be-passe MCITP certification, and came out before the new/current generation of Windows Store UI and API stuff was available. Badly needs a more up-to-date replacement.
Exam 70-516 TS: Accessing Data with Microsoft .NET Framework 4 (released 7/2/2010). Still references the equally passe MCTS credential, and likewise lacks mention or coverage of key new Microsoft mobile development platforms, frameworks, UIs, tools, and technologies.
Exam 70-506 TS: Silverlight 4, Development (released 1/21/2011). Silverlight is up to Version 5 now, and is probably headed for the scrap heap, already replaced by HTML 5 and supporting tools and technologies in Windows 8 and Windows Phone 8. Ditto both preceding items: tired, tired, tired.
Of course, the latest in MS Developer certs is no longer the MCPD, but rather the MCSD (Microsoft Certified Solution Developer), where there is already an MCSD: Windows Store Apps credential defined and available, as well as a complementary MCSD: Web Applications element. Looking at the exam elements here, we see completely current and appropriate coverage of HTML 5, JavaScript, and CSS3 stressed in all three exams for the Windows Store item (70-480, 70-481, and  70-482; the only change for the MCSD: Web Applications is to drop 70-482 Advanced Windows Store development, in favor of 70-487, Azure and Web development instead).
This is all well and good, but what's still unlcear is the degree to which MCSD: Windows Store Apps applies to Windows Phone 8, and/or if another MCSD certification is forthcoming that will dig more deeply into the brave new world of Windows mobility in the Windows 8/Windows Phone 8 era. I'm hoping we'll hear and learn more from Microsoft about this soon, and have launched some inquiries to that effect. Count on me to report in here as and when that happens.
---
November 14, 2012 4:43 PM
In responding to email requests from both aspiring and practicing IT professionals, I'm often reminded that when paid work isn't available — or perhaps not providing the kind of skills and knowledge development or intellectual challenge that some so earnestly seek out — there's always the volunteer option. This is an arena where organizations and individuals are grateful for any help they can get, and where giving of your time and energy can pay handsome dividends. Plus, you may be able to try out various technical areas, platforms, tools, or problem-solving not open to you in the workaday or job-search worlds you otherwise inhabit.
And in fact, volunteer opportunities are endless and incredibly varied. Can't find an organization that needs IT people? Think about contacting your local community library to offer basic computing literacy skills classes to seniors, or to those who speak English as a second language. There's always demand for useful basic information among those trying to develop foundation computing skills and knowledge, if nothing else presents itself to you.
On the other hand, consider these venues when looking for volunteer work with an IT flavor:
1. United We Serve (Corporation for National and Community Service)
2. Local Goodwill stores and locations handle e-waste, and refurbish used computing equipment of all kinds (link to national Goodwill Volunteer page)
3. VolunteerMatch: a nationwide clearing house for volunteer work, searchable by location and keywords
4. Idealist Volunteer Opportunities: an organization that brings those in need of help together with those willing to provide same
If you're willing to devote some time and elbow grease to searching the Web for IT-related volunteer work, you're sure to find numerous options from which to choose. For example, by searching Simply Hired  for "volunteer" and "Austin, TX" I was able to find several hundred positions, of which over a dozen had a distinct IT flavor, including Volunteer Internet Trainer and Public Computer Support Volunteer (Austin Public Library), and editorial and multimedia internship (Latinitas Magazine), e-mail coordinator (local charities), culture & arts volunteer (City of Austin), library worker (Austin Public Library, Austin Independent School District), and more.
If you've got the inclination, and some time and energy to go with it, think about putting your IT skills to work — or developing new ones — as a volunteer. It will not only help your local community, it will also help your personal and professional development!
---