---
March 5, 2014 3:51 PM
SMS stands for "Social Media Strategist" and it's a serious, well-implemented credential for aspiring IT professionals seeking to labor in the general arena of social media. I spent half an hour on the phone this morning with Eric Mills, the founder of the National Institute for Social Media (NISM), the organization behind this credential. You know you're dealing with a start-up when the founder is the guy who picks up the phone when you call the organization's main number, and Mr. Mills certainly evinces the mixture of enthusiasm, passion, and subject matter expertise that you expect from an engaged and committed professional who's "all in" for his chosen career path.

The NISM's Social Media Strategist cert could be a "case study" on how to do IT certification right!
Whenever I reach out to a cert organization that's new to me, this always involves a mixture of anticipation and dread. I'm driven by the desire to identify quality programs that can add value to those individuals who decide to "go for it" when it comes to professional development, and I'm always pleased to identify a new program or certification that appears to qualify as such. That's what causes the anticipation when I make contact. The dread comes from my repeated observation that many so-called certification programs are little more than thinly-veiled promotional techniques designed to fill seats in training classes, or to generate revenue from sales of exams, prep materials, and other related certification costs. My dread, alas, is all too often realized when I make attempts to reach out to any organization heretofore unknown or unfamiliar to me, and I either can't make contact, get a straight story, or determine a real value proposition for the programs or credentials under the microscope.
That's why I'm very pleased to recognize the SMS as a well-researched and painstakingly developed vendor-neutral certification in a growing field that's mostly populated by vendor-specific credentials right now (see this SkilledUp story to get a sense of what's up in this space: "Social Media Certifications: 8 Places to Get Certified in Social Media"). Mr. Mills explained his development methodology and timeline to me, and I couldn't help but be impressed by the depth and breadth of coverage and content that's emerged. It's a standard "big-ticket" cert development path, made all the more weighty by its adoption in a bootstrap, start-up situation:
1. Recruit a posse of subject matter experts
2. Identify key job roles and the job tasks that go with them for practitioners in the field of social media
3. Build an open-ended inventory of topics, content, and related exam questions designed to measure knowledge and best practices
4. Employ standard psychometric techniques to develop and select exam items and exam coverage
5. Develop a standard curriculum to present key information to teach certification content
6. Establish academic and industry partnerships to drive an ongoing life cycle for certification both to vet current content and coverage, and to keep task analysis, coverage, and exam items in synch with ongoing industry evolution and new technology introductions
NISM has done all this, and more in building the Social Media Strategist certification. They've established a 32 hour base curriculum that's being taught as a certificate track in some colleges and universities, and as an outright cert exam prep sequence at others. They're reaching out through a content development and delivery organization called Logical Operations (which numbers New Horizons among its network of learning delivery outlets) to create a 5-day ILT offering with an accompanying textbook to make their content and certification attractive to professional learners and the corporations that employ them. Though NISM may be in for some licensing fees or royalties, they are taking the partnership route to delivering cert training and prep materials, which means the bulk of the revenue from their efforts goes to their partners, and that they have decided to focus on the quality and integrity of their credential rather than making money. This is the best of all possible approaches for would-be certification earners, when it comes to evaluating any cert program or credential.
In short, NISM has made all the right moves in developing the SMS certification. For practicing (or aspiring) IT professionals interested in one of the fastest-growing sectors in IT, and some of the best employment and career advancement opportunities around, the Social Media Strategist certification deserves a close look, and serious consideration, as one option to get in on this incredible business and technology phenomenon. Check it out!
March 3, 2014 3:34 PM
In a sign that the SDN cert scene is heating up, HP has added another professional certification to its ExpertOne program with distinct SDN overtones. Although this credential comes with the following bland and uninformative cognomen — namely, "HP Advanced Sales Certified – Enterprise Networking Solutions and Services [2014]" (it made its debut on 2/14/2014) — it does include coverage of HP SDN solutions amidst its topical coverage. That said, it's also limited to HP Partners and employees only, so I'm inclined to treat more as a sign of increasing interest and investment in SDN, rather than as a valid target for IT professionals interested in demonstrated their interest in and knowledge of SDN tools, platforms, and technologies.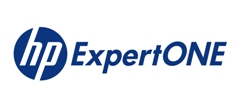 ExpertOne gains a sales oriented SDN cert for employees and partners only, with an architect-level SDN cert in the offing for Q2 2014.
Here's what the overview section says about SDN, reproduced verbatim:
This advanced sales certification validates the expert knowledge and competency needed to sell HP Networking products and solutions with an introduction to Software-Defined Networking (SDN) as a key enabling technology within the HP FlexNetwork architecture.
The supporting training and interactive sessions provide…an understanding of the benefits of Software-Defined Networking (SDN) and HP SDN solutions (among other bullet points about target customer titles, HP Networking solutions, and an admonition to differentiate HP Networking offerings and solutions from those of competitors.
In talking to HP certification representatives about ten days ago, I also learned that an Architect level SDN oriented credential is in the works, with an expected release date sometime for Q2'2014. I expect this next offering to be of broader and more general appeal to IT professionals, particularly those who work with or around HP Networking solutions, or whose employers are moving toward adoption of same. This tells me that we should expect to see other SDN certification offerings later this year from other vendors who compete with HP as well, probably including Dell, IBM, Cisco, and others moving to stake a claim in this emerging technical niche. For those interested in learning more about the HP take on SDN, a visit to the company's SDN Learning Journey is probably in order, so be sure to check it out!
---
February 28, 2014 3:41 PM
If memory serves me at all well, I was on the masthead of the old Certification Magazine (aka Certmag) for about a decade from 1996/97 to 2006/7 or thereabouts. During that time, I served as a contributing editor to the publication and probably wrote upwards of two hundred articles for them over that period, often to the tune of two pieces per month. But when the bloom started to come off the IT certbiz in the 2007-2008 timeframe, we decided to part ways. It wasn't anything personal or topical — rather, it had to do with an ever-thinner "book" (as magazines are sometimes called in the business) which in turn reflected ever-shrinking advertising revenues. For a long time this magazine was kind of a flagship in the certbiz, and a primary source of news for people in that marketspace. But it had fallen on hard times, and suffered as a consequence.
Late last year, I was contacted by a company called Vallejo Media, who informed me that they had purchased Certmag and also GoCertify.com (another long-term source of valuable and interesting IT certification data, with which I've had a long association) to let me know these properties were coming under new management. I even wrote an article for the new magazine in November, which I believe showed up online later that month or perhaps in early December about the retirement or scaling. This morning I received an invitation to check out the "new Certification Magazine" online and went for a visit that showed LOTS of change, and a noticeable infusion of new content. The old color scheme is more or less intact (bright blue against a white background) but the graphics have been amped up and the layout substantially reworked, as this shot of the page banner illustrates: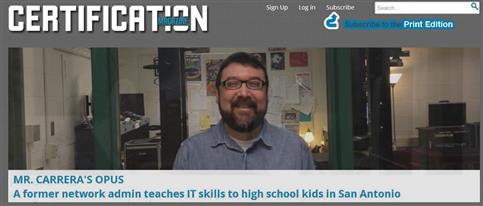 Not too shabby, Certmag: it's a nice clean new look to go with more new content.
I also observed that the site has been cloistered behind a registration fence, so that you can look at one or two articles, after which the gatekeeper informs you that you must register to maintain access. I'm also sorry to see that all the old URLs for my many earlier contributions no longer work (so I'll have to get my list of publications reworked). There's also the option to sign up for a print version of Certmag ($5 for the current month, or $48 a year) so it looks like Vallejo Media wants to use paid subscriptions as a source of revenue. At this point, the website is devoid of advertising, so I'll be curious to learn how they plan to generate income and at what frequency they plan to keep new content coming. But for the moment, it looks like a once-moribund source of IT certification news and information has gained a new lease on life. Be sure to check it out!
---
February 21, 2014 3:15 PM
MS has offered a nice roadmap to the courses that lead to its many and various certifications to attendees at its TechEd and other company events for some time now, but only recently has made this information readily available through a Windows Store app suitable for access on any Windows 8 device (phone, tablet, PC, and so forth). Here a link to this item, called "Microsoft Training and Certification Guide," which provides a link to grab this puppy in the Windows Store. The map looks something like this (click on the thumbnail to see a more legible version, please):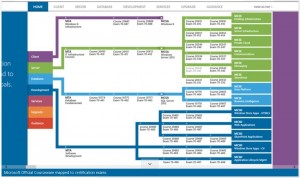 If you want to see what's going on here, click the image for the full-size (1160×690 pixels) version
If you download and install the app, you'll also gain the ability to grab a PDF version of this roadmap that can be scaled even bigger, for those who may have trouble reading the fine print even in the bigger version above. I'm not sure that's enough to justify keeping the app after you download the PDF file, but it's definitely worth checking out (and saving that file) should you be interested in seeing how training offerings from MS map to its certification exams and credentials. Good stuff!
---
February 21, 2014 2:55 PM
Thanks to the latest issue of the GoCertify.com newsletter, I just learned this morning that CompTIA will issue its one millionth A+ certification some time in 2014. As far as I know, that's something of a big first for any IT certification (though this does stretch back into the 90s over at least 8 different versions of the A+ exam). This news first emerged in a press release from CompTIA on February 6 entitled "CompTIA A+ is Your Chance to be One in a Million."
As you'd expect from a big milestone like this one, CompTIA is hooking up with global training partners from all over the world to launch a contest to see who qualifies as "Mr. or Ms. One Million" — along with 149 other lucky winners — most of whom will qualify for e-learning, practice tests, instructor-led courses, and suchlike stuff. The grand prize is simply described as a "one-in-a-million experience," which I for one, find to be an offer that mixes equal parts of curiosity and trepidation in understanding what that really means (notice, would-be winners: there's nothing in this promise about the experience being a GOOD one! 😉 ).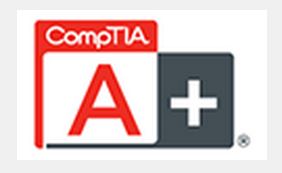 All kidding aside, one million of anything, certification-wise, really is a pretty big deal.
There are only a very few other certifications I can ever see closing in on the one-million mark themselves, and we'll probably hear something about them when they do, too. That category would include the Cisco CCNA and the Microsoft MCSA and possibly MCSE. But CompTIA has apparently gotten there first and, to its credit, is more open about maintaining and publishing its certification counts (though on a somewhat selective basis, apparently preferring to share that information only for its most successful credentials) than most of the other 800-lb gorillas of IT certification. That makes the approaching A+ million-cert milestone worth congratulating, indeed!
---
February 17, 2014 5:02 PM
While on the way to the gas station to fill up my wife's car this morning after dropping my son off at school, I heard a fascinating story on NPR. It's from their "All Tech Considered" series of pieces, is entitled "A Push to Boost Computer Science Learning, Even at an Early Age," and it tackles a pretty controversial set of related subjects. All of these things make it well worth a visit, or even an audition of the story as aired (a link to this 6:05 piece is available on the page above).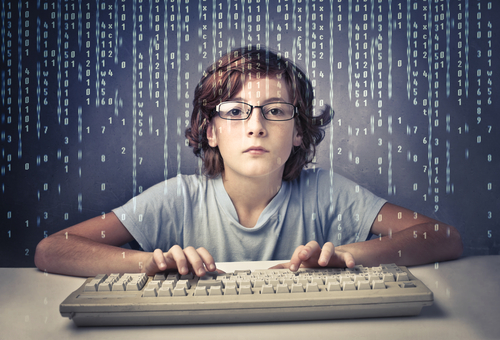 Education groups seeking to address perceived gaps in public school curricula echo a sentiment I share — namely, "When it comes to computing or programming, you can't start 'em too young!"
[Image Credit: Shutterstock 89245327 ©ollyy]

The lead-in paragraphs for the story set the tone for its overall coverage and discussion:
A handful of nonprofit and for-profit groups are working to address what they see as a national education crisis: Too few of America's K-12 public schools actually teach computer science basics and fewer still offer it for credit.

It's projected that in the next decade there will be about 1 million more U.S. jobs in the tech sector than computer science graduates to fill them. And it's estimated that only about 10 percent of K-12 schools teach computer science.
The story is worth a read, but I'm going to use it to ride a personal hobby horse here. For the past year, I've been getting up pretty early every Wednesday while school is in session to head to my son's elementary school, where I've been volunteering to help with (last semester) or teach (this semester) a programming class to 4th and 5th graders there. When we approached the administration to be allowed to teach such classes, they greeted the proposal with considerable enthusiasm and support, but suggested that we stick to the higher grades because they have enough exposure to math, science, language, and basic computing skills to be able to think their way through simple coding problems, basic program design, and enough focus and drive to see a problem through to a successful solution from an initial assignment or problem description.
As I've helped these students to learn Microsoft Small Basic (a free and reasonable powerful IDE-based implementation of the venerable BASIC programming language), and taught them the basics of HTML, CSS, and JavaScript, I've come to some conclusions about this process on my own, based on observing a good-sized group (5o or so in total) of 4th and 5th graders., and in discussion with my fellow instructors (one works as a QA code tester for Oracle, the other is our school's designated on-site "IT guy"). Here they are in no particular order:
1. From the start of elementary school, kids need to learn basic computing skills (how to boot up and log into a PC, fire off Web browsers and surf, launch and read e-mail, and so forth. You don't have to teach them ANYTHING about games, because they get this on their own, usually faster than you could teach them anyway).
2. It's extremely helpful to teach kids keyboard shortcuts early on, especially basic cut'n'paste commands (Ctrl-C, Ctrl-V, Ctrl A, etc.) and other common key combinations.
3. In prepping my son for his 4th grade science project, I found myself explaining the major subsystems on a PC, with special emphasis on which ones consume more energy than others (he ran tests on a variety of Windows Power Plan settings through Advanced Options to learn that reducing PC clock rates and screen brightness levels produced longer battery life than either item by itself, and also observed that, contrary to our expectations, on his test machine — a Lenovo X220 Tablet — reducing PC clocking had a bigger overall impact on battery life than did screen brightness). Basic system composition, architecture, and peripherals are good things for all kids to know about.
4. Some kids get programming intuitively and easily, and others struggle to understand and master the same material, but all first must learn some basic keyboarding — what we liked to explain to them as "typing," or more ambitiously, "touch typing" — skills before they can really make much progress.
5. Watching the same group first learn Small Basic then learn the HTML/CSS/JavaScript triad, I see that all the kids have a much easier time with Web page design and creation (they all "get" HTML and CSS more or less right away with little effort), but the same division in skills and abilities that works for Small Basic applies more or less equally to JavaScript as well.
Based on this small and very local sample, what I'd like to see become part of the elementary curriculum, well in advance of any "computer science" training is keyboard training that begins in first or second grade (with opportunities for kids to play on computers at Kindergarten or even Pre-K levels). As they're learning the alphabet and basic spelling and language skills, there's no reason why keyboarding can't help reinforce and amplify that learning. By third grade, they should get basic computing 101 training, and some understanding of the machines that they work on already from a "pieces and parts" perspective. One foundation for computer science is an understanding of computing (calculation, algorithms, binary arithmetic, logic, and so forth), another is an understanding of computers (the computer and peripherals that store and operate on data, accept input, provide output, and so on). Let's bring these very basic building blocks into elementary schools as part of the curriculum (rather than on an early morning, all-volunteer basis), and take off from there in middle and high schools, please!
---
February 14, 2014 4:15 PM
Last year, I wrote a blog for PearsonITCertification that proclaimed that while many cert sponsors were talking about certifications centered on Software-Defined Networking (SDN), only Brocade actually offered real, honest-to-goodness SDN certs for people to "learn and earn," as the old saying goes. At the time I wrote that article, this proclamation was true (it's entitled "SDN Certs: Who and When?" and it appeared on November 20, 2013). Thanks to a recent conversation with some very nice folks at HP, I've learned that they introduced an SDN certification in December, 2013, and that they plan to release another one in the relatively near future, both as part of their ExpertOne certification program.

Given that SDN moves networking into the realm of software, it stands to reason that "Developer" would appear in HP's first such certification.
To learn more about this currently available certification, check out the HP ASE — SDN Applications Developer V1 home page. This credential requires candidates to master the following skills and knowledge:
Demonstrate an understanding of SDN environments that incorporates use cases, the OpenFlow Standard, HP's VAN SDN Controller, and OpenFlow-enabled switches
Be able to design an SDN application, including specifications for application type, working knowledge of the design process, and examples of working SDN-enabled applications
Be able to build an SDN application using the HP VAN SDN Controller's services and functions
Know how to create and set up an SDN development environment, including installation and set-up of HP's VAN SDN Controller, working with the HP SDN SDK, and with various other tools and resources for SDN app development
Be able to choose the right APIs to meet specific application requirements
Know how to write, test and debug an SDN application that uses the HP VAN SDN Controller and OpenFlow enabled switches
A background in Java is also highly recommended, along with good working knowledge of networking architectures and functions. HP rates this credential at the "expert" level. Training is available, along with the required exam (visit the recommended training and required exam HP0-Y48 links available on the cert home page linked above).
---
February 12, 2014 3:41 PM
Who says Facebook is all networking and no content? Not me! It led me to this excellent blog from the Harvard Business Review by Justin Fox entitled "Where Are All the Self-Employed Workers?"  This story has the best-informed and most  intelligent discussion of the self-employment situation in the USA that I've ever seen anywhere.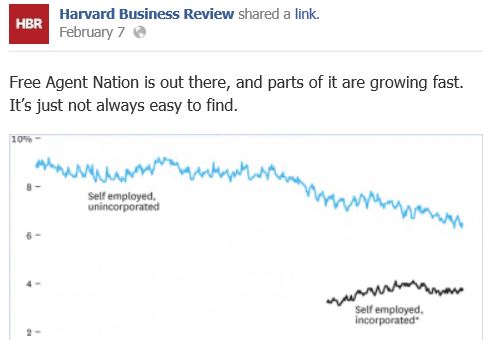 Tracking the self-employed requires looking at lots of data, some of which the Bureau of Labor Statistics (BLS) hasn't tracked very long or very well.
Among the many interesting stats that Fox reports are that the self-employed population for 2000 is about the same as it is at the end of 2013 — namely, 14.4 million, of which 9.2 million are unincorporated, and the remaining 5.2 million are incorporated. The preceding graph also appears to show a downward trend in the larger population of unincorporated self-employed, a conclusion with which Fox takes some issue, along with the measurement instrument that the BLS uses to track self-employment totals (its Current Population Survey, also called "the household survey" tallies responses from 60,000 households, and raises the question "Last week were you employed by government, by a private company, a non-profit organization, or were you self-employed?").
The problem with the question, as Fox puts it, is that "this either/or choice excludes a lot of people who are doing independent work on the side, or whose jobs are really more like [ongoing] gigs." He goes onto cite another survey from MBO Partners (a company that provides support services for non-traditional workers) that counts temporaries, on-call workers, and those on fixed-term contracts as "independent workers." Their count raises the toal number of self-employed to around 17.7 million for 2013, which is up 10% from 16 million in 2011. Other sources have different numbers, too:
The Freelancers Union reports 42 million independent workers, based on a 2006 GAO report that claimed 42.6 million so-called "contingent workers," a term they used to mean "agency temporary workers (temps), direct-hire temps, on-call workers, day laborers, contract company workers, independent contractors, self-employed workers, and standard part-time workers." That's about a third of the workforce overall.
Dan Pink analyses the Census Bureau's annual count of so-called "nonemployer businesses" (sole proprietorships, DBAs, and other ways of reporting business income on personal tax forms which is taken from tax return data, and shows totals rising from around 17 million such outfits in 2002 to a level of around 22-23 million for 2011).
It all adds up to more people and more kinds of "self-employment" in today's labor market than the BLS is currently counting. Fox goes on to cite MBO Partners once again, to share their projection that by 2020 "70 million people, more than 50 percent of the private workforce, will be independent" (which is to say, they will fall into the category of "contingent worker" as outlined above, which I'm also equating with "independent worker"). Their current research indicates that there are currently 17.7 million independent workers in the US, and that population has a 5 percent annual growth rate. A straight line projection indicates that this prevailing rate would produce a population of around 25 million by 2020, so MBO obviously believes that another 45 million US workers are going to take the plunge into independent work mode in the next six years, above and beyond such simple accretion.
What follows next in Fox's story is a terrific analysis of the composition and the history of the self-employed (or "independent worker") labor market in the USA since the beginning of the 20th century. He also chews on some Census Data for the present day (2001 onwards) as recast by Economic Modeling Specialists (a subsidiary of CareerBuilder.com) that shows various categories of self-employment growing, but often at the low-end of the wage and education scales. This is then offset by analysis of the incorporated self-employed, and an attempt to impose a more coherent structure on the oodles of categories that the government (BLS) uses to categorize occupations. He finds growth in interesting areas like that for "Musicians and Singers," but also "Fitness Trainers and Aerobics Instructors," "Editors," "Web Developers," and "Mental Health Counselors."
All in all it adds up to a much more interesting and nuanced view of the self-employment situation in the USA than I'm used to seeing. If this is something you already do, or might be considering in the future (and the numbers indicate that this applies to anywhere from one third to one half of the general population) you owe it to yourself to read over this excellent article.
---
February 10, 2014 2:36 PM
Saw a great story by long-time career and business writer, Lisa Vaas, this morning (she's also a fellow member of the Internet Press Guild) this morning over at TheLadders.com. It's entitled "13 Ways Your Resume Can Say 'I'm Unprofessional," and it includes some pretty humorous examples to illustrate her points, as well as some great advice on avoiding resume gaffes throughout.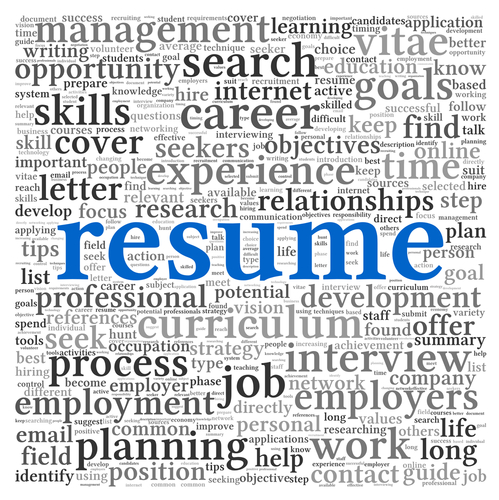 The best way to present yourself positively in a resume or other job application materials is to avoid errors and other gaffes.
[Image credit: Shutterstock 110459147 © Rafal Olechowski]
Here's a list of her bullet points, which capture the essence of the story (but if you're interested in more details, you'd be well-advised to read it in full in the original text):
1. Random/cute/shared e-mail accounts: Sure, lots of email accounts are free and you can name them pretty much anything you like. But everything registers with prospective employers, so it's only smart to avoid oddball, eccentric, or inappropriate e-mail addresses on your resume.
2. Failure to proofread: You're supposed to put your very best foot forward in any job application materials, so it's smart to subject your resume (and cover letter, and anything else you share with prospective employers) to multiple rounds of searching and clean-up. This goes double for people who work in editorial, quality control, project management, or other jobs that focus on getting things right, as well as other technical competencies.
3. Bikini pictures: Vaas goes so far as to observe that some employers toss all job app materials that include photos to avoid any possibility of discrimination, but focuses primarily on inappropriate or unflattering snapshots or photos (including snaps of applicants in bathing dress).
4. Unprofessional voicemail: If you leave a phone number for contact purposes, make sure anyone who answers that line knows how to respond appropriately to prospective employers, and if necessary, change your voicemail message to something sedate and professional-sounding. Again: everything counts when it's made available to prospective employers.
5. (Avoid) Lazy words (e.g.) 'etc.': One of the experts with whom Vaas spoke for the story opined that "…use of 'etc.' on a resume is a sign of laziness." If you're going to include something on a resume or cover letter, it should be important enough to list out in detail. If not, skip it! Don't use shortcuts on such materials, also including "Same as above," "Ditto," or other attempts to reduce word count, because it suggests you lack hustle or a strong work ethic.
6. Cookie-cutter resumes: A pet peeve among many hiring managers is when resumes fail to take serious cognizance of particular positions, job requirements, situations, and so forth. It's essential to review your resume and cover letter for each individual application, and to highlight elements relevant to the job at hand, while tuning back on other elements that have no bearing on that position. When it comes to job application materials, one size most definitely does not fit all jobs.7. Everything but the kitchen sink: There's no need to provide one's complete life story in a job application, especially not in the resume. This is a case of "less is more" rather than "more is better," where it's a good thing to keep your resume at or under two pages, and where one page is even better.
The remaining items in the story are purely bullet points, lacking detailed discussion so I'll reproduce them as such next:
8. Do not list a spouse as a reference
9. Spell out complete names of employers or schools: don't use acronyms or abbreviations
10. Always provide city and/or state for employers and schools
11. Always include area codes with phone numbers, especially in references or for employers
12. If you identify a former supervisor or a professional or personal reference, provide more than the first name (full names, please!)
13. Don't include phone numbers that are no longer in service, or URLs that lead nowhere, in your job app materials
In general the idea is to be professional, complete, accurate, and up-to-date in your resume and other job application materials. Anything less could (and probably will) lessen your chances of landing the job for which you're applying.
---
February 7, 2014 3:06 PM
Hey, hey: please chant along with me until you get dizzy and fall over: "Slow growth mode! Slow growth mode! Slow growth mode!" Even though the December numbers were revised upward from 74 to 75 thousand, the January numbers failed to approach the consensus forecast of 170-185,000 I heard on NPR this morning, and came in at around 113,000 instead. I jumped up to the Dow Jones Industrial Average (DJIA) to see if this had impacted the markets as yet, but the index has been up all morning (it's currently up +76.9 as of my most recent peek) so it's probably fair to say that the markets have priced this into their overall behavior.

The latest figures from the US Bureau of Labor Statistics are less than forecast, but very much in keeping with painfully slow growth.
Unemployment rates are also largely unchanged at 6.6 percent overall, and the count of the long-term unemployed still comes in at over 3.5 million. The latest Summary from the US Bureau of Labor Statistics reports that long-term unemployment has declined by 1.1 million over the past year, but if I understand their reporting mechanisms correctly this has as much or more to do with discouraged workers in this category leaving the workforce as it actually has to do with some of them finding work, either part- or full-time.
The Information sector from Table A-14 is unchanged from December, and shows unemployment at 6.6 percent for that sector, entirely in synch with the overall average figure. If there's one ray of sunshine in the most recent report it appears in the summary section where employment in professional and business services (which has some relationship to IT, though more likely for contract workers or consultants than full-time employees) added 36,000 jobs for January, and where that sector added an average of 55,000 jobs per month for all of 2013. But in case you already didn't know, my long-standing mantra for IT pros remains: "Stay put. Hunker down." Sigh. I'd hoped that 2014 would show a breakout into less ambiguous and more generous growth. At least, there are still 11 more months to report for this year, so there's time for things to improve.
---