---
January 25, 2013 9:53 PM
Last Wednesday, Cisco announced a pair of new video networking oriented cert credentials for its lineup — namely, a CCNA Video credential, along with a Cisco Video Network Specialist certification. These offerings are built in part around a series of two new courses, entitled:
Implementing Cisco Video Network Devices, Part 1 (VIVND1) v1.0
Implementing Cisco Video Network Devices, Part 2 (VIVND2) v.10
Both exams culminate in the 200-001 VIVND Implementing Cisco Video Network Devices examination, which is enough by itself to qualify individuals for the Cisco Video Network Specialist credential. The CCNA Video candidates must also pass this same exam, along with the 640-061 ICOMM Introducing Cisco Voice and Unified Communications Administration exam. Thus, it seems to me that these new offerings are properly regarded as a video counterpart to existing voice credentials that Cisco already offers, such as CCNA Voice and the many Cisco Specialist credentials already available under the company's Collaboration heading.
What's driving this new technical focus at Cisco? Amazing leaps in the overall amount of video traffic on the Internet (and within and between enterprises). Cisco projects that in three more years — 2016, that is — over half of all consumer traffic (55% in fact) on the Internet will be video-based or -related. This led them to the CCNA Video, which intends to identify IT Professionals who can deploy video endpoints, set up new users, and take care of networked voice and video needs such as configuring voice and video single-screen endpoint devices, supporting video and telephony applications of all kinds, and troubleshooting networks with significant voice and video traffic components. The specialist cert concentrates more on set-up and deployment, and less on overall networking and troubleshooting skills.
It should be interesting to see how these new offerings impact the marketplace, and how much interest and demand they will generate. I'm curious to see if Cisco's projections on video traffic vis-a-vis the whole network mix are correct. If so, these video-oriented credentials should become extremely popular pretty fast.
January 23, 2013 2:37 PM
There's an old saying in the high-tech industry that goes like this "Here, we eat our own dog food." Cryptic or unappetizing though it may sound (except to dogs, no doubt) this refers to a level of commitment to the technology that an organization adopts, espouses, and usually also sells to the point where they themselves use the same tools, technologies, or platforms that they're trying to sell to their customers. I saw a very interesting example of that in a recent press release posted to Anne Martinez's GoCertify.com entitled "Overture Technical Support Achieves MEF Professional Certification."
Understanding what this really means requires some explanation:
Metro Ethernet is a technology that permits communications carriers to use Ethernet Layer 1 and 2 protocols to make networking connections across their infrastructures. In turn, this makes providing fast (up to 1 GB or higher) external network connections to the Internet and local infrastructures easy, and also integrates well with typical Ethernet-based in-house networking infrastructures. Metro Ethernet is a specific implementation of what is also known as Carrier Ethernet (which takes normal Ethernet and adds carrier-grade reliability, resilience, and recovery capabilities to its already impressive arsenal of technical characteristics. For more information on this fascinating and fast-growing technology area see my book Carrier Ethernet For Dummies (free PDF download from Ciena Corp requires registration to obtain an e-mail link).
Overture is a company that specializes in "Carrier Ethernet edge and aggregation partner[ing] to hundreds of service providers and network operators worldwide." That is, their primary business focus is Metro Ethernet/Carrier Ethernet. Thus, their announcement that they are "…moving toward full MEF professional certification for all customer-facing employees…" makes pretty good sense, and explains why the company started by getting its entire tech support team certified, along with some of the company's field service engineers, "…with full compliance expected within the coming year." In fact, Overture "…is one of only five companies with ten or more MEF Certified Carrier Ethernet Certified Professionals…" worldwide, and also counts product managers, plus system and product development engineers among its MEF-certified staff members.
The Metro Ethernet Forum (MEF) is an industry association for Carrier Ethernet equipment, services, and professionals. Its self-professed charter is to accelerate "…the adoption of Carrier Ethernet." Founded by one of Ethernet's inventors, Dr. Bob Metcalfe, the organization has been active for a decade. Today it represents a $25B annual market for equipment and services, with market size anticipated to reach $47B by 2015. A very big business, in other words. The MEF is also "the defining body for Carrier Ethernet" and also "develops Carrier Ethernet technical specifications and implementation agreements to promote interoperability and deployment of Carrier Ethernet worldwide." This positions them ideally to offer the various types of programs they provide to certify equipment, services, and people. Currently the organization offers a single personnel cert called the MEF Carrier Ethernet Certified Professional (MEF-CECP), as the first in a planned series of MEF professional credentials.
The whole-company (or "whole technical staff") approach to professional certification approach still remains pretty rare. But it's something I expect to see more of, as increasingly large sectors in high-tech (and IT) fall under various specific and well-defined certification umbrellas.
---
January 21, 2013 3:57 PM
My eight-year old son, Gregory, is in his first year in competitive gymnastics. Yesterday, we all attended our first-ever gymnastics meet, with my wife and myself in the stands, and the boy making the "olympic rotation" around the events in this order: floor, pommel, rings, vault, parallel bars, and high bar. His team's slot in the rotation started on pommel, so he and his crew finished up on floor, following the standard sequence one step ahead of the default order. It was one of the fastest four hour periods I've ever experienced, where Gregory's five minutes of activity was interspersed with lots of other young gymnasts doing likewise on all events running in parallel.

If you put in serious time and effort, you can obtain serious results.
Image credit: Shutterstock 1013903
We all walked away from that event realizing how much time and effort the best gymnasts put into their training and learning. We saw numerous 6 and 7 year-olds do things that most of us can't even fathom, and saw some of them execute them with perfection and considerable grace. In those same events, I also saw plenty of young people going through the motions (at this level, there's little or no improvisation, where most competitors simply learn a set routine, then execute it to the best of their ability). The difference between some performances was striking: the best competitors took the routines and executed them with flair and joy but also enough control to bring all the pieces together into a cohesive whole, while those with lesser skill (or, I have to believe, less effort, time, dedication and discipline) made the very same motions but without inhabiting them fully, or executing them without flaws and mistakes.
As I think about what this all means, I'm struck by the incredible power of time invested, and serious effort expended, in learning how to do something, and then taking the necessary time and energy to learn how to do it really well. I walked away from the meet thinking that even for us IT folks, the willingness to invest time and effort in learning new skills and knowledge, and then taking the additional steps to become highly proficient in using them, lets ordinary people accomplish extraordinary things.
As you approach your own career planning and development, remember that you're going to have to put in some time and really put yourself out, if you want to accomplish something more than going through the motions. Those of us who are lucky and focused enough to be able to do this, should also remember that anything worth doing is also worth doing as well as one possibly can. If you can pull this off, you will come out of that exercise with something genuine and valuable to show for your time and effort. This has to be the real payoff to help offset the financial outlays or "opportunity costs" involved in investing in oneself and in developing one's skills and knowledge. Anything else, as the old saying goes, is simply unacceptable!
---
January 18, 2013 3:02 PM
In the past year, I've discovered Mirek Burnejko's excellent Website "Everything About IT Certifications" at www.itcertificationmaster.com. Over that interval, he's produced a remarkable number of interesting and excellent articles and interviews that have given me plenty of opportunities to pause and reflect on the meaning and value of IT certification, along with substantial market information and intelligence about the current and future state of certification in the IT profession. This morning, I read one of his recent stories, entitled "14 Actionable Steps to Use Certifications and Find Your Dream Job," with enough interest and delight that I felt compared to share some high points with you, dear readers (along with the preceding link to the complete story which is most assuredly worth reading, for those who find this teaser in any way informative, if not spell-binding).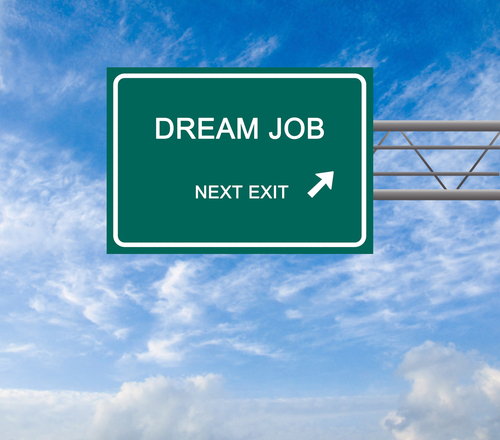 Yes Virginia (and all the other states), certification can help you reach this exit!
[Image credit: Shutterstock 101244412]
What you'll find in this story, goes something like this:
Create a professional e-mail account you use only for job search related activity.
Build yourself a superior resume (with links to a nice guide on this subject).
Get on Linked In, which Burnejko says is "a number one place to receive a job offer."
Optimize your Linked In profile to move yourself ahead in its search engine results for certification searches, with links to another guide.
Connect with head hunters and HR professionals (they're the ones who most often come up with jobs — at least, on Linked In.
Join Linked In groups "connected with your certifications and your skills."
Login to Branchout (a new career network on Facebook) and repeat the preceding three steps.
Do likewise for Telent.me.
Follow head hunters and placement professionals on Twitter.
Use ResumeRabbit to upload your resume all over the place.
Use Indeed for job search (I heartily endorse this suggestion, and use the site myself to compile salary information related to various IT certifications for several of my regular cert survey articles).
Use Topsy to search Social Media for certifications you hold (Burnejko says it makes an outstanding tool "to search Twitter for new job offers").
Get your Google results in order. Burnejko explains how to manage and massage your Google search results to create what one might call a completely professional-looking first page of results when searching on your name. He also recommends creating a page on About.me, obtaining a Quora account, and keeping your Linked In account up to date. All good advice!
Networking: quite rightly, he urges people to build and work their interpersonal networks hard to keep up with job opportunities, and to get the word out about your interests and proclivities.
It's a very nice piece of work, and he estimates that a time investment of between 6 and 10 hours will be required to make all of this happen — except for item 14, about which he is absolutely correct in stating "[Time needed: Whole Life]." The strategy is sound, and the tips, resources, and advice involved are all right on target. So why not dig in, and chunk your way through this outstanding "bucket list" for improving your professional visibility and job prospects?
---
January 16, 2013 7:44 PM
This morning,  Cisco Systems announced that four of its certification credentials have attained ANSI/ISO/IEC 17024 Accreditation, under the ANSI Personnel certification program. The 17024 standard ensures that certification programs meet a variety of best practices and transparency requirements for their content and coverage, and that these programs decouple training from certification (so that self-study is an option for earning any and all of these credentials), along with their various requirements for education, total years of work experience, and direct work-related tasks and duties performed as may sometimes be the case. The following Cisco certifications have earned this accreditation as of today:
CCNA Routing & Switching

CCNP Routing & Switching

CCNA Security

CCNP Security
What makes this a big deal is that as the ANSI Benefits of Accreditation page states: "ANSI accreditation is generally recognized as the highest standard in personnel certification accreditation." ANSI's involvement in this process, in fact, "…is important to facilitate government recognition" as that same page goes on to state further, because ANSI adheres rigorously the ISO/IEC 17011 Conformity Assessment standards, and because the organization "…has a historical track record of successfully coordinating accreditation of certification programs" from a variety of sponsoring organizations that include professional societies and institutes, large multinational corporations (like Cisco), and government agencies. Furthermore, the following US government agencies (along with numerous organizations from several of the 50 states and dozen-plus territories in the US) rely on "…ANSI accreditation for verification of quality of certification programs…" (US Govt Recognition page): FDA, DoD, and OSHA. Of these, the DoD (Department of Defense) is especially important because its FITSP regulations require agencies and contractors to meet specific information security certification requirements, where those credentials all comply with ISO/IEC 17024 accreditation.
That's why, as you examine this table of IT cert-related organizations that have attained ANSI/ISO/IEC 17024 Accreditation, straight from the Accreditation Services Directory on the ANSI Website, you will see a strong and clear preponderance of information security credentials among these offerings (most of the non-infosec credentials, in fact, are also important to the DoD as well):
ANSI/ISO/IEC Accredited IT Certifications
Sponsor Organization
IT Certs
(click for links & full cert names)
ASIS International
CPP, PSP, PCI
Cisco Systems
CCNA R&S, CCNP R&S, CCNA Security,
CCNP Security
CompTIA
A+, CASP, Network+, Security+, Storage+
SANS GIAC
GCFA, GCIH, GCIA, GSEC, GSLC
InfoComm International
CTS, CTS-D, CTS-I
ISACA
CGEIT, CISM, CISA
EC-Council
C|EH
(ISC)2
CAP, CISSP, CSSLP, ISSAP, ISSEP, ISSMP, SSCP
PMI
PMP
SEI (CMU)
CCSIH
---
January 14, 2013 5:20 PM
In all of my own surveys of IT certification, and in others from many third parties, virtualization always shows up at or near the top of attempts to describe what's hot, in high demand, interesting to both employers and employees, where the jobs are, what pays well, and so forth.
To my way of thinking, this makes the virtualization cert landscape particularly compelling and appealing for IT professionals looking for new skills and knowledge worth acquisition and mastery. Last year, I wrote two survey stories for Tom's IT Pro in the areas of Cloud Computing and Virtualization; because both areas depend heavily on virtualization I decided to revisit them and see if I could add anything to that mix. To my astonishment and delight the items I singled out for coverage at the top of their respective areas are still chugging away quite nicely (check out the full stories for more details on other offerings in both areas, please), as shown in the following table.
For anybody interested in virtualization, there's something to dig into right away, and probably to plan for longer term, for those further interested in more senior and responsible positions in the field. At present, the VMware, Citrix, and Microsoft (Private Cloud) credentials seem to be generating the most traction, but there are plenty of other platforms and providers of virtualization tools and technology to choose from further up the food chain. Enjoy!
---
January 11, 2013 5:39 PM
Here's the rotating banner from the Microsoft Virtual Academy (MVA) home page, which nicely and concisely tells you pretty much everything you need to know. Here's the registration link, should you wish to sign up immediately — and if you're interested, you probably should, because virtual seats are limited and tend to fill up very quickly for this high-demand subject matter.
In case you can't read the fine print on the screencap, here's what Jump Starts are coming up (I'm paraphrasing the info copy from the afore-linked registration page in the bullets that follow):
Introduction to Hyper-V: 1/24/2013 8am – 5pm PST (UCT -08:00). First part of three parts, designed for IT Pros experience in virtualization technologies like VMware, Virtual Box, and so forth, but who need to learn how to use Hyper-V to undertake various typical tasks on the Windows Server 2012 platform. Symon Perriman and Jeff Woolsey will be instructing.
Microsoft Virtualization for VMware Professionals: 1/30/2013 8am – 5pm PST (UCT -08:00). Second part of three parts, tailored for VMware professionals who need to come up to speed on how Hyper-V v3 (the version included with Windows Server 2012) and System Center 2012 SP1 compare with VMware vSphere 5.1 and VMware Private Cloud, respectively.
Microsoft Tools for VMware Integration/Migration: late Feb 2013, final date/time TBD. Third of three parts, this series aims at VMware professionals seeking to leverage Windows Server 2012, Hyper-V v3, and System Center 2012 to integrate effectively with VMware.
All three courses are online only, and include no hands-on labs. Microsoft does offer more formal (for a fee) training classes that are instructor-led with a serious hands-on component. Looks like MS Course 20414A: Implementing an Advanced Server Infrastructure is designed to handle server virtualization and related topics, while classes 20415A: Implementing a Desktop Infrastructure, and 20416A: Implementing Desktop Application Environments do the same thing for desktop and application virtualization, respectively.
Unrelated PostScript: Check out the Windows Intune Jump Start if you're interested in managing distributed Windows PCs, tablets (including Android and iOS), and other mobile devices remotely and securely. Sounds interesting!
---
January 9, 2013 3:50 PM
Over the holidays, I got an email from a long-time IT professional who asked me for my opinion on whether or not he should jump back into the IT certification fray. Because his most recent credentials data back to the old Novell Certified Network Engineer (CNE) circa NetWare 4.0 and the old MCSE (back when it still meant Microsoft Certified Systems Engineer, rather than MS Certified Solutions Expert) for Windows NT 4.0, I presumed he hadn't bothered to update his certifications since the mid-1990s. This was later confirmed in the subsequent email exchange that occurred between us.
What happens when credentials age to the point where no easy upgrade path exists any more between "there" (the time at which those certs were earned) and "here" (the prevailing slate of certs from the same vendor)? Why, you must start over, of course! But it needn't be as daunting or off-putting as it might at first appear, and here's why:
1. Yes indeed, you will have to start from scratch to get back on today's bandwagon. But as I observed to my correspondent, there are still plenty of things about Windows that remain in force, even given the 16-17 years between the release date for NT 4.0 (7/29/1996) and today's date (1/9/2013). The "start from scratch" part really applies to the exams involved (he's interested in MCSE: Windows Server 2012 Infrastructure, which also means picking up MCSA: Windows Server 2012 along the way; 5 exams in all), and to 50-60% of the skills and knowledge (much of which represents new stuff or enhancements, rather than outright replacements for older concepts and technologies).
2. Having already earned a CNE and and MCSE, my correspondent — and others like him — has already learned how to study for and take IT certification exams. This means he can concentrate on learning the material, with only a modest amount of learning bandwidth necessary to tackle and master the tools and testing environment itself, and not much need to learn and develop study and test-taking skills (though a refresher will occur quite naturally as a consequence of using and taking practice exams in the run-up to the real thing). This is an area where prior experience and activity really helps.
3. Given his ongoing involvement in IT for nearly 20 years, and his day-to-day use of Windows Server, my correspondent already understands much of the context inside which the Microsoft curriculum resides. Also, his experience with Windows Server versions through Windows Server 2008 means that already "gets" why the collection of skills and knowledge that the MCSA and MCSE seek to verify is important, germane, and worth pursuing and acquiring. This informed perspective beats the pants off the kind of viewpoint and understanding that a freshly-minted college graduate, or anybody else who hasn't yet put some time into an IT job, can bring to the party.
Sure, it's tough to start over: there will be a lot of time and effort required, along with some expense. But because he's already been down the certification road before, and has also been around the block in IT positions a few times, my correspondent should be able to pick up and run with the new material faster and more easily than others who lack his background and experience could do. Same thing goes for other "older hands" who can bring the same kinds of history and exposure to the table. He's going to give it a shot, and plans to take 6-12 months to get from where he is now to an MCSE: Server Infrastructure. If you're in a similar situation, I urge you to consider a similar course of action — and study!
---
January 7, 2013 3:07 PM
When I read recently about a "Study/Learn Master Page" in the Cisco Learning Network's recent learning news, at first I didn't really get what was going on. So I decided to drill down into their information — which initially struck me as a simple re-organization of existing learning content, but is actually much more than that — to see what was up. So I took a look-see at the Study/Learn tab for the various CCNA exams (ICND1, ICND2, and the CCNA Composite exam. Here's a partial snippet of what I found there, upon which I'll base further discussion after its presentation:
This redesign of their learning content is intended to help exam candidates find what they "…are looking for faster by reorganizing the content according to the exam blueprint topics." For as long as I can remember, with my history of designing the Exam Cram series with this kind of mapping information as a major consideration, and having contributed to numerous Study Guides across a variety of operating system, networking, and information security topics, this has been a guiding principle on the aftermarket for cert prep materials.  But making objectives crystal clear and illuminating them directly with training materials haven't been as explicit as I would like them to be in the way certification sponsors have built their own certification pages and descriptions. Thus, until Cisco offered up this reworking of its own materials and training — some of which still requires payment to access (as shown in the final two elements in the preceding screen snippet) and for-a-fee content typically accounts for one-third to one-half of total materials linked — I can't think of any other cert sponsors who've been so straightforward and explicit in the way that they organize cert prep materials for credential candidates.
This is one great development that I hope other sponsors will themselves adopt immediately. That said, hopes may not be enough, so I encourage candidates all over the certification landscape to speak up to other cert sponsors and ask them to do for their programs and credentials what Cisco is doing. This promises to make it much easier to understand what sometimes dodgy or unclear exam objectives really mean, simply by digging into the very materials, labs, and examples that the sponsor provides to illuminate those things. I approve wholeheartedly, and encourage everybody to take a quick look-see at this, too. If you like what you see as much as I think you will, do please pass the message along to other cert providers that they should do likewise. Here's hoping this can make a difference, and set new expectations for what cert candidates routinely find at their disposal!
---
January 4, 2013 3:43 PM
At the end of each calendar year, the Bureau of Labor Statistics revisits that year's employment figures "using updated seasonal adjustment factors," to quote from the text box at the top of this morning's Employment Situation Summary for December, 2012. They also delivered a slight adjustment for November in Table A by raising the unemployment rate for that month from 7.7 to 7.8 percent, but that number remained unchanged for December of 2012 as well. Looking at the progression in Table A for the year (see following screen cap), we see a slow and careful downward progression from the 8.3 rate that applied last January to the current 7.8 level for the final month of last year (current report, archives).
A closer look at the information sector (a big source of IT jobs), professional and business services (the primary locus for outsourced IT services), and the self-employed (where my personal situation dictates some interest as well) shows that things haven't really changed all that much over the past year, with increases in unemployment for information (7.7 percent for 2011 vs. 8.0 percent for 2012, though overall unemployment numbers are down from 235K to 229K over that period, reflecting an slight decrease in overall unemployed persons for the sector) and self-employment (from 5.5 percent for 2011 vs. 5.6 for 2012, but with an increase from 539K to 566K unemployed persons in the same period). Professional and business services show a larger decrease in unemployment numbers (from 1403K in 2011 to 1307K in 2012) echoed by a similar drop in unemployment rates (from 9.3 percent in 2011 to 8.7 percent in 2012).
Overall, us IT types would do well to remember my unchanged mantra since 2009 — namely "Hunker down. Stay put." to which I'll also add "Don't panic." and "Wait it out." The overall trend does continue to improve ever so slowly and gradually, so sooner or later that's got to start boosting the fortunes for IT workers, too. As to when that might happen, I really don't know. I continue to hope that an uptick will come sooner rather than later, knowing all the while that it will come in its own good or bad time, if it comes at all.
---