---
May 23, 2013 2:32 PM
Thanks to Anne Martinez at GoCertify.com, I just learned about a YouTube video — don't get your hopes up: it's really just a PowerPoint slide deck with voiceover — that addresses the changes and updates to the content of the CCENT/CCNA.1 (100-101 ICND1) and the CCNA.2 (200-101 ICND2) exams (which roll up together into the one-shot "combo" CCNA exam 200-120 CCNA). It's entitled "The CCNA and CCENT Exam Changes in 2013" and it comes from expert trainer Chris Bryant (of "The Bryant Advantage").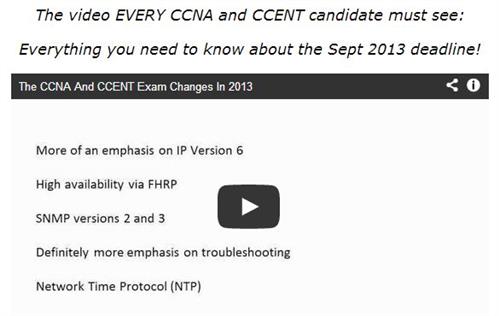 The opening slide in Bryant's preso sums up the biggest changes in the revised CCNA/CCENT exams
(old exams retire on September 30, 2013).
Bryant's basic message is: "Don't let the new exams derail your current study efforts." For one thing, three months remain before the older version exams retire so you may still be able to test and pass before time runs out. For another thing, changes to the exams are mostly incremental and don't require you to abandon everything you've learned so far. It simply boils down to tackling and mastering a relatively short list of newly-added topics, as summarized in the preceding screen cap.
May 20, 2013 4:38 PM
Every now and then, I'll turn over the reins here at IT Career JumpStart to a friend or colleague for a guest blog post. Here's one from long-term cert watcher and author Emmett Dulaney, whom I first got to know in the late 1990s through his many good IT cert prep books and articles.
How Many Steps are There to Laser Printing and Why Does it Matter?
by Emmett Dulaney
Here is an interesting question to contemplate: how many steps are there in the laser printing (electrophotographic) process? While this may seem like a trivial question, the answer is anything but.
 A web search on the topic will reveal quite a few different answers, but most will report that it is either six steps or seven. In order to obtain the basic entry-level industry-recognized computer certification (the A+ certification from CompTIA), one has to know not only this process, but the number of steps and the order of each step. If you were to seek the certification prior to the latest round of exams that came out within the past year, the answer to questions on the topic would be that there are six steps, and – in order – they are:
Cleaning
Conditioning
Writing
Developing
Transferring
Fusing
 If you were to seek the certification today and take the latest exam (referenced by the vendor as exam number 220-801), the number of steps has changed from six to seven and they – in order – are now:
Processing
Charging
Exposing
Developing
Transferring
Fusing
Cleaning
 Over 800,000 people worldwide have obtained the A+ certification and have had to answer multiple-choice questions about the number of steps and the order in which they are carried out. CompTIA has a lot of weight as an industry leader and their vendor-neutral certifications are second to none, but I am not so sure that I agree with their assessment even though Wikipedia – that great bastion of knowledge – agrees with them and lists these seven steps on their site today (as do a number of other sites that are based on much of the same content). 
 Within the actual laser printer market, the industry leaders are: HP, Canon, Samsung, and Xerox (a lot of others exist and compete for smaller portions of the pie). HP still lists six steps when it comes to their printers and those six steps resemble the first list CompTIA required exam candidates to know.  Canon similarly lists six steps to their printing process but puts them in a different order:
Electrical Charge
Exposure
Developing
Transfer
Fusing
Cleaning
 While I was unable to find anything authoritative from Samsung, these six steps from Canon mirror those created by Chester Carlson when he invented Xerography and are those agreed upon by Xerox as well.
 In short, whether there are six or seven steps to the electrophotographic printing process is a topic that can be debated among academics and websites. The manufacturers of laser printers tend to standardize on six while they disagree on the exact wording and order of them.  Those authenticating a technician's knowledge through certifications, however, are now testing on a specific list of seven steps and asking candidates to know them. This is not an ideal situation and it begs the question: is this really something that should be tested on at all?
 If the laser printer manufacturers, even when agreeing on the number of steps, cannot agree on the order or wording of them, why should a technician be required to memorize them to authenticate that they know how to work on printers?  Picking "Developing" as the answer to the third step of the printing process is correct – by the manufacturer's guidelines – if the printer in question is a Canon or Xerox machine, but wrong it if is an HP. It is also wrong under both sets of the CompTIA lists, and that brings the whole concept of testing on this particular topic under scrutiny.
 Certification exams are a great way to authenticate skills when those skills are agreed upon and accepted by those within the industry.  When they are arbitrary and questionable, however, it is best to let the vendors test on them individually and not try to homogenize what cannot be normalized.
 Emmett Dulaney is the author the CompTIA Network+ Authorized Exam Cram, 4E (ISBN: 978-0789749055) as well as the CompTIA Green IT Fast Track and Wireless Certification Flash Cards .

Yes, Virginia, it really is "the end" for CertCities.com.
[PostScript: in a follow-up conversation by phone with Emmett, I also learned that indeed the plug has been pulled on CertCities.com, and that while the site remains accessible, neither he — nor as far as he knows, anyone else — will be adding any new content to the site for the foreseeable future. Despite repeated avowals from management to re-start the site, it's now been decided to leave it alone going forward. It's a sad thing for me to see another formerly great source of surveys, information, and news on IT certification boarding up its virtual doors. Sigh.]
---
May 17, 2013 5:55 PM
There's a new MS certification in town: in a post dated May 16, 2013, Born to Learn made it known that MS had launched a credential that targets professional development for educators, and seeks to ensure they make good use of what's called Information Communication Technology (aka ICT) to help their students acquire and employ what the company calls "21st century skills." According to that blog post, entitled Introducing Microsoft Certified Educator (MCE) Certification, this program includes self-assessment tools for educators to put to work, along with an online learning curriculum and so-called "summative assessments" that are aligned to "the Technology Literacy Approach of the UNESCO ICT Competency Framework for Teachers (UNESCO ICT-CFT)."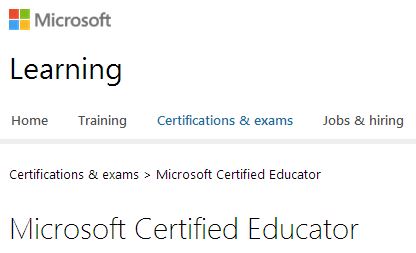 The MS Learning pages now include the Microsoft Certified Educator (MCE) cert amidst their offerings.
The focal point for the credential is a single exam (named "Exam 193"), for which pointers to training materials are also provided. Digging into this offering requires completing a self-assessment to determine, so I cheerfully complied, spending about half an hour working through the 40 questions in that instrument. I came away from that assessment in need of three classes based on the UNESCO ICT-CFT framework: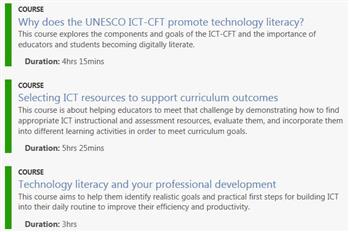 As somebody who understands technology well, but not necessarily the elements of UNESCO pedagogy, that's also what my courses appear to reflect.
The courses that I was allowed to bypass included the following:
How do technology and pedagogy mix? (7 hrs)
Use basic ICT tools to support teaching and learning (10hrs 40 mins)
Organize and manage the use of ICT in your classroom (6 hrs 30 mins)
Another way to look at this is to observe that out of a total time commitment of 37 hours for all classes, I would need 12 hours and 50 minutes (let's say 13 hours in rounder numbers) to cover the whole curriculum, or about 35% of the stem-to-stern coverage. I'm guessing this will be fairly typical for most educators with any experience, especially those with a more technical bent. That should make earning the MCE relatively easy and straightforward for most of them.
Microsoft's link for "How to buy the exam" leads to the general Microsoft in Education|Buy and License page, which left me scratching my head when it comes to who's offering the exam, how much it costs, and how to sign up for same. So I next searched on the exam number (62-193) and located the exam page at MS Learning, which was somewhat more helpful. That's where I learned that the exam is administered through Certiport, though Microsoft's link into their site stymied me on signing up for that exam (the educator stuff is not yet represented in the pull-down lists and exam options available through Certiport's exam locator). That's when I reached out to Certiport's designated PR contact, Allison Yrungaray, who hooked me up with Certiport's marketing manager for Microsoft stuff, Peggy Hayes, and  her product management counterpart, Dave Hansen, who straightened me out on what's up.
It seems that Certiport has just completed an MCE pilot in Ireland and Russia, and they're still engaged in putting a global rollout together. People will be able to sign up for the MCE exam through the company's exam locator page some time in June, at which point the list price for the exam will be a very educator-friendly $69 here in the USA (local prices vary with local currencies elsewhere around the world, as you might imagine). I'll be checking back in on the program next month, to see how the rest of the rollout goes. But for now, we know that the MCE exists, that it has been piloted in two countries, and that it will be making a complete public debut some time next month (June 2013).
---
May 15, 2013 3:53 PM
In this morning's paper I saw an item about how the US Department of Defense is going to institute a mandatory furlough for 11 days' work for 680,000 civilian employees of that agency between July 8 and the end of the fiscal year (October 31, 2013). Trying to assess the overall impact on employment and the economy I immediately grabbed my calculator and started running some numbers. 680,00 x 11 x 8 (number of employees times number of days times number of hours in a workday) = 59,840,000 hours. With 2080 hours in a normal working year (52 weeks times 40 hours per week) that translates into a job loss of roughly 29,000 (28,769.23 to be more precise).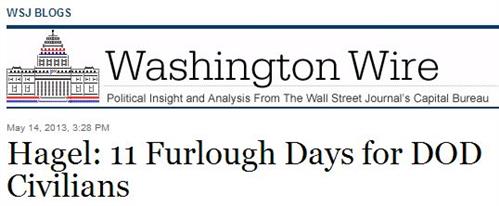 Here's the blog headline from the Wall Street Journal's Washington Wire post on this topic.
But is the loss of an average of about four days' work per person  for three months for those 680,000 individuals who remain (mostly) employed the same as outright loss of jobs, despite the calculations I just performed? Methinks not, and here's why:
1. None of these affected individuals will be filing unemployment or other assistance claims as a result of their involuntary furloughs.
2. The overall impact on other forms of assistance (food banks, homeless shelters, and so forth) is likely to be negligible.
3. Because essential personnel will not be furloughed (the article specifically mentions medical personnel and police officers, and civilians working in war zones as exempt), those affected will actually go from working 5-day weeks to 4-day weeks for the period from July 8 through September 27 — 12 weeks, so 12 days total — and will experience a 20% pay cut as a consequence.
No doubt, this will be a hardship for the individuals and their families who must give up part of their normal income as a result of the sequester. I know that if I had to accept a similar pay cut, I wouldn't be happy about it, but I could find a way to make it work. I can only hope this doesn't serve as a tipping point into deeper debt or bankruptcy for too many of the public servants who fall under this umbrella. But I don't think it's going to have anywhere near the same impact on the national economy as would the outright layoff of nearly 29,000 workers. In fact, I'll be curious to see if it registers on the US Bureau of Labor Statistics' employment radar at all. Although it's a bitter pill for those DoD civilians and their families to swallow, I have to believe it's not as traumatic as cutting jobs outright. Let's hope that the politicians can get this sorted out before another fiscal year gets too far underway in October 2013 and beyond.
---
May 13, 2013 7:21 PM
A recently-published study from Harris Interactive reveals some interesting concerns from American workers surveyed online between March 19 and 21, 2013 (see this April 4 news item for more details: "Majority of American Workers are Worried About Job and Benefits Security." I can't help but see this as a natural consequence of our painfully slow economic recovery since the doldrums of 2008-2009. Even though the US Bureau of Labor Statistics reported the lowest overall unemployment since President Obama took office — 7.5 percent, the grinding and poky pace of economic improvement isn't buoying confidence amongst the American workforce, which probably explains equally sluggish growth in consumer confidence and spending.

A follow-up story from Harris that appeared on May 2, 2013 ran with the preceding headline, and indicates that slow improvement isn't really helping American workers feel better about their current work situations and future prospects. The company's "Harris Poll Jobs and Benefits Security Index" (HP-JBSI)measures how workers feel about their jobs and benefits, and about their overall employment security. The May 2 story reports that "…this combined measure [the HP-JBSI] shows a strong and increasing concern, particularly among older and higher income workers, while individual concerns show more dramatic month-to-month shifts among all workers."
Here are some of the findings reported in the latest story:
More U.S. workers (50% March – 53% April) expect to do more work without getting more money in the next three months;
More U.S. workers (20% March – 24% April) expect to have their salary or hours reduced in the next three months;
Less U.S. workers (61% March – 55% April) believe that if they were going to look for a new job, they would be able to find one;
And, less U.S. workers believe they will get a raise from their employer (35% March – 29% April) or receive better retirement benefits (18% March – 13% April) in the next three months.
Turning to the HP-JBSI measurement, Harris reports these findings as well:
U.S. workers with an annual household income of $50,000-$74,999 (58% March-62% April) are both the most concerned income group, and the group showing the sharpest month-over-month rise in concern. Those with incomes of $75,000 or more also show notable growth in concerns (56% March-59% April).
U.S. workers ages 55 and older (60% March-63% April) are, in an echo of the trend above, the age group showing both the greatest overall concern and the most prominent growth in this measure.
Harris Interactive President and CEO Al Angrisani (former Assistant Secretary of Labor for President Reagan) uses these results to opine that "…workers are more pessimistic about the likelihood of finding a job if they need to look for one, as well as the likelihood of seeing a benefits improvement." He goes on to observe that because of the cost and risk involved in recruiting and hiring "talent and new employees," such activity is regarded as a "major investment consideration for employers." Their apparent reluctance to increase headcount is also contributing to a sense of unease among employed workers, particularly those at higher pay grades and levels of responsibility.
Does this mean layoffs are coming back in vogue in organizations? Not according to recent first-time unemployment claims figures for the past 4-6 weeks. But something has the workforce spooked, particularly those who've been around it long enough to see (or at least fear) the apparent handwriting on the wall. Given recent stock market upticks and new highs set for all three major stock indices last week, it's interesting to see this wave of fear and loathing from the workforce. Let's hope it's just a case of the jitters, and not a portent of a labor downturn in the offing. As always, only time will tell!
---
May 10, 2013 2:12 PM
Last September (2012) I posted a blog about Microsoft's latest "Second Shot" cert exam offering — sign up with a special code, then get a free re-take if you don't pass the exam on the first try. This posting is a follow-up reminder that anybody who signed up for that offering must exercise their retakes by the end of this month (May, 2013). That's exactly three weeks from today, so it's time to contact Prometric and exercise your Second Shot voucher if you want to slide in under the deadline!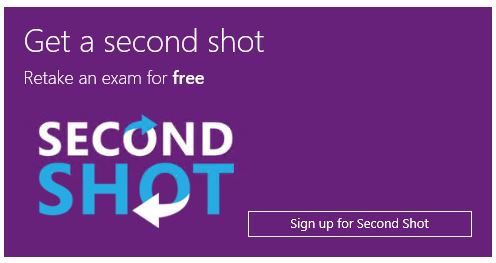 There's even a new "Tile" for the Second Shot program now, so more must be in the offing.
As I revisit the Second Shot page at MS Learning, I see they've updated their trade dress with a Windows 8 style (call it Windows Store UI, Modern UI, or even Metro, if you like) and are still reminding people to grab seats while they can at Prometric testing centers to exercise the offer. If this applies to you, time to stop dithering and get on the phone or go online to grab one of the no-doubt few seats left in your area to take that second shot at an MS certification exam. Time's a wastin'!
One more thing: If you signed up for an MS Certification Pack (which usually means enough exams to earn an MCSA or MCSE or suchlike credential), you've got until December 31, 2013, to exercise your Second Shot voucher. This warning applies only to those who signed up for single exams under the Second Shot offer from last Fall. This means if you want to buy a Certification Pack and do so before the end of May, you can qualify for Second Shots on all related exams until the end of the year. Again: Get cracking!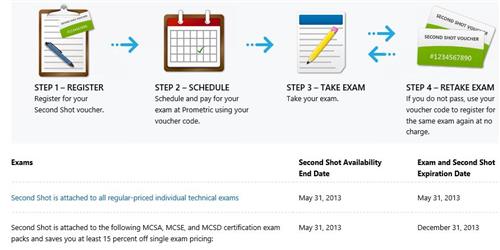 Here's a reminder on how to work the Second Shot process, and the later deadline for those who bought Certification Packs under the most recent Second Shot deal.
---
May 8, 2013 2:59 PM
As his online biography attests, Cisco Operations Manager Marcus Fan (he runs Cisco's San Jose Customer Proof of Concept Lab within the company's Worldwide Sales organization) is no slouch when it comes to certification. He holds 30-odd Cisco credentials, including CCNA, CCDA, CCNP, CCDP, CCSP, CCVP, and a whole slew of specialist certs, along with another dozen or so non-Cisco certs as well.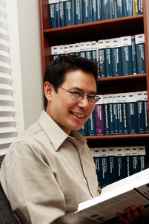 Marcus Fan with a bookshelf full of Cisco Press titles, most or all of which he's sure to have read.
While his biography makes interesting — and hopefully also, inspiring — reading, his recent post on "Balancing Priorities" for the Cisco Depth of Field blog raises some very important points for IT professionals interesting in advancing their careers while also seeking to strike a harmonious work-life balance. He makes it very clear that those interested in pursuing certification are going to have to give some things up to reach their goals, and make sure they can respond to changing conditions and requirements that the job makes, in addition to pursuing their own professionals goals and interests.
All this got me to thinking about the kinds of sacrifices it can take to build up a substantial certification portfolio — not unlike Marcus's own,  which is why I start pondering this topic — while also dealing with job, family, leisure pursuits, and overall quality of life issues. There's simply no denying that if you want to pursue serious learning and skills development, you're going to have to put certain aspects of life on hold for a while, and to be extra conscious of meeting family and personal health and well-being needs in the face of the large amounts of time, money, and effort you must expend in that pursuit. It's tricky to try to have it all, when things keep slipping around on the table, and life gets in the way (as it so often will).
That's why my hat is off to those who manage to knock off substantial credentials, while also managing full-time employment and family responsibilities. Keep up the good work, people, and take to heart Marcus Fan's observation that "certification is a way of life." That's true not only because it has a way of intruding upon other aspects of life, but also because it has a way of shaping life after the work is done and the credentials are earned. After all, they too must be maintained, along with all the other ingredients that go into a rich, full, and rewarding work-life balance.
---
May 6, 2013 8:44 PM
When I blogged last week about Cisco's participation in an announcement at the White House on April 29, where First Lady Michelle Obama announced a joint technology training initiative to help veterans and transitioning military staff still on active duty find their way back into productive jobs in the civilian workforce, I wondered if other players in this game might not also be active (see my May 1 post "Cisco, White House Team Up to Support Veterans Transitioning to Civilian IT Jobs" for that initial coverage). Instead of wondering, I should have wandered over to the Microsoft Born to Learn blog, where I would have found this very post available that same day: "Microsoft Prepares Veterans for Transition to IT Job Market" (also dated April 29, from the inimitable and irrepressible Veronica Sopher).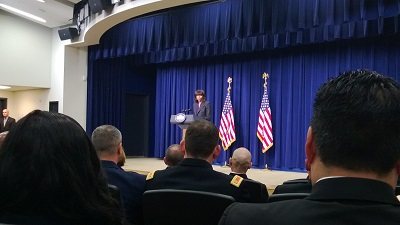 The First Lady takes the podium in the White House Press Room to announce a public-private partnership to help returning forces and vets find good civilian jobs.
As I suspected, the Colossus of Redmond has a hand in this effort, too: Microsoft has, in fact, partnered with Global Knowledge and Prometric to lay out various learning paths to help military professionals with information technology chops to transition into similar roles as IT civilian professionals. What's more, MS plans to donate instructor-led training classes and exam vouchers to a first wave of 1,000 transitioning service members who are preparing to start up the pilot phase of this program (with 160,000 more colleagues to follow behind them some time between now and the end of 2014).
Initially, Microsoft will provide training, vouchers and resources to help returning service people (and qualified veterans) earn any of a handful of Microsoft Certified Solutions Association (MCSA) credentials on subject matters that include Windows 7, Windows 8, and Windows Server 2012. This should also prime the pump to see those same certification candidates later gearing up to tackle Microsoft Certified Solutions Expert credentials on desktop and server infrastructures, private cloud, communications, messaging, and SharePoint.
The Born to Learn blog post also includes this handy piece of advice, which I reproduce verbatim for the benefit of veterans and service members approaching the end of their active duty engagements: "If you are a transitioning service member and want to learn more about the IT Training and Certification Program and associated Microsoft official skills training, please contact your branch of service training officer." Here's a link to a Fact Sheet (PDF format) that readers are likely to find both relevant and interesting as well.
---
May 3, 2013 1:57 PM
Prior to this morning's release of the April employment numbers from the US Bureau of Labor Statistics, many economists had predicted new job numbers would be under 100,000 again for that month, much in the same vein of the 88,000 new jobs reported for March 2013. Not so: the number came out at 165,000, much in keeping with numbers seen earlier in 2013 and late 2012. This kind of growth isn't vigorous enough to lift the labor market out of the doldrums with any kind of speed but –as the old saying goes — "it's better than a poke in the eye with a sharp stick." The overall unemployment rate at 7.5 percent is little altered from the previous month's 7.6 percent, and the total numbers of unemployed (reported at 11.7 million) is also hardly budging from previous levels, either.

Slow steady improvement keeps plugging gamely along, despite dire predictions following sequester-related government furloughs and layoffs
Why is this news a surprise, when it keeps a fairly steady trend slowly grinding along? Because economists and politicians alike don't really know what to make of the government funding cut known as "the sequester" and its overall impact on the labor market. Given the government's heavy impact on overall employment and markets, it's not unreasonable that all should be concerned about a negative impact of reining spending in through across-the-board spending cuts in that sector. But at least for April, the impact so far has not really moved the overall trend that's persisted for the last 15 months or more. I'll describe this as an agonizingly slow recovery, punctuated by occasional steps backward (as with the April report of only 88,000 new jobs added) but also with equally occasional steps forward (as with the March report of 236,000 new jobs) as well. On average, however, the improvement rate has been on the order of 150-165,000 jobs per month for some time now.
Alas, this means we're still years and years away from soaking up our spare working capacity and reaching more normal levels of unemployment in the 5-6 percent range. And of course, we're also still subject to hiccups, crises, financial reversals, and other influences that might retard or derail such recovery as we're still able to muster. Does this language inject more drama into the employment situation summary than the numbers actually warrant? Probably, but the overall pace is slow enough that the recovery's fragility also remains blindingly obvious. All I can say is: "Keep your fingers crossed, and let's keep it going."
---
May 1, 2013 2:33 PM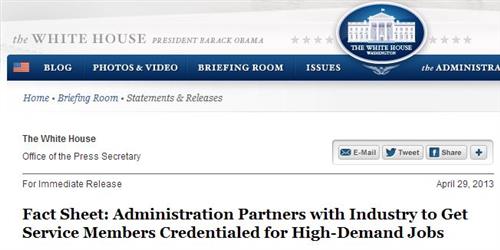 Every now and then, a real feel-good moment pops up in the IT cert biz — not terribly often, though, so I try to revel in such things as and when they happen. Last Monday (April 29) Cisco Systems and the White House released an announcement about a joint technology training initiative. It's designed to help veterans and those transitioning from active duty back into civilian life prepare for strong careers in IT. The initiative is called the "IT Training and Certification Partnership," which the afore-cited fact sheet describes as "a new public-private partnership that will enable thousands of service members to earn industry-recognized information technology (IT) certifications before they transition from military service." There will also be a grant program administered through the Department of Health and Human Services to help veterans with health care experience pursue professional nursing careers and earn a nursing license as well.
The IT side of things comes courtesy of a Military Credentialing and Licsensing Task Force established in mid-2012 at the DoD at the President's direction. This task force sought to:
First, to identify military specialties that could transfer to high-demand civilian jobs
Second, to work with civilian licensing and credentialing associations to identify and close gaps between military training programs and corresponding civilian certification and licensing requirements
Third, to provide veterans and service members greater access to certification and licensing training and exams
The Cisco partnership is the second initiative broached by the Task Force, and is intended to enable up to 161,000 service members to earn "industry-recognized, nationally-portable certifications necessary for … high-demand technology professions, including computer programmers, quality assurance engineers, and IT security analysts." Working the task force and all major branches of the US military, Cisco and Futures, Inc. will begin this program by beginning work immediately with 1,000 active duty military personnel currently transitioning out of the service. These individuals will pilot the program and engage with training, certification, and career resources assembled for their use by Cisco and Futures, Inc. John Chambers, Cisco's CEO blogged about this program and said: "Each participant will select one of several IT certification preparation course such as Cisco Certified Network Associate (CCNA), which prepares entry-level network engineers for careers and helps maximize foundational networking knowledge. … After each participant completes the coursework and passes the certification exam, the [US IT Pipeline, a cloud-based exchange platform that incorporates a military skills translator facility] website will identify jobs in the IT sector that match their experience and qualifications."
Later in the blog, Chambers indicates that other partners in this public-private joint effort include Global Knowledge, Pearson VUE, and others, all of which adds up to a pretty potent combination of program sponsors, training providers, and testing centers to help shepherd veterans and transitioning active duty personnel through IT cert training and testing. I'm really jazzed about this initiative and hope there will be many more like it popping up soon, what with the transitions out of Iraq and Afghanistan returning so many active duty regular and reserve military personnel to civilian life. It's a great way to help them transition from serving their country to getting on with (and making the most of) their lives.
---