May 10 2013 2:12PM GMT

Profile: Ed Tittel
Last September (2012) I posted a blog about Microsoft's latest "Second Shot" cert exam offering — sign up with a special code, then get a free re-take if you don't pass the exam on the first try. This posting is a follow-up reminder that anybody who signed up for that offering must exercise their retakes by the end of this month (May, 2013). That's exactly three weeks from today, so it's time to contact Prometric and exercise your Second Shot voucher if you want to slide in under the deadline!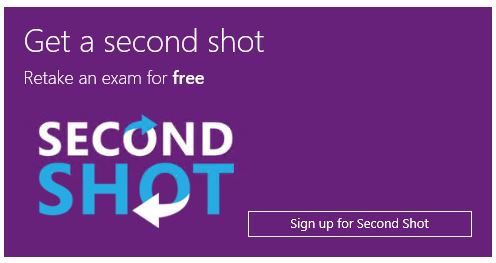 There's even a new "Tile" for the Second Shot program now, so more must be in the offing.
As I revisit the Second Shot page at MS Learning, I see they've updated their trade dress with a Windows 8 style (call it Windows Store UI, Modern UI, or even Metro, if you like) and are still reminding people to grab seats while they can at Prometric testing centers to exercise the offer. If this applies to you, time to stop dithering and get on the phone or go online to grab one of the no-doubt few seats left in your area to take that second shot at an MS certification exam. Time's a wastin'!
One more thing: If you signed up for an MS Certification Pack (which usually means enough exams to earn an MCSA or MCSE or suchlike credential), you've got until December 31, 2013, to exercise your Second Shot voucher. This warning applies only to those who signed up for single exams under the Second Shot offer from last Fall. This means if you want to buy a Certification Pack and do so before the end of May, you can qualify for Second Shots on all related exams until the end of the year. Again: Get cracking!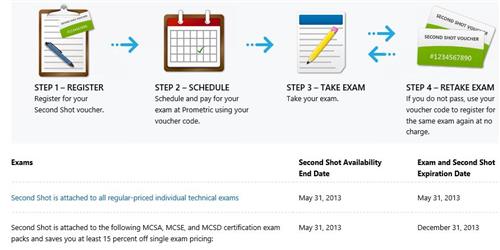 Here's a reminder on how to work the Second Shot process, and the later deadline for those who bought Certification Packs under the most recent Second Shot deal.