Nov 8 2013 2:45PM GMT

Profile: Ed Tittel
On my morning walk today, I had NPR on my earbuds, and heard their preliminary prognostications about this morning's latest Employment Situation Summary from the US Bureau of Labor Statistics. I'm pleased to say that their pundits proved off on one of two major points: first, they predicted lower than usual job growth numbers in the 100,000 range; and second, they predicted a jump in the unemployment rate, possibly by as much as three-tenths of a percent. The actual results as posted were somewhat encouraging in light of those predictions: new jobs created came in at 204,000 for October at about double what had been projected, while unemployment "only" ticked up by one-tenth of a percent from 7.2 in September to 7.3 in October.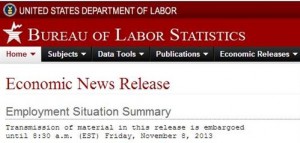 More slow growth mode for October, if slightly better than the pundits' predictions.
There's a "however" to consider, though: the reasons for pundits' predictions came, of course, from the 16-day government shutdown that occurred in October. But here's what shows up in paragraph two of the summary page in the BLS report:
Among the unemployed, however, the number who reported being on temporary layoff increased by 448,000. This figure includes furloughed federal employees who were classified as unemployed on temporary layoff under the definitions used in the household survey. (Estimates of the unemployed by reason, such as temporary layoff and job leavers, do not sum to the official seasonally adjusted measure of total unemployed because they are independently seasonally adjusted.) [Emphasis mine]
Factoring the "temporary layoff" of 448,000 against job creation of 204,000, it's easy to understand why the pundits' predictions turned out to be more dire than the actual results: apparently, they didn't factor in the category differences between creation of presumably permanent jobs versus temporary furloughs of government employees who kept their permanent positions (and who, according to Congressional resolutions passed during the shutdown, will be paid for their time off in any case).
As I continue to follow BLS reporting of US employment, I'm continually amazed at how various kinds of classification and categorization of workers produces the numbers we see in the monthly reports that agency produces. We should always remember that when you factor in the so-called "discouraged workers" (those unemployed who've given up on finding a job of any kind) the unemployment rate in the US is in the low double-digits (10-11 percent by many estimates) rather than the official 7.3 percent reported this month.
The "Information" numbers in Table A-14 of the report ("Unemployed persons by industry and class of worker, not seasonally adjusted") convey some slightly different news. Data from that sector for October 2012 versus October 2013 shows that unemployment increased from 7.7 percent of an IT workforce of 27.9 million workers in 2013 to 7.9 percent of 27.5 million in October 2013. That shows a loss of 400,000 jobs in the sector over the intervening year, along with a slight uptick in the unemployment rate. To me, this shows that some caution is necessary in assessing job change or promotion prospects for IT professionals, despite more ebullient news about IT employment from lots of other sources of late (including various reports I've presented in other blog posts here).
Nevertheless, it's interesting to see job creation numbers waxing little by little, step by step, month over month. Although we need to break 300-350,000 a month for job growth to overtake unemployment, and move the rate into the 5-6 percent range that represents "full employment" as defined by most economists, it's better to be taking small steps forward on the growth rate, rather than small steps back. But as I've observed many times in my commentary on employment, especially as it relates to IT, it's still not time to break out the champagne and canapes. Cause for modest cheer is not the same as cause for celebration, after all.