Aug 21 2013 2:50PM GMT

Profile: Ed Tittel
I got a very nice e-mail on Monday from Joe Cannata, Brocade University's Senior Manager of Certification. He shared pointers to the results of the company's 2013 Certification Survey, which polls as many of its certified IT professionals as are willing to respond, to take their temperature on a number of interesting topics. The screenshot below, for example, graphs responses to the query: "What value do you perceive as a result of earning a Brocade credential? (Please choose all that apply)"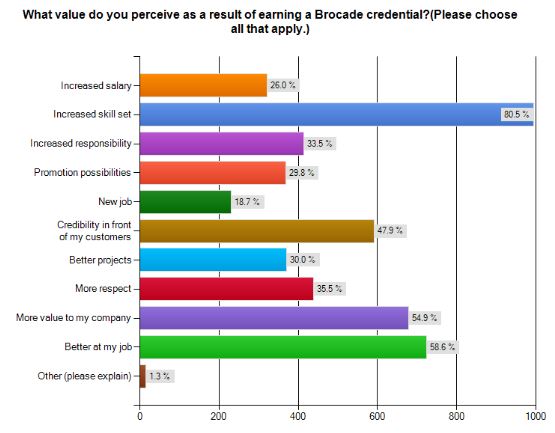 Answers to the perceived value of Brocade certification reflect the overall high ratings the program enjoys from the people who've earned such credentials.
To peruse the entire set of survey results, see the blog post entitled "2013 Certification Survey Results," where you'll find answers to questions about geographic location, employment status, performance improvements, social media, and more. With over 1200 respondents — a reported increase in response rate of 94% over the company's similar 2012 survey — it's pretty obvious that the Brocade program is thriving and that it enjoys strong support from its community of certified professionals.
Perhaps even more interesting, Brocade is launching a beta version of the Brocade Certified vRouter Engineer Exam (BCVRE) on September 10, which remains available through October 21, 2013. During that time 150 free seats for that beta exam will be made available to interested IT professionals. For this beta exam, Brocade has adapted the content of Vyatta's Certified Professional exam with a number of changes and additions. According to a recent blog post from Mr. Cannata entitled "Brocade Certified vRouter Engineer Beta Exam Information" that exam includes 97 questions and runs for 120 minutes (2 hours). Not only will the first 150 applicants be able to take the exam at no charge, they will also be granted free access to study materials. Registration opens next Monday (August 26, 2013) so there's still time to enroll by following the step-by-step instructions available in the blog post (follow the hyperlink in the preceding sentence). This credential is one of the few currently available in the hot and high-demand area of "software defined networking" (SDN) and very much worth digging into. The blog post also includes links to the Brocade IP Primer, and three different PDF-based Vyatta manuals with useful background and technical information. Check it out!