Jul 15 2013 5:53PM GMT

Profile: Ed Tittel
I've said it before, and I'll probably say it again: video cert training company TrainSignal's $49 a month subscription deal for the entire training catalog — which includes a large number of Microsoft, Cisco, CompTIA, Citrix, VMware, and CWNA certifications among its offerings — is one of the best IT certification training deals around. Sure, this company is in business to make money off aspiring IT cert candidates, but they seem to have also made it their mission to make the process affordable, interesting, and where possible, fun. That's why I pay attention to what they talk about, and tune into their blog from time to time, too (self-disclosure: I've written cert prep advice pieces and some "guest blogs" for them in the past, as a contractor to the company). Here's a great Trainsignal blog post that popped up last week that I think is not only worth reading, but a follow-up post of my own: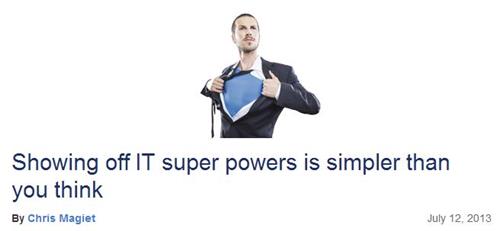 Site editor Chris Maiget's latest (7/12/13) blog post makes some very good points on how to "show off your IT superpowers."
Basically, Maiget's blog post makes the point that if you get active online, and start posting on forums, bulletin boards, and in discussion groups, you can help others with IT issues or questions, while also improving your "IT street cred" and raising your profile for a raise, a promotion, or even your next job. Maiget cites the active Spotlight on IT area on the busy, busy Spiceworks website as a good place to get going with showing what you know and can do. He also makes some additional interesting points in the same vein, many of which I've recommended myself right here in this very blog, too:
Join user groups: I've recommended these as good sources of access to knowledgeable peers, and as great ways to get support and find study groups when preparing for a cert exam, but user groups are also great places to strut your stuff, and to help others out, too. Chances are that most IT pros will find opportunities to give help and support in these environments as they can also get the same things for their own professional and certification development purposes.
Start a tech blog: If you have a lot to say on various technical topics, you've got the most important ingredient for a good blog: lots of content! If you keep it up, and get some good stuff out there, this can be a huge career booster.
Find fun side jobs: From part-time paying work to volunteering for a civic or charitable organization of your choosing, IT people are always in demand to help out. In particular, I have often advocated volunteering as a great way to help yourself by gaining knowledge and experience, while also helping others who can benefit from your time and effort.
Become a beta tester: there's no better way to get on the leading edge (and often also, get free software) than to sign up as a beta tester for software, or even certification exams for that matter (taking a beta cert exam is often cheaper than the commercial version, or it might even be free, and if you pass you'll get credit for that exam for or toward a credential, too).
In general, I like the idea that doing something extra — especially helping others with what you know and can do — comes back around to help your professional profile and career development. I hope that you not only like this idea too, but will decide to try out one or more of these suggestions, and see them come back to your own ultimate benefit.