Jan 12 2014 10:32PM GMT

Profile: Ed Tittel
Thanks to an organization named U.S. Tech Vets, which has teamed up with Monster.com, there's a nice job resource for veterans and active duty military facing transition back to civilian life. The organization's motto is "Connecting veterans with jobs & employers with veterans," and they've put together a pretty spiffy tool called the military skills translator. A visitor to the "MOS translator" page need only enter his or her current or former service (all 5 majors are represented: Army, Air Force, Coast Guard, Marines, and Navy), pay grade (E1-E10, W1-W5, or O1-O4), and an MOS attained during service, and the page maps qualifications to jobs open and available. Here's what the base search page looks like: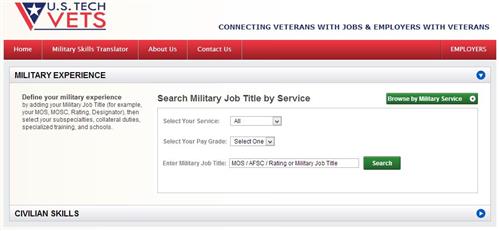 Nice! A simple fill-in form leads to tech jobs all around the USA.
Just for grins, I masqueraded as an E-4 from the Air Force with a programming MOS who'd taken its "Computer Systems Programming Initial Skills Course." The search tool matched me up with 220 open jobs with locations all over the US. And while some of those jobs — for example, a Senior SysAdmin Windows/SAP at Ogden/Hill AFB in Utah, or a VM/SAN Admin at Camp Pendleton (CA) — obviously drew on military background and experience, most of the jobs were straight-up civilian IT positions. I did see a broader range of positions popping up than I would have expected for somebody with a plain-and-simple programming background and MOS (like the two aforementioned military oriented jobs), but there were plenty of interesting and potentially appropriate jobs from which to choose, too.
I'd advise those who qualify to use the tool to sift through its offerings carefully, and concentrate on those with the best fit to actual experience and interests, but it's clearly a good thing for vets and transitioning servicepeople to have at their disposal. If this means you, be sure to check it out!
[Many thanks and a shout-out to the nice folks at GoCertify.com, who brought this tool to my attention.]