Jul 31 2013 3:52PM GMT

Profile: Ed Tittel
Last week, my buddies over at TrainSignal.com  sent me an InfoGraphic entitled "What Does It Take to Conquer the MCSA?." It's a good thing they asked for my feedback, because I found a minor but significant error, which I was able to help them repair with a single e-mail message. Once repaired, however, it presents a very nice set of information, arranged as a series of 10 slide-like images, that tells an interesting story about the MCSA, and the IT professionals who pursue that certification. Here's a screencap of the first image in that series, to set the stage for what you'll find there.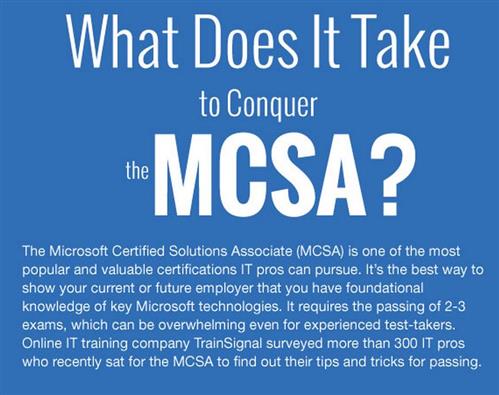 The MCSA used to stand for Microsoft Certified System Administrator but, following a hiatus from 2005 through 2011, it now stands for Microsoft Certified Solutions Associate. The program's home page provides nice pointers to all the individual credentials under this umbrella, which come in six flavors (you can follow links to all these individual items on the afore-linked home page, thereby saving me the difficulty of getting the links to match up properly here):

The MCSA is an important IT certification that defines the first step into Microsoft's professional certification ladder, which proceeds from MCSA to Microsoft Certified Solutions Expert (MCSE) and Microsoft Certified Solutions Developer (MCSD) at the second step, and then onto Microsoft Certified Master (MCM) and Microsoft Certified Solutions Master (MCSM) on the third step, before culminating at the Microsoft Certified Architect (MCA) on the fourth step.
If you're interested in the MCSA, be sure to check out the TrainSignal Infographic. And if you find yourself considering training options for same, remember that TrainSignal's  $49 a month subscription to its entire training library of MS, Cisco, CompTIA and other online cert courses remains one of the best deals around anywhere.