Sep 4 2013 4:13PM GMT

Profile: Ed Tittel
Ask any savvy online shopper how to find the best deals, and he or she will invariably tell you something like "Use a promo code!", "Get a coupon.", or perhaps "Dig for discounts." The same thing is true, of course, for IT certification exams, except that you can't rely on sites like RetailMeNot and so forth to help you unearth the deals and promotions that might (or might not) be available. The last "Second Shot" promotion from Microsoft timed out for exam registrations on or before May 31, 2013. But with this latest announcement (undated, alas, but of pretty recent origin and vintage) anyone taking a Microsoft Technology Associate (MTA) exam, or any other Microsoft exam whose ID begins with 070 (production exams) or 071 (beta exams, usually) can exercise this free retake offer through May 31, 2014.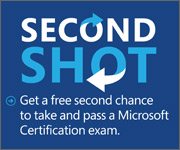 Two exam attempts for the price of one, for those who don't pass on the first try.
Here's what you must do, to take advantage of this offer:
1. Register for a Microsoft certification exam, and request a Second Shot voucher for a technical exam or an MTA exam (you must follow those links to access Second Shot registration tools, to obtain that voucher)
2. Use the voucher code when you schedule and pay for your exam at Prometric
3. Take the exam as scheduled
4. If you don't pass on the first take, use your Second Shot voucher for a free retake.
As usual, some restrictions also apply. The offer applies only to one exam at a time, so you can't register for a second exam until you take (and re-take) the first one. Only MTA exams purchased through Prometric are eligible for a Second Shot; such exams purchased through CertiPort (their biggest purveyor) are not. Those who fail a beta (071 prefix) exam using a Second Shot voucher are eligible for an added retake of the production (070 prefix) exam: Prometric will mail live exam voucher (070 prefix) within one week of when you receive beta exam results; applies only to regular-price individual technical exams, NOT to discounted multi-exam packs.