Dec 5 2012 3:31PM GMT

Profile: Ed Tittel
Much to my surprise, I saw a Twitter item from GoCertify.com that informed me that the MS Press Exam Ref title is out for 70-417: Upgrading Your Skills to MCSA Windows Server 2012. Prosaically enough, this book is entitled Exam Ref 70-417: Upgrading Your Skills to MCSA Windows Server 2012 (Amazon $24.53, O'Reilly $35.99 ebook, $39.99 print, $43.99 both).
I'm impressed by several things about this book release:
It comes pretty early in the overall release cycle, and covers all three MCSA: Windows Server 2012 exams (70-410, 70-411, and 70-412) in just 384 pages. The 70-410 book is out, but titles for 70-411 and 70-412 from MS Press/O'Reilly aren't due out until April, 2013 — not coincidentally, the same time that the MCSA: Windows Server 2012 Cert Prep Pack is also due for release.
It's the only full-blown 70-417 book currently on Amazon's radar.
It's a great way to get a sense for the overall coverage for the entire MCSA: Windows Server 2012 curriculum in book form right now.
As I blogged back in October (MS Offers Free 70-417 Jump Start…), the half-dozen certs listed in this screencap from the MCSA: Windows Server 2012 cert page qualify holders to take the 70-417 exam to upgrade those credentials: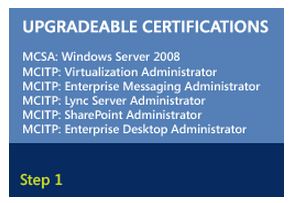 MCSA: Windows Server 2008
MCITP: Virtualization Administrator
MCITP: Enterprise Messaging Administrator
MCITP: Lync Server Administrator
MCITP: SharePoint Administrator
MCITP: Enterprise Desktop Administrator
For those folks who hold one or more of these credentials, the 70-417 is a killer proposition, not only because it provides a single-exam upgrade path to the MCSA: Windows Server 2012, but also because that single exam costs the same $150 that all other MS Cert exams cost nowadays. Sort of a "three-for-one" pricing deal, if you ask me. If you qualify, be sure to check it out!