Feb 21 2014 3:15PM GMT

Profile: Ed Tittel
MS has offered a nice roadmap to the courses that lead to its many and various certifications to attendees at its TechEd and other company events for some time now, but only recently has made this information readily available through a Windows Store app suitable for access on any Windows 8 device (phone, tablet, PC, and so forth). Here a link to this item, called "Microsoft Training and Certification Guide," which provides a link to grab this puppy in the Windows Store. The map looks something like this (click on the thumbnail to see a more legible version, please):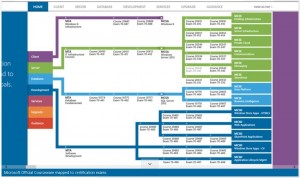 If you want to see what's going on here, click the image for the full-size (1160×690 pixels) version
If you download and install the app, you'll also gain the ability to grab a PDF version of this roadmap that can be scaled even bigger, for those who may have trouble reading the fine print even in the bigger version above. I'm not sure that's enough to justify keeping the app after you download the PDF file, but it's definitely worth checking out (and saving that file) should you be interested in seeing how training offerings from MS map to its certification exams and credentials. Good stuff!