May 6 2013 8:44PM GMT

Profile: Ed Tittel
When I blogged last week about Cisco's participation in an announcement at the White House on April 29, where First Lady Michelle Obama announced a joint technology training initiative to help veterans and transitioning military staff still on active duty find their way back into productive jobs in the civilian workforce, I wondered if other players in this game might not also be active (see my May 1 post "Cisco, White House Team Up to Support Veterans Transitioning to Civilian IT Jobs" for that initial coverage). Instead of wondering, I should have wandered over to the Microsoft Born to Learn blog, where I would have found this very post available that same day: "Microsoft Prepares Veterans for Transition to IT Job Market" (also dated April 29, from the inimitable and irrepressible Veronica Sopher).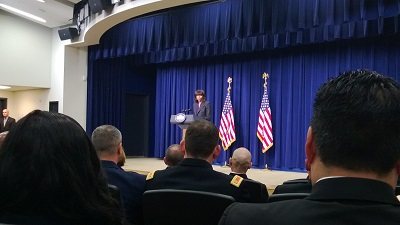 The First Lady takes the podium in the White House Press Room to announce a public-private partnership to help returning forces and vets find good civilian jobs.
As I suspected, the Colossus of Redmond has a hand in this effort, too: Microsoft has, in fact, partnered with Global Knowledge and Prometric to lay out various learning paths to help military professionals with information technology chops to transition into similar roles as IT civilian professionals. What's more, MS plans to donate instructor-led training classes and exam vouchers to a first wave of 1,000 transitioning service members who are preparing to start up the pilot phase of this program (with 160,000 more colleagues to follow behind them some time between now and the end of 2014).
Initially, Microsoft will provide training, vouchers and resources to help returning service people (and qualified veterans) earn any of a handful of Microsoft Certified Solutions Association (MCSA) credentials on subject matters that include Windows 7, Windows 8, and Windows Server 2012. This should also prime the pump to see those same certification candidates later gearing up to tackle Microsoft Certified Solutions Expert credentials on desktop and server infrastructures, private cloud, communications, messaging, and SharePoint.
The Born to Learn blog post also includes this handy piece of advice, which I reproduce verbatim for the benefit of veterans and service members approaching the end of their active duty engagements: "If you are a transitioning service member and want to learn more about the IT Training and Certification Program and associated Microsoft official skills training, please contact your branch of service training officer." Here's a link to a Fact Sheet (PDF format) that readers are likely to find both relevant and interesting as well.