Nov 20 2013 8:31PM GMT

Profile: Ed Tittel
I follow the cert market, especially as technical competencies and the certs that sometimes go with them point to high growth and attendant job opportunities. That's why I keep getting my face rubbed in that part of the IT landscape that falls under the "mobility" moniker. This area seems to be growing and expanding faster than almost anybody can keep up with, and keeps popping up almost everywhere in the IT world nowadays. Indeed, mobility is transforming the way people work. As a serious player in mobility technologies, Citrix has focused on designing its next-generation training and certifications to help educate businesses and users on those technologies, roles and skills that it believes to be essential for maximizing the business value of mobility investments.
That probably explains why, when I spoke to Ophir Erez, Senior Director of Education Programs for Citrix on Monday, he had a LOT to say on that topic (enough, in fact, that I'm working on another blog post to explain what's up with Citrix certifications and where they're heading in the year or so that still lies ahead). But for this blog post, I want to concentrate on a cluster of remarks he made around the topic of mobility in particular.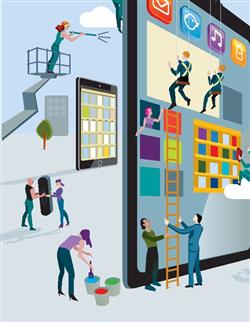 Mobility is not just a passing fad or fancy for IT; it is reshaping the entire focus and functionality of what IT is and does.
[Image Credit: Shutterstock 126150599]
Here's what I grabbed from that conversation, transcribed directly from my notes taken during our November 18 call:
"Mobility is critical to our customers, and ranks among their most pressing concerns. That's because it has high impact on their operations, and is essential when it comes to getting work done."
"Mobility poses interesting challenges because it crosses so many technology lines, for everything from devices, to applications and apps, to networking and infrastructure, to policies and processes needed to protect organizations yet still permit employees to do their jobs."
"Dealing with a new and rapidly-changing market and its technologies requires expressing a vision as much as it requires products and solutions."
"Making mobility work for business means delivering a consumer-like experience to end-users, while imposing policies and controls needed to meet legal, regulatory, and security requirements."
I am struck by these words, not just because they're accurate and relevant, but also because they succinctly capture the issues involved in tackling and keeping up with a rapidly-moving technology and its attendant uses and controls. He does a great job of summing up why mobility is important — it helps organizations get things done — while also capturing the serious difficulties inherent to getting a rope around (and holding onto) something moving at great speed with significant momentum behind it. The requirement for "vision" is about understanding why the demand is there, where its value and appeal come from, and how to turn that demand into productivity and material gains for the organizations that support mobility, especially in BYOD situations. But nowhere else does Ophir's understanding shine as brightly when he endorses end-user's expectations that their mobile experience should be the same at work as it is for them outside the workplace, but still remain subject to best business practices, relevant rules and regulations for compliance' sake, and proper security wrappers to maintain confidentiality, privacy, integrity and access controls as appropriate for the content or data that's streaming to and from the legions of mobile devices already involved, or on their way to workplace use.
To me, this goes way beyond Citrix and what they're doing to help enable mobility in the workplace. It reaches all the way from the beginning of the lifecycle, to where hardware engineers design mobile devices and their capabilities (and security) and software engineers build apps or craft protocols to support mobile access and use. From there it extends into the wireless and wired networking infrastructures that enable mobile communications, to the servers that support back-end data access and services, and so forth. In short, mobility really does cross all the boundaries and touch all the disciplines in IT. It really, truly is a game changer. And that's why it's bound to alter the IT certification landscape, just as it's altering so much elsewhere on the broader IT landscape as well. Mobility is no longer an undiscovered country on this landscape, but we will be exploring and feeling our way into it as part and parcel of what it means to work with, use, or manage information technology from now on.