May 17 2013 5:55PM GMT

Profile: Ed Tittel
There's a new MS certification in town: in a post dated May 16, 2013, Born to Learn made it known that MS had launched a credential that targets professional development for educators, and seeks to ensure they make good use of what's called Information Communication Technology (aka ICT) to help their students acquire and employ what the company calls "21st century skills." According to that blog post, entitled Introducing Microsoft Certified Educator (MCE) Certification, this program includes self-assessment tools for educators to put to work, along with an online learning curriculum and so-called "summative assessments" that are aligned to "the Technology Literacy Approach of the UNESCO ICT Competency Framework for Teachers (UNESCO ICT-CFT)."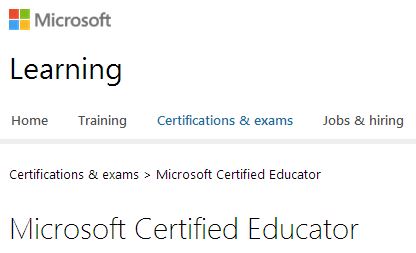 The MS Learning pages now include the Microsoft Certified Educator (MCE) cert amidst their offerings.
The focal point for the credential is a single exam (named "Exam 193"), for which pointers to training materials are also provided. Digging into this offering requires completing a self-assessment to determine, so I cheerfully complied, spending about half an hour working through the 40 questions in that instrument. I came away from that assessment in need of three classes based on the UNESCO ICT-CFT framework: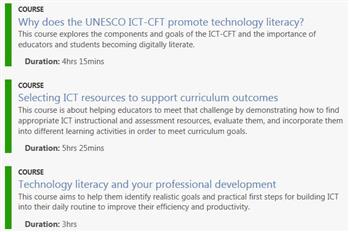 As somebody who understands technology well, but not necessarily the elements of UNESCO pedagogy, that's also what my courses appear to reflect.
The courses that I was allowed to bypass included the following:
How do technology and pedagogy mix? (7 hrs)
Use basic ICT tools to support teaching and learning (10hrs 40 mins)
Organize and manage the use of ICT in your classroom (6 hrs 30 mins)
Another way to look at this is to observe that out of a total time commitment of 37 hours for all classes, I would need 12 hours and 50 minutes (let's say 13 hours in rounder numbers) to cover the whole curriculum, or about 35% of the stem-to-stern coverage. I'm guessing this will be fairly typical for most educators with any experience, especially those with a more technical bent. That should make earning the MCE relatively easy and straightforward for most of them.
Microsoft's link for "How to buy the exam" leads to the general Microsoft in Education|Buy and License page, which left me scratching my head when it comes to who's offering the exam, how much it costs, and how to sign up for same. So I next searched on the exam number (62-193) and located the exam page at MS Learning, which was somewhat more helpful. That's where I learned that the exam is administered through Certiport, though Microsoft's link into their site stymied me on signing up for that exam (the educator stuff is not yet represented in the pull-down lists and exam options available through Certiport's exam locator). That's when I reached out to Certiport's designated PR contact, Allison Yrungaray, who hooked me up with Certiport's marketing manager for Microsoft stuff, Peggy Hayes, and  her product management counterpart, Dave Hansen, who straightened me out on what's up.
It seems that Certiport has just completed an MCE pilot in Ireland and Russia, and they're still engaged in putting a global rollout together. People will be able to sign up for the MCE exam through the company's exam locator page some time in June, at which point the list price for the exam will be a very educator-friendly $69 here in the USA (local prices vary with local currencies elsewhere around the world, as you might imagine). I'll be checking back in on the program next month, to see how the rest of the rollout goes. But for now, we know that the MCE exists, that it has been piloted in two countries, and that it will be making a complete public debut some time next month (June 2013).