Oct 28 2008 10:55AM GMT

Profile: Ed Tittel
I had the good fortune to be recruited by the author of these Two "ACE IT" books from Osborne/McGraw-Hill, and worked with Paula Moreira from 2000-2003. Here are their citations, after which I explain their value propositions and point you at Paula's supporting Web site. All are good resources for those dealing with job interviews and applications, including resumes, cover letters, interview techniques, and lots more: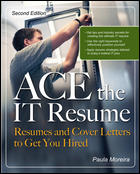 Paula Moreira: ACE the IT Resume, 2e, Osborne/McGraw-Hill, June 22, 2007, ISBN-13: 978-0071492744. Lots of good advice on how to put a resume and cover letter together is helpful, but lots of good examples of both kinds of documents is better still. $16.49 at Amazon.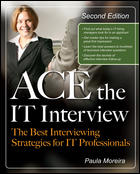 Paula Moreira: ACE the IT Job Interview, 2e, Osborne/McGraw-Hill, December 11, 2007, ISBN-13: 978-0071495783. Sure you'll find basic interview skills practice and information here: what to wear, how to present yourself, things to do (and avoid) in the interview and so forth. But what really gives this recently updated book its value is a battery of questons interviewees are likely to encounter during the interview, for all kinds of IT positions. Literally everything from database administrator, to desktop support technician, to various helpdesk roles, IT management, network administration and engineering is covered, along with programming, project management, security and Web-oriented positions. The second edition adds coverage for trendy IT positions including various architect and business analyst roles as well. Definitely worth the price of admission (also $16.49 at Amazon).
Paula and her husband both still work in IT, so she's got the "feet on the street" perspective as well as nearly 20 years of industry experience to back herself up. I recommend these books highly, as I also do her Web site at ITCareerAce.com, where you'll find her blog, and lots of current and ongong coverage of the topics that make these books both interesting and valuable. Check 'em out!
–Ed–