Aug 2 2013 2:05PM GMT

Profile: Ed Tittel
As I was listening to NPR this morning, I heard job gain estimates that ranged from a low of 170,000 to a high of 200,000 from the economists, employment organizations, and labor pundits polled for their best guesses as to what the July 2013 Employment Situation Summary* might contain. I also heard broad consensus that overall unemployment would dip from 7.6 to 7.5 percent. As is not too unusual for such prognostications, the experts were wrong on both counts: employment was somewhat lower than forecast, with a total of 162, 000 new jobs added; also, the unemployment rate dipped from 7.6 to 7.4 percent, so that turned out a bit better than the estimates.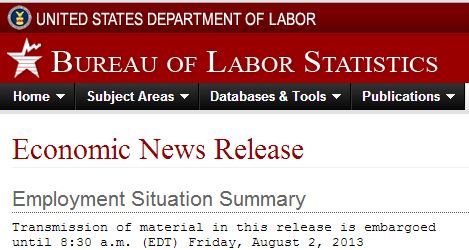 For July 2013, the numbers represent one step forward (lower overall unemployment) and one step back (lower new jobs added count than hoped/expected).
Where does this all leave us in IT? The sectors that gained jobs were in retail, food service and drinking establishments, financial activities, and wholesale, which indicates that while we're still adding jobs — and apparently not suffering from the sequester as much as some, including myself, had feared — many of those jobs are of the low-wage, low-skill variety. Nevertheless, the information sector shows an improvement (see Table A-14* for details), both in terms of number of unemployed in the sector (190,000 for 2012 vs. 172,000 for 2013) and the sector-specific unemployment rate (6.7% for 2012 vs. 5.8% for 2013). By those numbers, it seems that IT is edging ever closer to "full employment" as measured by most labor economists (where unemployment under 5.0-5.5% is considered "normal").
Does that mean it's time to break out the bubbly and start buying imported caviar to celebrate? Not quite yet, I fear. But a beer with some cheese and crackers might be just the thing this afternoon, once quittin' time rolls around. The bottom line: modest gains continue in the slow growth mode I've been chronicling over the last two years' analysis of these monthly reports from the US Bureau of Labor Statistics.