Feb 28 2014 3:41PM GMT

Profile: Ed Tittel
If memory serves me at all well, I was on the masthead of the old Certification Magazine (aka Certmag) for about a decade from 1996/97 to 2006/7 or thereabouts. During that time, I served as a contributing editor to the publication and probably wrote upwards of two hundred articles for them over that period, often to the tune of two pieces per month. But when the bloom started to come off the IT certbiz in the 2007-2008 timeframe, we decided to part ways. It wasn't anything personal or topical — rather, it had to do with an ever-thinner "book" (as magazines are sometimes called in the business) which in turn reflected ever-shrinking advertising revenues. For a long time this magazine was kind of a flagship in the certbiz, and a primary source of news for people in that marketspace. But it had fallen on hard times, and suffered as a consequence.
Late last year, I was contacted by a company called Vallejo Media, who informed me that they had purchased Certmag and also GoCertify.com (another long-term source of valuable and interesting IT certification data, with which I've had a long association) to let me know these properties were coming under new management. I even wrote an article for the new magazine in November, which I believe showed up online later that month or perhaps in early December about the retirement or scaling. This morning I received an invitation to check out the "new Certification Magazine" online and went for a visit that showed LOTS of change, and a noticeable infusion of new content. The old color scheme is more or less intact (bright blue against a white background) but the graphics have been amped up and the layout substantially reworked, as this shot of the page banner illustrates: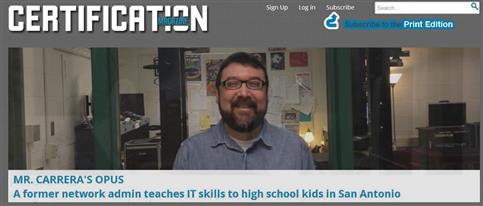 Not too shabby, Certmag: it's a nice clean new look to go with more new content.
I also observed that the site has been cloistered behind a registration fence, so that you can look at one or two articles, after which the gatekeeper informs you that you must register to maintain access. I'm also sorry to see that all the old URLs for my many earlier contributions no longer work (so I'll have to get my list of publications reworked). There's also the option to sign up for a print version of Certmag ($5 for the current month, or $48 a year) so it looks like Vallejo Media wants to use paid subscriptions as a source of revenue. At this point, the website is devoid of advertising, so I'll be curious to learn how they plan to generate income and at what frequency they plan to keep new content coming. But for the moment, it looks like a once-moribund source of IT certification news and information has gained a new lease on life. Be sure to check it out!