May 23 2013 2:32PM GMT

Profile: Ed Tittel
Thanks to Anne Martinez at GoCertify.com, I just learned about a YouTube video — don't get your hopes up: it's really just a PowerPoint slide deck with voiceover — that addresses the changes and updates to the content of the CCENT/CCNA.1 (100-101 ICND1) and the CCNA.2 (200-101 ICND2) exams (which roll up together into the one-shot "combo" CCNA exam 200-120 CCNA). It's entitled "The CCNA and CCENT Exam Changes in 2013" and it comes from expert trainer Chris Bryant (of "The Bryant Advantage").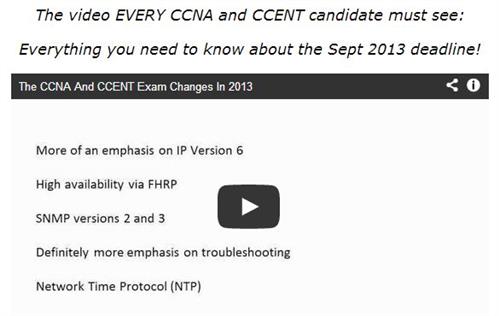 The opening slide in Bryant's preso sums up the biggest changes in the revised CCNA/CCENT exams
(old exams retire on September 30, 2013).
Bryant's basic message is: "Don't let the new exams derail your current study efforts." For one thing, three months remain before the older version exams retire so you may still be able to test and pass before time runs out. For another thing, changes to the exams are mostly incremental and don't require you to abandon everything you've learned so far. It simply boils down to tackling and mastering a relatively short list of newly-added topics, as summarized in the preceding screen cap.