Aug 23 2013 3:27PM GMT

Profile: Ed Tittel
Nobody can deny that virtualization tools, platforms, and technologies are at the white-hot heart of what's making things happen in IT these days, and driving future growth and development . That's why I examined a nice infographic from the folks at TrainSignal (now part of Pluralsight, a developer training outfit) with great interest this morning. Here's just a snippet of what's on offer: it's a fairly complete roadmap to the many virtualization credentials currently available that shows how they might be threaded together to create a certification "ladder" or hierarchy.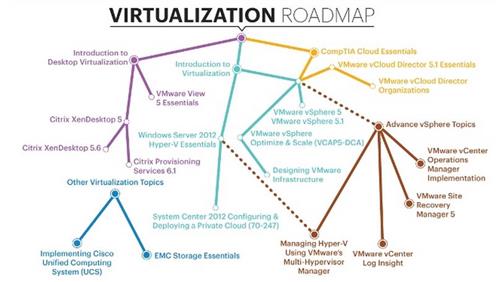 Top virtualization skills to boost your career – An infographic by the team at TrainSignal, which is now Pluralsight
The roadmap shown is the final panel in a collection of four that make up the infographic. The other three panels cover the following topics, and are worth perusing:
1. Top Virtualization Skills to Boost Your Career: information about topics of interest, and the obligatory plug for TrainSignal online training.
2. Why You Must Learn Virtualization: statistics and pay information to incent IT pros to dig into this topic.
3. Top 10 Most-Watched Virtualization Courses: the list of TrainSignal's top virtualization courses includes their basic introduction (1), VMware entries (5), Citrix (3 for Xen App, Server, and Desktop) and Hyper-V (1).
Check it out!