Apr 22 2013 2:54PM GMT

Profile: Ed Tittel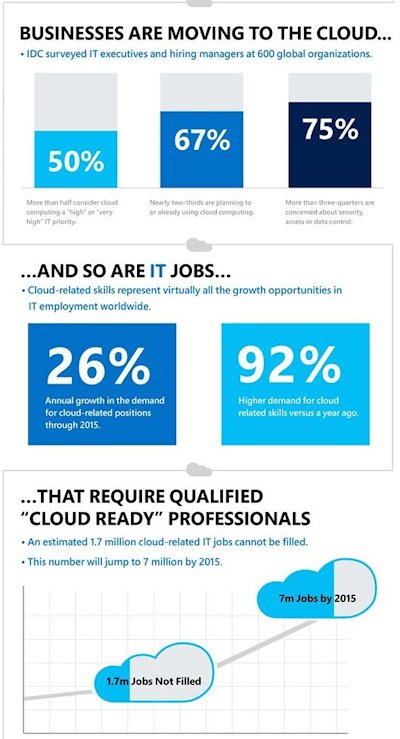 Microsoft draws on a recent IDC survey of IT executives and hiring managers at 600 global corporations to make some very interesting claims about the state of the job market for IT professionals with cloud skills and knowledge, and to measure and forecast job opportunities for those selfsame IT pros. As you can see in the figure that dominates this blog post (available online in the Born to Learn blog as "Infographic: The Skills Gap in Cloud Technology") the increasing movement of such businesses IT operations into the cloud also means more jobs and opportunities for cloud-savvy IT professionals, both now and in the future.
The blog post goes so far as to claim that not only do cloud-related openings manifest significant double-digit growth through 2015 (up to 26% increase in overall such positions available), businesses are nearly unanimous (an unheard of 92%) that there is higher demand for cloud related skills now (April 2013) than there was a year ago.
And indeed, demand for cloud-qualified IT Professionals is going nowhere but up, as the third element in the infographic tellingly illustrates: whereas 1.7 million cloud-related IT jobs cannot be filled at present (that's just one million less than the total employment in the US Information industry in April 2013, according to the latest figures from the US Bureau of Labor Statistics) that number is expected to balloon to over 7 million jobs by 2015 (significantly more than total US IT employment that year, even under the most aggressive growth projections possible, given current economic conditions).
Of course, Microsoft isn't just telling you this to be helpful: they've got several dogs in this hunt, including a cloud track in their IT Academy program and the MCSE: Private Cloud certification as well. But there are a great many more opportunities in the cloud certification game than Microsoft by itself can bring to the table. See my Tom's IT Pro article "Top 5 Cloud-Related IT Certifications" and Mirek Burnejko's "How to Become a Cloud Computing Expert (From Zero to Hero)" for more information on this fascinating subject.