Oct 14 2013 3:17PM GMT

Profile: Ed Tittel
As I noodled about for today's blog topic, I found myself digging into the Website of the European e-Skills Association, thanks to a report on the Linux Professional Institute's announcement that it had joined the organization earlier this year that appeared in the latest GoCertify.com Certification Watch newsletter (Vol 16 #8). It seems that this international not-for-profit organization, formed under Belgian law in June 2007, and usually abbreviated as EeSA, has morphed itself into "a broad stakeholder organization that is committed to e-Skills in Europe, and to working with other major stakeholders in the drive towards growth, innovation, and promoting skills in Europe." Their vision might be best summed up as promoting and boosting e-skills that include digital literacy, in the belief that doing so will enable European success at both individual and business levels "to foster creativity, promote education, increase potential, drive growth, and take advantage of career opportunities in all sectors across the region." To me, this smacks rather nicely of the European equivalent of what we here in the USA often refer to as "Motherhood and apple pie," universal nostrums for feeling good and achieving success.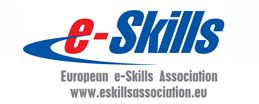 Another European initiative? You bet, and this one aims to promote digital literacy and general computing skills and knowledge.
At this point, I sincerely hope you're wondering "What does all this have to do with IT certification?" The key to understanding the outlines for an answer to this question — though details on how all this will play out are still somewhat murky — comes from the EeSA's mission statement, which reads in part as follows:
Through its members, EeSA promotes the exchange of ideas, awareness raising and good practices at EU and Member State levels; it supports the development of tools and methodologies for the governance of e-skills; and it leads the implementation of concrete e-skills activities in cooperation with other stakeholders. [Source]
The recent LPI press release on their joining the organization sheds more light on what's up than I could find addressed directly on the EeSA website, starting with that 10/10/2013 document's title "Update on European e-Skills: 'Quality labels' for IT certification." A recitation of key members of the organization adds some well-known names, including Cisco, CompTIA, EXIN, HP, LPI, Microsoft, and Oracle to the mix, along with the Council of European Professional Informatics Societies (CEPIS) and the European CIO Association. And in fact, LPI has worked with EeSA on IT skill standards to help define a pan-European e-Competence Framework (e-CF) and a so-called "e-skills Quality Labels" program. The idea here is to provide more information to help guide those preparing to enter the IT workforce, or to advance an IT career, "to make informed choices around education, training and certification."
The recent report in which LPI was involved, entitled "ICT Certification in Europe: Part 2: ICT Certification in Action," recognized a total of 74 popular industry certification credentials as "accepted and approved" according to the criteria developed as part of the eSkills Landscape Service, which itself includes 50 training and certification programs from the likes of Microsoft, Certiport, CompTIA, EXIN/ITIL, Oracle, Novell/Suse, LPI, Citrix, Red Hat, Cisco, PMI, and others, and a total of 74 individual certification credentials.
The aim of the overall effort is to help practicing and prospective IT professionals with an online self-assessment tool and web portal so they can "distinguish high-quality certifications from those of questionable value" (a dilemma that I can definitely relate to, and that I address regularly in examining and evaluating new certification programs and credentials that pop up with great frequency nowadays). This is an effort worth watching, and checking into periodically, especially as the range of programs and offerings expands to cover more of the overall IT landscape. I'll also be very interested to see a detailed list of all the certs (a total of 22 from Microsoft, and 13 from CompTIA, for example) that made this grade, along with more information on the criteria used to achieve the "accepted and approved" status to which no doubt all IT certs would like to aspire.