Sep 2 2013 3:38PM GMT

Profile: Ed Tittel
When I created the Exam Cram book series back in 1997, I got the idea from my late and lamented friend and collaborator, Kurt Hudson, who taught one-day classes at what was then called Squier Computing, and would later become part of New Horizons. He offered a half-day tune-up for various Microsoft certification exams that he called "Exam Cram and Jam." Upon seeing an advertisement for one of his (free) sessions, I immediately jumped on the first two words in that phrase to coin the series title for a set of short, focused IT certification prep books that have gone on to become the second best-selling series of computing books (behind only …For Dummies, another series to which I have contributed half a dozen titles or more as well). That's why I couldn't help but grin when I saw this item show up on the promotional information for Oracle Open World (San Francisco, September 22-26, 2013).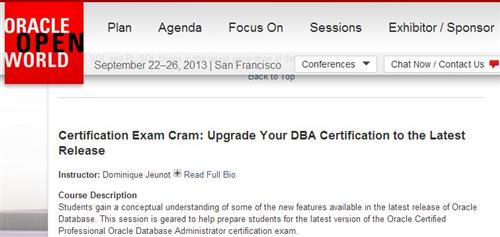 There is no monopoly on good ideas, or good titles, though those who register trade names will usually choose to challenge this notion!
Over the years, I've seen the Exam Cram name applied to all kinds of things, both inside and outside the IT certification space. It continues to capture the idea of an intense (and often last-minute) review for an upcoming test of some kind, and thus speaks to the need for exam takers to make themselves ready to surmount the challenges involved. That's why this name will continue to resonate with buyers and users of certification (and other) exam preparation materials for the foreseeable future. I'm just glad to be a part of that overall phenomenon.