Jan 24 2011 2:46PM GMT

Profile: Ed Tittel
Listening to NPR this morning I heard a story that quoted a survey from the National Association for Business Economics (NABE) that "…Show[s] Signs of a Strengthening Recovery…" While the story was running, I found myself thinking "Does what economists think matter more than what other professionals think?" In looking over some of the background (especially the information presented at the second link above in the summary of that NABE report), I found myself thinking — much to my own suprise — "Well…maybe it does."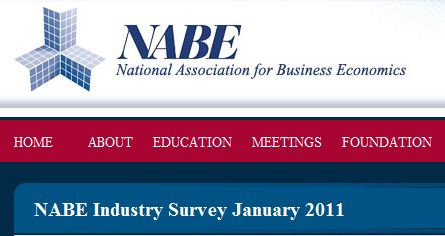 Here's why, summarizing from their own summary of the highlights from that survey:
Industry demand has been increasing for six consecutive quarters now, with 55% of panelists reporting rising demand against 12% reporting falling demand, with all major industry sectors showing demand growth.
Profit margins continue to expand, and have also done so for the past six quarters (38% of panelists reported rising profits versus 18% falling ones, with the biggest spread between those two numbers since Q4 2005).
Employment is improving, with 34% of firms reporting increases in headcount versus 13% in January 2010, and the number of firms cutting jobs fell from 13% in the past three quarters (Q1 2010 through Q3 2010) to 6% (Q4 2010 to present). Measures of planned investments in hiring showed the highest values since 1998, and 42% of panelists reported their firms will be increasing employment near term, up from 39% in the previous quarter, and 29% one year ago.
Expectations of future capital spending improved to 62% of firms reporting heightened planned outlays, as compared to 48% in the previous quarter.
Slightly more than half of panelists (53%) report expectations of positive results from the 2011 tax package, particularly in goods-producing businesses, which anticipate favorable sales impacts. Interestingly, 60% of panelists said they anticipate no changes in spending or employment plans for 2011 in response to these new policies.
Hmm. Maybe these economists do have some useful data and insights to go with them. But it's clear that while things are improving, they continue to do so in a gradual way, and that the floodgates of recovery have yet to open. I guess at this point we can shift from hoping that things might start improving, and hope for them to start improving faster instead. I'm still waiting to see more tangible signs of recovery in the IT sector, particularly in the areas of job creation and re-hiring of laid-off personnel, and more conversions of part-time and temporary staff to full-time, permanent positions.