Jan 6 2014 5:59PM GMT

Profile: Ed Tittel
Right at the end of last year (12/27/2013), Maamar Ferkoun posted a great item on the IBM Thoughts on Cloud ("Cloud computing conversations led by IBMers"). It's entitled "Achieving IBM Cloud Computing Certification," and it addresses two IBM credentials — namely the Certified Solution Advisor and the Certified Solution Architect — both for Cloud Computing. The Advisor level cert seeks to identify individuals who can explain cloud computing concepts, describe how customers can benefit from using cloud computing in their IT environments, and — you guessed it — map customer requirements into IBM Cloud computing platforms, products, and services. The Solution level cert clearly kicks things up several notches, because it requires its holders to be able to demo IBM Cloud Computing concepts and design principles, and to create a roadmap to take customers from their current (presumably cloud-free) IT environment into an IBM Cloud Computing solution, then to architect a solution from design, to blueprint, to suggested implementation strategies. Good stuff, all of it, if predictably (and necessarily) IBM-centric.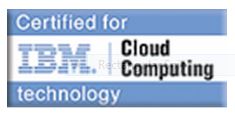 Even with only two certs in this container so far, IBM Cloud Computing has its own program logo.
All IBM certifications require taking only a single exam to be earned, and this makes it relatively easy to study up for and earn such credentials. With typical exam costs of around $200 (actual costs vary by location and prevailing currencies in use; see Test Information page for pricing and availability) they're not terribly expensive, either. For those who work with or around IBM Cloud Computing, this makes adding one or both of these credentials to your collection relatively painless all the way around. Be sure to check them out!