Dec 28 2012 4:39PM GMT

Profile: Ed Tittel
Tags: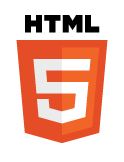 Just before Christmas (12/17/2012), the W3C published complete definitions for HTML5 and Canvas 2D specifications. Officially, these are not yet final standards — the W3C designations for them read "W3C Candidate Recommendation" — which means that while these standards may be tweaked further to correct mistakes or bugs, there won't be any more major changes as they are fully tested across multiple Web browsers for interoperability, and in browsers and numerous other applications to permit their runtime performance characteristics to be measured, tweaked, and tuned. Here's what the W3 Press Release says about their current status:
"Though not yet W3C standards, these specifications are now feature complete, meaning businesses and developers have a stable target for implementation and planning. HTML5 is the cornerstone of the Open Web Platform, a full programming environment for cross-platform applications with access to device capabilities; video and animations; graphics; style, typography, and other tools for digital publishing; extensive network capabilities; and more."
What this means is that web designers, web tool developers, and web services delivery organizations now have a stable, predictable target to use for building new Web sites and pages, Web-based applications and services, and tools to take advantage of HTML5's amazing capabilities. As a case in point, if you've not spent much time on the Microsoft Web pages lately (check out MS Learning, for example). The following snazzy image translates into some very interesting HTML (if you View Source on the preceding page, the rotating block of offers at left begins as follows <div class="msl2Carousel-wrapper">: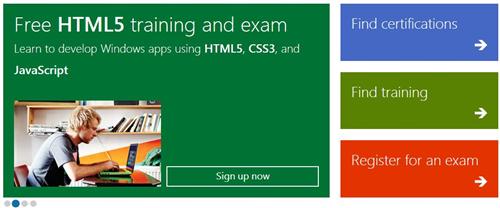 If you parse your way through this markup, you'll see it sets up a "carousel" that rotates the left hand area from messages about the MS Learning Second Shot campaign, to the Free HTML 5 training shown above, to a Windows 8 tech showcase, to a promo for the Microsoft Technology Associate (MTA) cert just made available to the general public. After that, the markup lays out the three right-hand boxes for finding certs, finding training, and an exam registration. Earlier versions of HTML would have had to do most of this work with graphics (and had to turn the text inside the boxes into part of a graphic); HTML5 lets you leave the text as text, and color and format the nice little boxes it comes in to your heart's content. Among other things, this capability shows a profound influence over what MS calls the "Windows Store UI" (formerly known as Metro). Looks like HTML5 is an essential ingredient in creating and managing the new Windows 8/Windows Server 2012 GUI, no matter what you call it!
But while HTML5 has been in considerable change and ferment over the past few years, there's now a solid base for design and development for Web professionals. That means: It's highest time to start learning more about HTML5 and how to use it! That's why Jeff Noble and I are feverishly redoing the 14th edition of HTML For Dummies to focus on HTML5 and to explore and explain what this radical reworking of the markup language (and extensions to its sister style language CSS3, as well as the 2D canvas that supports active drawing/rendering inside Web pages) makes possible on modern Web pages. We think it will open your eyes, and create amazing new ways to interact with the Web. While you'are at it, you may even want to sign up for the free HTML5 exam voucher that MS is so generously offering to the public, along with free online training.
The W3C is shooting for broad HTML5 interoperability by mid-2014, at which time the organization plans to publish the final HTML5 recommendation. To keep the technology ball rolling forward, the group has also announced initial drafts of HTML5.1 and Canvas 2D, Level 2, both aiming to kick off the next round of standardization as the current round settles down for finalization.