Nov 13 2013 2:23PM GMT

Profile: Ed Tittel
An interesting bit in the latest GoCertify newsletter (Vol 16, #2) provides telling evidence that integration of IT certification into IT academic training is being kicked up the proverbial notch. In a blurb there entitled "No Certification = No Graduation," it's reported that administrators at Fortis College (an operator of online and in-class training for a variety of associate's degrees with campuses in Alabama, Arizona, Florida, Louisiana, Maryland, New York, New Jersey, Ohio, Texas, Utah, and Virginia) noticed that while their curricula are designed around various IT certifications — including A+, Network+, and Security+ among others — students weren't necessarily signing up for and taking the related cert exams.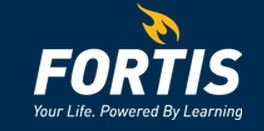 Fortis puts the onus on students to get certified before they can earn an Associate's degree
But when those same administrators decided to make completion of two or more certs a requirement for graduation, participation rates shot up remarkably. CompTIA's October 25 press release "Fortis College Bolsters Student Employability with Certification Requirement" explains further in the context of the Fortis Cyber Security and Forensic Program (an 18-month degree plan in that specialty IT arena). Design of this program incorporated CompTIA's A+, Network+, Security+ and Linux+ credentials, among a total of 9 credentials overall. Furthermore, tuition and fees were structured to include the cost of exam vouchers so that student needed to pay nothing extra to sit for the corresponding exams. Even so, student participation rates were low enough to catch administrators' attention.
Presto! When the program's administrators changed the terms of graduation to require earning two or more certs to get the degree — in a move calculated "to do more to prepare students for entering the job market" (in the words of the CompTIA press release) — participation rates skyrocketed. Fortis has its students take practice exams to prepare for the real thing (always a good prep maneuver, IMHO) and when those scores top 90%, they're issued a voucher to sit for the real thing. Each voucher includes a free re-take, for those who don't pass on the first try. As students start racking up cert credentials, Fortis informs it Career Services arm that they are ready to participate in their job placement program, and are "ready to be considered for employment."
Some interesting stats from the Fortis experience so far: because of intense training, drills, cram sessions, and practice exams prior to taking cert exams, 80% of students pass those exams on their first attempt. In addition, 90% of program graduates either find work just before or just after they graduate, or continue on into bachelor's degree programs. Less thrilling to read: graduates earn an average annual salary of $34,000 (decidedly on the low end for IT entry-level jobs, though vastly preferable to no job at all).