May 8 2013 2:59PM GMT

Profile: Ed Tittel
As his online biography attests, Cisco Operations Manager Marcus Fan (he runs Cisco's San Jose Customer Proof of Concept Lab within the company's Worldwide Sales organization) is no slouch when it comes to certification. He holds 30-odd Cisco credentials, including CCNA, CCDA, CCNP, CCDP, CCSP, CCVP, and a whole slew of specialist certs, along with another dozen or so non-Cisco certs as well.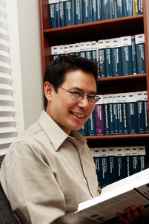 Marcus Fan with a bookshelf full of Cisco Press titles, most or all of which he's sure to have read.
While his biography makes interesting — and hopefully also, inspiring — reading, his recent post on "Balancing Priorities" for the Cisco Depth of Field blog raises some very important points for IT professionals interesting in advancing their careers while also seeking to strike a harmonious work-life balance. He makes it very clear that those interested in pursuing certification are going to have to give some things up to reach their goals, and make sure they can respond to changing conditions and requirements that the job makes, in addition to pursuing their own professionals goals and interests.
All this got me to thinking about the kinds of sacrifices it can take to build up a substantial certification portfolio — not unlike Marcus's own,  which is why I start pondering this topic — while also dealing with job, family, leisure pursuits, and overall quality of life issues. There's simply no denying that if you want to pursue serious learning and skills development, you're going to have to put certain aspects of life on hold for a while, and to be extra conscious of meeting family and personal health and well-being needs in the face of the large amounts of time, money, and effort you must expend in that pursuit. It's tricky to try to have it all, when things keep slipping around on the table, and life gets in the way (as it so often will).
That's why my hat is off to those who manage to knock off substantial credentials, while also managing full-time employment and family responsibilities. Keep up the good work, people, and take to heart Marcus Fan's observation that "certification is a way of life." That's true not only because it has a way of intruding upon other aspects of life, but also because it has a way of shaping life after the work is done and the credentials are earned. After all, they too must be maintained, along with all the other ingredients that go into a rich, full, and rewarding work-life balance.