May 27 2013 3:48PM GMT

Profile: Ed Tittel
One of my favorite cert market watchers — namely, Mirek Burnejko over at ITCertificationMaster.com — has struck gold once again. This time, it occurs in the form of a trove of information nuggets from Joe Cannata, the Senior Manager of Certification over at Brocade Networks, and the person who runs that company's certification and related training programs for the company. It's entitled "How to Become a Brocade Certified Engineer — with Joe Cannata" and it's very much worth reading in its entirety. Nevertheless, I plan to regale you with some high points from that piece right here: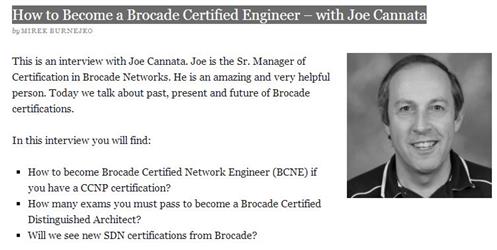 Here's the banner and lead 'graph from Burnejko's excellent interview. I've known Joe for at least three years now, and have reported several times on Brocade certs in this very blog.
There's a great capsule history of the Brocade cert program included, which hearkens back to its initial offerings in mid-2000, and explains how it's changed and grown since those early days.
There's a very nice explanation of the four tracks in the Brocade cert program, and what kinds of professionals and technical orientations each one targets.
It explains why Brocade hasn't yet introduced recertification requirements for its credentials (they're tied to specific product releases, so the market ultimately decides which ones retain their value).
It describes the integration of Vyatta (an SDN company recently acquired by Brocade) certs into the company's program, and other planned changes and additions to the Brocade cert program overall.
It concludes with a collection of useful pointers to Brocade cert resources, including the Brocade certification page, their certification community, and their Facebook, LinkedIn, and Twitter presences.
It's always nice to get a more personal view into an IT certification program, and Burnejko worked very well with Cannata to deliver just that for Brocade. A great piece of work, so I'll repeat: this Brocade-oriented interview is well worth reading!