Sep 6 2013 2:01PM GMT

Profile: Ed Tittel
With today's August update to the 2013 employment figures out, some economists had expected the Fed to announce it would soon ease up on buying mortgages. But those expectations may have been based on "average job growth" numbers for August. Working back from recent numbers, this means new jobs added in the 175-185,000 range. But this morning, the US Bureau of Labor Statistics reported job growth for August at 169,000 with a minimal dip in the unemployment rate from 7.4 percent in July to 7.3 percent in August.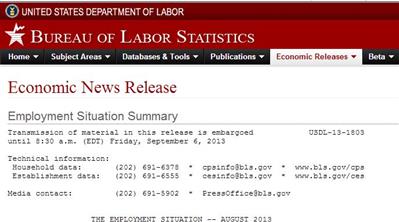 Nothing terribly surprising or inspiring in the August 2013 employment situation summary.
In earlier postings on these reports, I've characterized the US recovery as "slow growth mode." Like it or not, that characterization appears to remain on-target for August, and very likely through the end of this year into 2014. Because improvements are very gradual on the one hand, yet fairly steady and in a range that is fairly narrow and thus also pretty predictable on the other, it will be interesting to see if the Fed governors let caution over-rule expectations (and keep on buying mortgages at the current $85B/month level) or vice-versa (and start easing up on the quantitative easing they've been conducting since November, 2008, when the initial round of quantitative easing got underway, probably dropping to $65B/month as Bernanke indicated in a report to Congress last month).
A quick peek at Table A-14 "Unemployed persons by industry and class of worker…" indicates that the total count of the unemployed in the Information sector increased from 172,000 in July to 192,000 in August, up almost 12 percent. Because these numbers change not only because of job losses in the sector but also as discouraged or sidelined workers resume their job hunts (both of which increase the total number of unemployed persons reported), it's hard to say if IT lost jobs in August or if recent improvements are encouraging those who've been out of work for some time to start looking for work once again. But it's inarguable that, like the overall economy, IT has been improving only by fits and starts, with some months showing improvements (like July) and others showing mostly modest setbacks (like August). Using the figures reported to calculate the sizes of the populations on which they're based (that is, dividing the number of unemployed persons by the corresponding unemployment rates), the total population of IT workers did indeed grow from 2.89 million in August 2012 to almost 2.91 million in August 2013, indicating an increase of 19,000 in the intervening year. Thus, it also looks like the sector did experience a small job loss going from July into August, 2013 (under 10,000 jobs, I would guess).
It doesn't look like there's any reason to change my ongoing mantra for those looking for work in IT, or thinking about changing jobs in the field: "Don't panic. Hunker down. Stay put (or keep looking)." Methinks this may be owing to inertia, but is also unlikely to change anytime soon, either.