May 1 2013 2:33PM GMT

Profile: Ed Tittel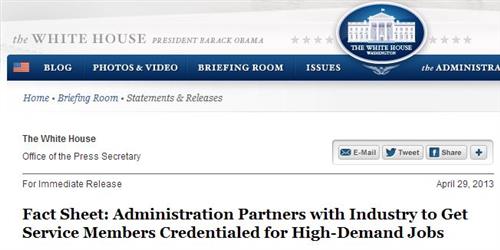 Every now and then, a real feel-good moment pops up in the IT cert biz — not terribly often, though, so I try to revel in such things as and when they happen. Last Monday (April 29) Cisco Systems and the White House released an announcement about a joint technology training initiative. It's designed to help veterans and those transitioning from active duty back into civilian life prepare for strong careers in IT. The initiative is called the "IT Training and Certification Partnership," which the afore-cited fact sheet describes as "a new public-private partnership that will enable thousands of service members to earn industry-recognized information technology (IT) certifications before they transition from military service." There will also be a grant program administered through the Department of Health and Human Services to help veterans with health care experience pursue professional nursing careers and earn a nursing license as well.
The IT side of things comes courtesy of a Military Credentialing and Licsensing Task Force established in mid-2012 at the DoD at the President's direction. This task force sought to:
First, to identify military specialties that could transfer to high-demand civilian jobs
Second, to work with civilian licensing and credentialing associations to identify and close gaps between military training programs and corresponding civilian certification and licensing requirements
Third, to provide veterans and service members greater access to certification and licensing training and exams
The Cisco partnership is the second initiative broached by the Task Force, and is intended to enable up to 161,000 service members to earn "industry-recognized, nationally-portable certifications necessary for … high-demand technology professions, including computer programmers, quality assurance engineers, and IT security analysts." Working the task force and all major branches of the US military, Cisco and Futures, Inc. will begin this program by beginning work immediately with 1,000 active duty military personnel currently transitioning out of the service. These individuals will pilot the program and engage with training, certification, and career resources assembled for their use by Cisco and Futures, Inc. John Chambers, Cisco's CEO blogged about this program and said: "Each participant will select one of several IT certification preparation course such as Cisco Certified Network Associate (CCNA), which prepares entry-level network engineers for careers and helps maximize foundational networking knowledge. … After each participant completes the coursework and passes the certification exam, the [US IT Pipeline, a cloud-based exchange platform that incorporates a military skills translator facility] website will identify jobs in the IT sector that match their experience and qualifications."
Later in the blog, Chambers indicates that other partners in this public-private joint effort include Global Knowledge, Pearson VUE, and others, all of which adds up to a pretty potent combination of program sponsors, training providers, and testing centers to help shepherd veterans and transitioning active duty personnel through IT cert training and testing. I'm really jazzed about this initiative and hope there will be many more like it popping up soon, what with the transitions out of Iraq and Afghanistan returning so many active duty regular and reserve military personnel to civilian life. It's a great way to help them transition from serving their country to getting on with (and making the most of) their lives.