Mar 17 2014 2:06PM GMT

Profile: Ed Tittel
Normally, the words "premium" and "expensive" tend to be more or less interchangeable. So when I started digging into Cisco Learning's "Premium Subscriptions" offer, I expected to find some cringeworthy prices. I'm very pleased to report that those expectations were dashed in the nicest way possible. Here's a screencap that helps me do the "picture vs. 1,000 words" thing on that observation quite compactly: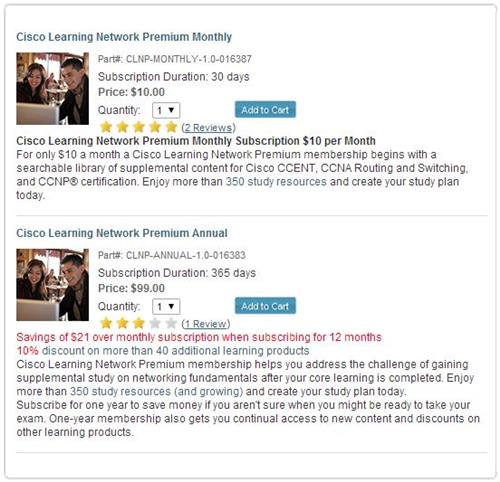 Even at $10 month-to-month, this is an excellent deal for access to the Cisco Learning Library. In fact, the enhanced search and library scan facilities are worth the price of admission all by themselves, not to mention the added study resources not available elsewhere. Those who sign up for a year  also get discounts for on-demand e-learning, lab time for virtual access to Cisco runtime environments, practice exams and lots more.
My best guess is that for those in serious pursuit of Cisco certification, the cost of a one-year premium subscription will be more than offset by savings on other stuff that such folks are likely to purchase from Cisco in the course of that pursuit anyway. In my book, that makes this subscription a pretty good deal all the way around! In fact, it's such a great concept that I won't be at all surprised to see other vendors with similarly large and complex "market baskets" of cert prep training and materials to take a similar approach to reaching their target cert audiences, too.