Nov 21 2012 4:46PM GMT

Profile: Ed Tittel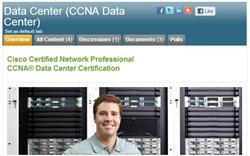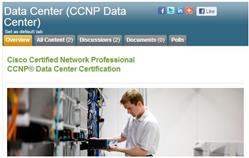 New Banner Art for CCNA Data Center and CCNP Data Center
Yesterday (11/20/2012) Cisco accounced new data center oriented CCNA and CCNP credentials, to flesh out its data center line-up (a data center CCIE made its debut last March). These new credentials come in two different flavors, each weaving together important foundation elements from the Cisco data center architecture:
Cisco Unified Computing: a system that unites computing, networking, storage access and virtualization inside a cohesive and consistent system.
Cisco Unified Fabric: simplifies infrastructure and controls costs through consolidating traffic on a single, general-purpose, high-performance and high-availability network.
Interestingly, neither the CCNA Data Center nor the CCNP Data Center come with base-level cert pre-requisites — that is, it is not necessary to first earn a base-level CCNA to earn the CCNA Data Center, nor a base-level CCNP to earn the CCNP Data Center (though the CCNA Data Center is a pre-req for the CCNP Data Center, as it should be). The role of the foundation elements in the certs — namely unified computing and unified fabric — is designed to permit candidates to customize their data center educations, to focus on data center job roles that include design, implementation, and troubleshooting.
The CCNA Data Center defines the entry level Cisco data center certification, and aim to identify individuals with the skills and knowledge necessary to perform day-to-day tasks in a data center, including network and server virtualization, plus storage and IP networking convergence. CCNP Data Center sits one notch higher in the food chain, and aims to identify individuals with the skills and knowledge to work as data center designers, or as high-level data center networking practitioners. Topics covered include design, implementation, and troubleshooting virtualized computing environments built around the Cisco UCS platform, including storage and network connectivity, memory, adapter and connectivity and booting issues, drivers, BIOS, and more.
With data center numbers, sizes, and usage levels all exploding — the Cisco Global Cloud Index projects that global data center IP traffic will hit 6.6 zettabytes by 2016 — demand for qualified and competent data center professionals is likewise ascending a steep upward slope. That makes these credentials particularly worth digging into, and possibly even pursuing. Exams and training courses are all publicly available, and readers can expect to see follow-on book titles from publishers like Cisco Press some time in Q1 2013. Check out the CCNA Data Center and CCNP Data Center home pages for more information.