Dec 22 2008 5:02PM GMT

Profile: Ed Tittel
My colleague and long-time certification industry expert, Anne Martinez, runs a very nice Web site called GoCertify.com. There's lots of interesting content there, not least of which is the information available through its Certifications database, as depicted in this partial screencap from that page: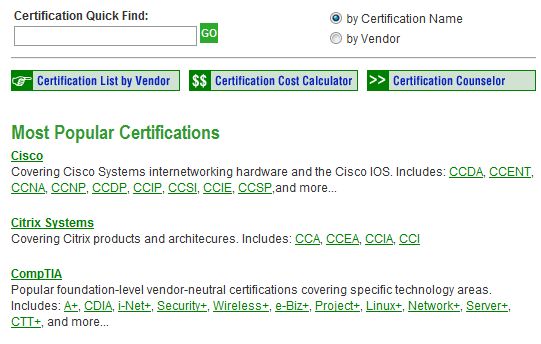 I've used this tool myself many times over the years to slice and dice certification offerings available to the market in all kinds of ways. Ms. Martinez keeps this database reasonably current, making it an unusually good place from which to start looking for information about certifications by topic, expertise level, type (vendor-neutral vs. vendor-specfiic) and a whole lot more.
As an added bonus, check out this interesting story entitled "Five Certification Mistakes You Don't Have to Make." You'll find some interesting thoughts and observations here, good enough for me to repeat the primary points by way of illustration (the ideas are hers, but the pithy paraphrases are mine):
Don't choose a certification just because it's hot or in high demand.
Don't choose a certification because it's easy to earn.
Don't assume your employer won't help with cert costs.
Shop around for the best certification deals
Be sure to set–and stick to–your own certification deadlines
This is definitely one of those cases where I'm happy to let a fellow expert speak for herself, because there's a lot of material in here I couldn't have said better myself. Check it out!
–Ed–