Feb 17 2011 9:23PM GMT

Profile: Ed Tittel
I'm on and off the conference software all day long today, and blogging catch as catch can. This morning I delivered a presentation entitled "IT Certification Success: From Book to Site." It describes my book of the same name (IT Certification Success, that is) that went through five editions in the period from 1998 through 2003.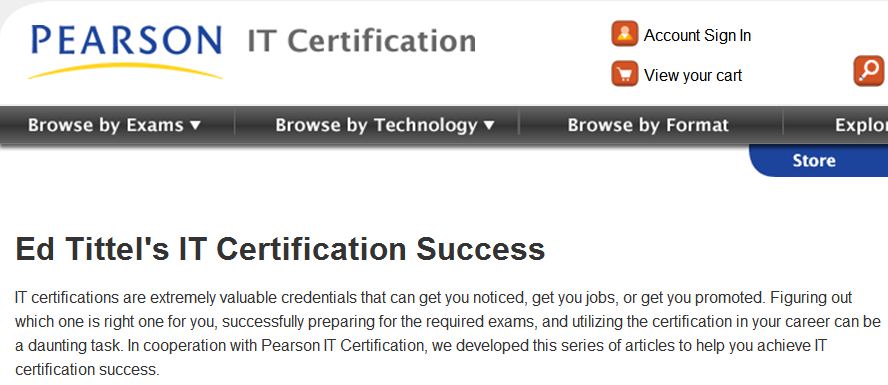 In the dozen or so slides that I put together to walk people through the newly-revised and updated materials you can find on the "Ed Tittel's IT Certification Success" page at PearsonITCertification.com, I talk about all the useful materials that I've just recently revised, updated, and added to tell people how to look for, choose, and pursue and IT certification, and then how to put it to work as they try to develop or advance their career prospects.
It's definitely worth a once-over, and some of the 29 articles that go into these materials (over 40,000 words of text from yours truly  almost as long as the original book, in fact) may be worth reading through. I also hope you'll tune into my blog for that site as well as this one, and share your comments and concerns with me in either place.
Enjoy! And if you're interested, it's still not too late to register and attend the MCCC! I'll be presenting on IT Certification and Academia with MS Learning Academic Director Jeff Johnson at 5 PM PST later today!