Jun 26 2013 2:26PM GMT

Profile: Ed Tittel
The Born to Learn blog is Microsoft Learning's official mouthpiece for all kinds of interesting and useful updates and information about its certification credentials and exams. Just yesterday Erika Cravens posted an item entitled "Windows 8.1, Server 2012 R2, System Center 2012 R2 and Certification Updates" that answers lots of questions that I and other cert people have raised about the impact of impending updates to those software products and platforms.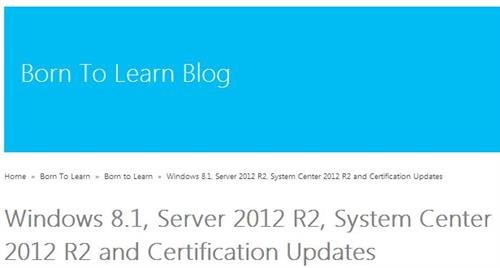 Born to Learn provides some details where only speculation and educated guesses had been available.
Here's the skinny on what's going on with exams and certifications related to Windows 8, Windows Server 2012, and System Center 2013, reworded from the blog post's content:
1. Exams you take now on current versions (Windows 8, Windows Server 2012 R1, and System Center 2012 R1) continue to count toward existing MS certifications (MCSA and MCSE mostly) even as exams change to accommodate the upcoming versions later this year.
2. Born to Learn will continue to provide information about certification and exam changes, including more information about changeover dates and details about planned adds, changes, and deletions for exam content and coverage.
3. Exam numbers will not change, so candidates must take responsibility to keep up with changes themselves (check the blog, and compare current objectives to the ones you started working from to keep yourself apprised).
4. Microsoft will make training content available to candidates to help them prepare for changing exam content; current training will still help, but some new content will be necessary to get ready for changes and new introductions in the revised exams.
5. JumpStart courses for Windows Server 2012 R2 and System Center 2012 R2 are already open for registration: see the links for more information about dates, times, and sign-up: What's New in Windows Server 2012 R2 Jump Start and What's New in System Center 2012 R2 Jump Start.