---
March 31, 2013 9:32 PM
In this case BTL stands for Born to Learn, the many-voiced and very active blog over at Microsoft Learning. Just last week (March 26), regular poster and MS Learning...
March 29, 2013 9:00 PM
When I first got into the IT certification game back in the mid-1990s, there were a handful of online properties that really ruled that world. In the past decade, however, the old guard has been slowly crumbling into oblivion, and falling out of the game. I was on the masthead of one of those...
---
March 26, 2013 5:15 PM
Starting today, there are no longer two classes of Cisco Certified Network Associates around. Why do I say this? Because until today's announcement, parties interested in earning some CCNA flavors -- such as Security and Wireless, for example -- actually first had to earn a plain-vanilla CCNA, and...
---
March 24, 2013 8:42 PM
The old saw tells us that the best things in life are free. By that metric, IT certification is generally excluded from consideration, as the vast majority of such credentials require spending money on a certification exam of some kind, as well as study materials. In some cases, certification...
---
March 22, 2013 2:49 PM
In previous postings here and elsewhere, I've waxed eloquent and complimentary about Miroslaw Burnejko's excellent ITCertificationMaster.com website. There's lots of good stuff there, especially his
---
March 20, 2013 2:22 PM
[caption id="attachment_3132" align="aligncenter" width="500"]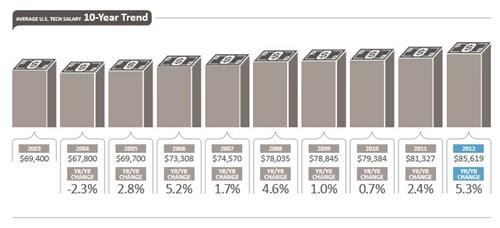 0 Comments

RSS Feed

Email a friend
---
March 17, 2013 7:31 PM
As part of my charter in providing IT career and certification information and advice, I follow general economic trends, especially as they relate to IT employment, hiring and job opportunities, and so forth. Perhaps it's a sign of the times -- or just my own belief that good news will almost...
---
March 15, 2013 3:30 PM
Over the past few weeks, I've watched Prometric roll out its first-ever IT certification: it's called Cyber Security Essentials. Granted, information...
---
March 13, 2013 2:29 PM
Over the past half year, I've corresponded with a young man who sensed the handwriting on the wall in his academic job: a post-doctoral position doing data analytics and statistical modeling at a major mid-western university. His intuition was pretty good, as it turns out, and he thanked me for...
---
March 12, 2013 2:39 PM
Oho! Imagine my surprise when I jumped up onto Microsoft's Born to Learn blog this morning to catch up on a family vacation day yesterday, only to observe this headline there: "
---