---
March 31, 2014 8:22 PM
Dear Readers:
It's been my great pleasure and privilege to have worked on this blog since August 4, 2008. Over that period, I've posted 782 times here (including this post) for an average of 11.5 posts per month. Considering that my target was 12 posts per month, but that life (and vacations) have a way of reducing actual monthly or annual productivity, I'm pretty proud of what I've been able to share with my audience over the past five-and-three-quarter years. But I've gotten so busy with other work, and I've found so many outlets for my thoughts on IT certification that I've agreed with TechTarget and the IT Knowledge Exchange to discontinue this blog as of today.
I hope this doesn't come as too much (or rude) of a shock, and I hope I leave my readers satisfied with what I've shared with them here over the years. If you'd like to keep up with my thoughts and reporting on IT certification, I'll still be writing certification articles for a variety of TechTarget sites that include SearchSecurity.com, SearchUnifiedCommunications.com, SearchNetworking.com, SearchEnterpriseDesktop.com, and more. I will also keep up my Windows desktop blog for TechTarget — it's called Windows Enterprise Desktop — and I will keep blogging regularly (though not as frequently as here at IT Career Jumpstart) for the following websites:
1. Tom's IT Pro: "Making it in IT" (104 weekly posts since 2012; annual frequency: 48 times per year)
2. Pearson IT Certification: "Ed Tittel's IT Certification Success Blog" (152 posts since March 2011 available online; annual frequency: 48 times per year)
3. GoCertify.com: "Ed Tittel Blog" (2 blog posts so far — just started — annual frequency 24 times per year; 13 items currently available)
I'd like to thank my readers for the many good questions and helpful comments they've made over the past 5-plus years. Your interest, insight, and input helped drive a lot of the content for this blog, and helped me pay attention to topics, technologies, credentials and training offerings of interest to a broader audience. I hope you'll follow me to my other blogs, and keep in touch through IT Knowledge Exchange as well. I'm still on tap to answer training, certification, and career development questions for IT Professionals who would like to share them with us, so keep those questions and requests for information coming, too, please!
Best wishes also to all of us, and thanks again for everything!
–Ed–
March 31, 2014 2:02 PM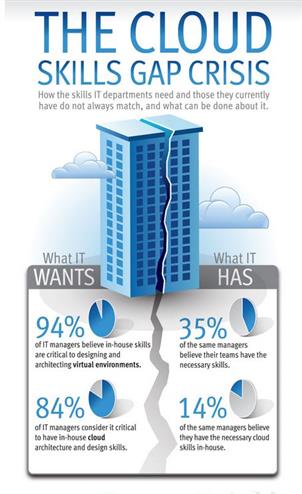 As something of a connoisseur of skills- and cert-related infographics — I seek them out and look at them every chance I get — I was more than a little impressed by a recent offering in that vein from EMC that I stumbled across this morning (thanks, incidentally to the VMware Education Services twitter feed!). The title is lurid and compelling enough to attract some attention on its own (The Cloud Skills Gap Crisis) and the graphics tell an interesting story. The example to the left shows the title graphic, and illustrates what the skill gap is about — namely, the difference between what IT managers want by way of critical skills (left) and their perception of the way things currently stand (right).
The remaining topics are equally interesting from a visual standpoint, and they all provide interesting data to buttress their basic assertions.  Here's a brief list of what's covered, and what it could tell an astute reader:
1. Storage is moving to the cloud in a big way, because 70% of all capacity will reside in cloud and virtual settings by the end of 2015. Big opportunities for managers to skill up, to counter IT pros' perceptions that less than 1 in 5 managers possess cloud and IT-as-a-Service skills right now.
2. Big opportunities in "big data"/analytics owing to high demand and short supply, for managers and IT pros with the right stuff. Message: if big data appeals, learning will be rewarded.
3. Subtle plug at the end for EMC education touts faster implementations, improved operations and increased productivity as plusses resulting from their training courses, along with fewer errors on the job. Nice tie-in to the rest of the infographic, and a pleasingly soft sell.
All in all, it's a nice piece of work and worth looking over. And for those whose employers actually budget and pay for skills-related training, it could be a management-friendly sales tool to persuade them to part with some of their budget for this particular kind of training and skills development, along with related certifications.
---
March 24, 2014 1:58 PM
Sometimes, when a cert program mandates training for its certification candidates, it's nothing more nor less than a money grab. One of the notable exceptions to this principle is VMware, which has required authorized training (from itself or registered training partners) since the inception of its program. Given that the value and credibility of VMware certification is strong, and getting stronger, a recent promotion from VMware is likely to be of interest to those pondering a new certification, or updates to an aging one. This screen cap from the VMware training pages pretty much tells it all:

Plan ahead to save 15% and get your choice of one of three promotional gifts, too.
The deal on offer is a pretty good one, given that it involves a 15% discount on training courses that cost $1,500 and up (that's a savings of $275 or more) that cert candidates must nearly always take. The only occasional exception comes when VMware updates a certification, under which circumstances those who hold the cert it supplants can usually take the cert exam without taking an abbreviated $1,500 update course for 90-120 days after the new course/exam combo come online. The "gift sets" in question aren't earthshaking, but they're better than a poke in the eye with a sharp stick:
1. A DryTec Zip jacket, VMware logo baseball cap, and Atlas headphones.
2. A Jawbone UP wristband, plus Fusion Ear Buds.
3. Ifidelity Soundwave Bluetooth portable speaker, plus a USB portable charger.
What does it take to qualify for this promotional offer? Course-takers must register for their course of choice 21 days or more before its start date. Since most of us have to plan ahead to leave the office for a 2 to 5 day class anyway, this is a pretty minor onus for some decent savings, not to mention the chachkis involved. What's in it for VMware? Early registrations help them to manage their courses better, ensure more filled seats in classrooms, and better manage training center resources and offerings. A good idea, and one worth taking advantage of for those pursuing VMware certifications — at least, while it lasts! (Promo page link.) Classes must be completed by 6/27/2014 to qualify.
---
March 21, 2014 2:21 PM
In  reading this morning's paper (mine is The Austin American Statesman) I came across an AP story that ran last evening entitled "Study: Just 11% of long-term unemployed regain steady work."  Based on findings from three economists from Princeton, it paints a grim picture for the employment prospects for those who've lost their jobs, and have remained out of work for six months or more.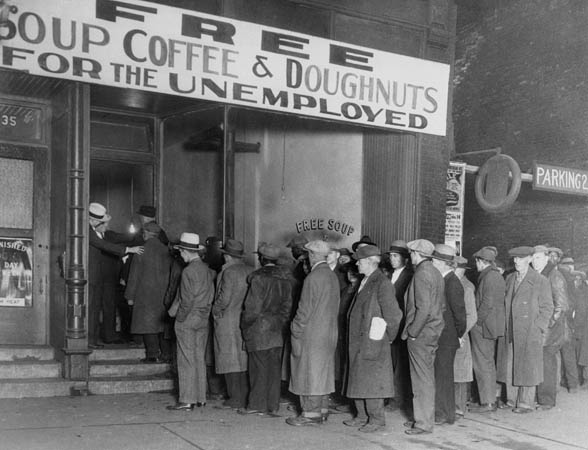 We're not yet back to soup kitchens as in the 30s, but long-term unemployment remains a thorn in the recovery's side.
[Source: A. Bettman Archives/CORBIS]
Alan Krueger, one of the study's authors (and a former chief economic advisor to President Obama) stated that "The long-term unemployed a more than twice as likely to stop looking for a job than to find one." He went on to say that "And when they exit the labor force, the long-term unemployed tend to say they no longer want a job."
According to the study, for any month in the period from 2008 to 2012, just over 10% of the long-term unemployed had found full-time work, in both states with high employment as well as in states with low employment percentages. As perhaps a natural consequence, the study also indicates that a better predictor of rehiring comes from watching the short-term unemployed (those out of a job less than six months) who remain much more likely to be rehired than their long-term unemployed counterparts.
This explains why short-term unemployment rates at now back or close to pre-recession levels (as of late 2007 or early 2008), while the overall unemployment rate remains relatively high at 6.7 percent. The difference, of course, is the large number of long-term unemployed which, at 3.8 million (37% of all unemployed Americans) pushes up the overall count. Although the difference between the Fed's magic number of 6.5% unemployment, at which point they can stop providing financial stimulus to the economy and start letting interest rates rise once again, and the current 6.7% appears to be close enough to reach across that narrow gap quickly, it's further away than a gap of "only" 0.2% might indicate.
Does that mean there's potential hope for those millions of Americans who've been without a job for six months or more? Don't bet on it. Some of these folks have reached or are near retirement age, and will never return to work. Others have found ways to qualify for Federal disability benefits, while still others survive on side jobs or handouts from friends and family. The cancellation of emergency unemployment benefits also has an impact: one of the conditions for receiving those benefits was a continuing search for work. With two million Americans now outside that umbrella as of January 1, 2014, they may quit looking for work and thus no longer be counted as unemployed. This might bring down the 3.7 million total of long-term unemployed, but it will do nothing to alleviate the pain and suffering of those who would work if only they could find jobs to fill.
Overall, this study does not speak positively about future growth and economic prospects for the US economy. As long as we have a large number of officially long term unemployed persons, and must recognize that the "real" number has to be higher than those who stand up to be counted amongst this group, our unemployment situation remains more negative than positive. Though our economy may be able to soak up new entrants to the workforce, and to re-absorb the short-term unemployed, the millions of  Americans who must do without work not by their own choosing will continue to cast a pall on growth, improvement in overall living conditions, and in the willingness of employers to pay living wages to those at the bottom of the wage scale. If, as I suspect, the average age of these long-term unemployed is in the late 40s to mid 50s, this situation seems bound to drag on for at least another 15 years or so. And that, my friends, completely redefines what I've been calling "slow growth mode" for the USA since I started following unemployment and employment figures in 2009.
---
March 19, 2014 2:04 PM
I watched a nice video featuring Dr. Jeff Johnson, and Academic Solutions Specialist at Microsoft Learning this morning. Entitled "Resume Building & Interview Techniques for Students," it's actually a terrific discussion of all of the elements of providing job application materials (including cover letter and resume) as well as getting ready for and undertaking the job interview process. In fact, there's enough good stuff in here that even seasoned professionals thinking about putting themselves out there on the job market will find it worthwhile to view this 22:04 video presentation in its entirety. I've worked with Dr. Jeff a few times on previous Microsoft Learning Virtual Career events, and we've collaborated on a few Webinars together, so  I speak from experience when I say he's low-key, incredibly helpful, and extremely wise to the ways and wiles of the job market, especially for those getting ready to enter (or return) to the workforce, looking for work in IT.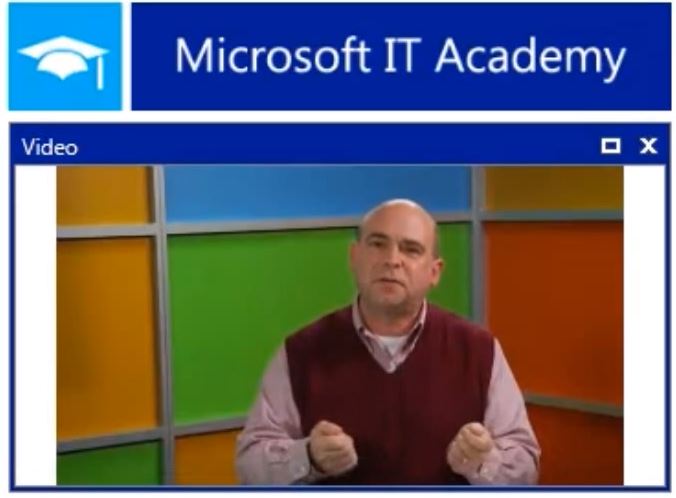 Dr. Jeff is a friendly and supportive speaker, who also has a plethora of excellent tips and suggestions to share.
Here's a small sampling from the many great points you'll pick up in this video:
1. Sure, you might want to work at Cisco, Microsoft, Facebook, or other "giants of the industry." But you need to start your working career and experience with small steps. The best way to do that is to find an internship, part-time job, or volunteer job to help you start turning learning into doing.
2. Employers unanimously recognize soft skills as important in addition to hard technical skills: make sure you develop good, strong verbal and written communication skills, and get experience working on or helping to manage projects. These will give you an advantage over students who may be brilliant technicians, but at a loss to share their work or communicate well with others.
3. Build youself a "performance-based" resume where you emphasize not just what you've studied, but also explain how you've used what you know and can do to solve real problems, build solutions, and do other things that could benefit the interviewer's bottom line.
4. Always tailor and customize your cover letter and resume for each job for which you apply. This lets you show hiring managers that you've done your home work about the organization that's interviewing you, and gives additional opportunities to demonstrate communications, interaction, and business skills and savvy.
5. When it comes to the interview itself DON'T BE LATE! This is no casual get together where a few minutes one way or the other doesn't matter. It is an important step in showing prospective employers that you can honor your appointments precisely. Dr. Jeff sez: "Early is on time" in this situation, and recommends showing up 15 minutes early as a matter of course and courtesy to your interviewers.
6. Never answer the phone or read/send text messages during the interview. Hiring managers want your undivided attention, and your complete and rapt interest. Outside communication of any kind sends the wrong message, and should be avoided like the plague. Turn your phone off before the interview, or leave it at home: that will remove any temptation to use it.
7. Accentuate the positive. My Mom always said: "If you can't stay something nice, better to say nothing at all." If you have negative impressions or experiences from previous jobs, interships, or volunteer gigs, keep those to yourself in the interview process. Emphasize what you learned, what you did, and how you learned to work with all kinds of different people. Hiring managers will usually avoid perceived complainers, whiners, or negative Nellies as they make their hiring decisions. Don't let this happen to you!
There's an awful lot more good stuff in this video, so be sure to check it out at your earliest opportunity. Professional educators may want to do likewise, because this is a great resource for them to share with students facing upcoming graduation and the job search process.
---
March 17, 2014 2:06 PM
Normally, the words "premium" and "expensive" tend to be more or less interchangeable. So when I started digging into Cisco Learning's "Premium Subscriptions" offer, I expected to find some cringeworthy prices. I'm very pleased to report that those expectations were dashed in the nicest way possible. Here's a screencap that helps me do the "picture vs. 1,000 words" thing on that observation quite compactly: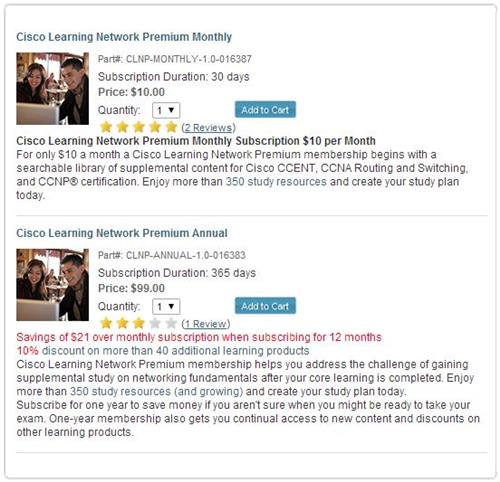 Even at $10 month-to-month, this is an excellent deal for access to the Cisco Learning Library. In fact, the enhanced search and library scan facilities are worth the price of admission all by themselves, not to mention the added study resources not available elsewhere. Those who sign up for a year  also get discounts for on-demand e-learning, lab time for virtual access to Cisco runtime environments, practice exams and lots more.
My best guess is that for those in serious pursuit of Cisco certification, the cost of a one-year premium subscription will be more than offset by savings on other stuff that such folks are likely to purchase from Cisco in the course of that pursuit anyway. In my book, that makes this subscription a pretty good deal all the way around! In fact, it's such a great concept that I won't be at all surprised to see other vendors with similarly large and complex "market baskets" of cert prep training and materials to take a similar approach to reaching their target cert audiences, too.
---
March 14, 2014 1:08 PM
It's a classic "good news/bad news" scenario, but one that offers a ray of hope or sunshine to recent workforce entrants, college students, and those on their way up through the US secondary school system. If you run this Google Search, you'll observe immediately that a host of publications, educators, and certification sponsors (including CompTIA, Microsoft, Cisco, and others) are opining about a looming "skills gap" in IT. What it boils down to is that an increasing number of jobs is expected to remain unfilled over the next decade, as employers seek candidates with computing skills (especially in the areas of data analytics, cloud computing, project management, and software development) who may or may not present themselves to answer their needs.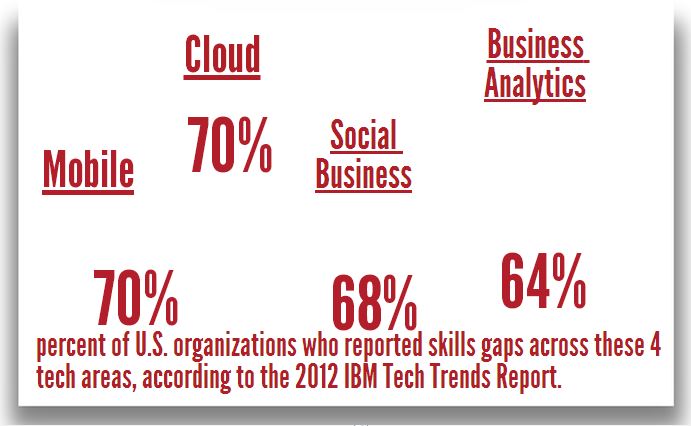 Companies projecting staff shortfalls for high-demand areas in IT. (Source: SmartSource "2013 IT Skills Gap Infographic")
Some sources, including Forbes, The Huffington Post, and CIO.com, all share projections of a shortfall between these kinds of IT jobs available over the next few years and the people to fill them on the order of millions of unfilled positions per year. Some estimates for global needs indicate potential shortfalls of 5-7 million job candidates for IT work by 2020, of which as much as 20% could be in North America.
What does this mean for aspiring and practicing IT professionals? Clearly, it provides areas of technical focus that could and should be career-enhancing, given the right education, training, and technical skills and knowledge. It also provides information that parents and educators should find useful in steering young folks toward potentially rewarding careers in IT. But most of all, I think it speaks to a need to re-work our primary and secondary curricula, not just to place more emphasis on STEM (Science, Technology, Engineering, and Mathematics), but also to build technology components around computing and information technology into as many aspects of the curriculum as possible. One thing seems certain: in no matter what field a person decides to work in the future, they will be using information technology and computing as part and parcel of their workaday activities. Basic computer literacy is essential, with enough exposure to computer science and information technology (particularly analytics) to help them appreciate its value and meaning for all areas of work. The IT skills gap may be a looming future problem for employers, but it is also a great opportunity for educators and the generation on its way through that system — but only if we act to provide the right training and exposure to close it.
[Note added 3/17: There's a new video from MS on the Skills Gap issue available, see it at 'Video | The Global Technology Skills Gap—"A Big Issue for Employers" and an Opportunity'. It reports 1.7 million jobs unfilled in the marketplace right now, zooming to 7 million by 2015. Presumably that puts projected/expected shortfalls even higher by 2020, and should add more impetus to start digging in right here, right now.]
---
March 12, 2014 12:54 PM
Over at the Born to Learn blog, Larry Kaye of Microsoft Learning has posted an item entitled "Certification Update: SQL Server 2014." It reveals that all of the MCSE-related SQL Server exams (list follows) will be updated starting April 24, 2014, "to cover solutions based on both SQL Server 2012 and 2014 products."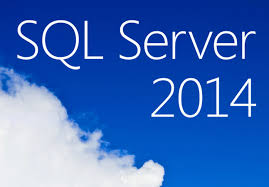 In other communications, MS Learning indicates that updates that don't involve re-numbering
usually means exam content changes of less that 20% overall.
[Image source: VisualStudio Magazine]
Though the exams are not being renumbered, they are being retitled to remove mentions of specific SQL Server versions as follows:
Starting April 24, the 2012 will drop off after SQL Server, but the exam numbers will remain unchanged. Visit any  or all of the preceding links to find details on exam objectives changes, which take the form of what Kaye calls "side-by-side comparisons of exam objectives" in the Skill Measured section on those pages. Kaye also indicates that the SQL Server FAQ includes additional information on upcoming changes to these exams, and that related Microsoft Official Curriculum (MOC) elements will be available in May, 2014 as well (scroll to the bottom of the linked page to view the FAQ's Q&A).
---
March 10, 2014 1:56 PM
In watching the unfolding of the monthly reports from the US Bureau of Labor Statistics, I've been struck by the rhythm and pacing of the economic recovery that has occurred in the 5-6 years that have now elapsed since the recession of 2008-2009. Last months figures, release on Friday, March 7, show only that the groove we've been stuck in for so long apparently has walls that are high enough to make it hard for the tracking needle to attempt an escape.

Though the numbers aren't as bad as most economists had predicted they would be, US job growth trends remain stuck in first gear.
Here are some details, which track our prior progress far too nicely to match my hopes for a stronger recovery:
1. Overall employment remains unchanged at 6.7 percent (still at least 1.5 percent higher than what most economists would like to see).
2. Little or no change for more detailed unemployment rates for various demographic groups, ranging from a low for whites of 5.8 percent to teenagers at 21.4 percent.
3. An increase in the long-term unemployed in February of 203,000, which beats the 175,000 new jobs created for that same month by 28,000. The BLS reports the total of long-term unemployed (those out of work for 27 or more weeks) at 3.8 million right now, but many economists believe this number to be under-reported significantly, because of offsetting counts for part-time workers (many of whom would be working full-time if they could find full-time jobs) and non-counting of "discouraged workers" who've essentially withdrawn from the work force entirely because they believe there are no jobs for them to find. The BLS does count "marginally attached workers" (not in the labor force, available for work, and have looked for a job sometime in the past calendar year) at an additional 2.3 million.
4. Civilian labor force participation remains pegged at 63 percent, which is down one-half point from a year ago. This fundamental measure needs to come up a point or two to bring the kinds of across-the-board improvements that could matter most to workers everywhere.
5. The information sector took a 16,000-job hit for February of which 14,000 of the jobs lost in that sector came from the motion picture and sound recording sub-field (where "employment in this industry can be volatile from month to month" as this latest report pithily observes).
Where's a silver bullet when you really need one? With these numbers, and the trends they depict, it's awfully hard to see one coming this way any time soon. It looks just like what we've seen before so frequently in the past year, is what we'll keep seeing for some time to come!
---
March 7, 2014 3:42 PM
If there's one topic that continues to attract interest, opportunity, and momentum amongst my readers — and the IT pro public at large — it has to be the discipline sometimes known as "Big Data." Call it that, or data analytics, or business intelligence, or what you will, the continuing proliferation and collection of customer and user data is driving the reinvention of business and interactive practices as we know them. It's also replacing seat-of-the-pants intuition about markets and buyers with plenty of hard-boiled facts and figures about what's going on, what's trending, and where the action is hottest.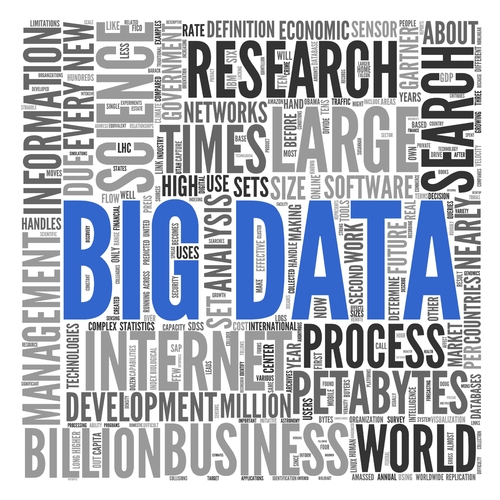 Bit data means big business interest and applications plus big opportunities for IT pros.
Over the past 6 months, about half of the correspondence I've received from readers and other interested parties looking for IT career info or advice has touched on Big Data. Everybody, it seems, wants to know how to get in and cash in on this burgeoning technical niche. Here are the broad outlines of what I think is most likely to help people dig in and get going in this area:
1. Remember, one-half of the field focuses on analytics, which means crunching numbers. A good, basic understanding of statistics and related math will therefore stand aspiring data scientists in very good stead. Search Google for "online statistics classes" or "free online statistics classes" to find tons of great and useful stuff; search Amazon using "big data" for keywords, "statistics" for title, and sort by "Avg. Customer Review" to get at the tasty and useful stuff fast.
2. The other half of the field focuses on data, especially databases designed for aggregating and manipulating huge collections of data. This means that tools and platforms like Hadoop, NoSQL, MongoDB, Splunk, and so forth are very much worth exploring, digging into, and ultimately, learning in detail once you know enough to decide which tools and platforms fit your interests and situation best.
3. Lots of companies play in this space, and offer IT certifications to support their presence. This includes most of the tools and platform vendors mentioned in the preceding item, plus EMC, HP, Dell, Software AG, Oracle, Microsoft, SAP, SAS, and plenty of others. If you search Google on '"Ed Tittel" "Big Data" certification' you'll find pointers to more than half-a-dozen blog posts and articles I've already written about a variety of Big Data certifications. Check them out, please.
Once you get a sense for the landscape, the subject matter, and the platforms and tools you must learn to jump in and play, you can create yourself a plan of attack. Look for me to opine on this subject further, and repeatedly, in the months and years ahead.
---