---
January 31, 2013 2:33 AM
Usually, it is easier to purchase an IT solution addressing IAP than to change a culture.  However; even the most secure system will not achieve a significant degree of protection if utilized by "ill-informed, untrained, careless or indifferent personnel."  A well-structured information...
January 26, 2013 1:02 AM
With respect to IAP, the information security function should:
establish processes for provisioning user accounts
ensure all entity positions are reviewed for sensitivity level
document procedures for friendly and unfriendly terminations
install...
---
January 24, 2013 1:54 AM
1.3 Entity Employees
"The first line of defense from insider threats is the employees themselves." – Software Engineering Institute (SEI)
Stakeholders expect managerial personnel to run the entity in accordance...
---
January 19, 2013 4:35 PM
If management views an IAP program as a methodology for achieving information systems goals and objectives, the adopted processes can enable a series of assessments defining control usefulness and control deployment; while conjunctively correlating effectiveness and efficiency directly linked to...
---
January 17, 2013 12:01 AM
Roles and responsibilities assignment for providing adequate IAP is typically considered critical to effective and efficient IT security.  However, depending on the entity, IAP management roles and responsibilities may focus solely on IT security or IT and business security.  Roles and...
---
January 12, 2013 5:59 PM
Classically, managers are individuals assigned to and functioning at various responsibility, accountability, and authority levels.  Top-level managers are usually responsible for overall entity direction, accountable to stakeholders, and have the authority to establish measurable and achievable...
---
January 10, 2013 3:33 AM
In fulfilling addressable COBIT information criteria, an IAP program should include processes and steps for assessing tangible as well as intangible property.  The distinction between tangible and intangible is the physical nature of the property.  Properties having a physical existence -- such...
---
January 5, 2013 4:52 PM
1.2 IAP Management
"Applying similar management practices to [i]nformation security management is unavoidable as the security environment keeps on increasing in complexity and insecurity." – Security...
---
January 3, 2013 1:35 AM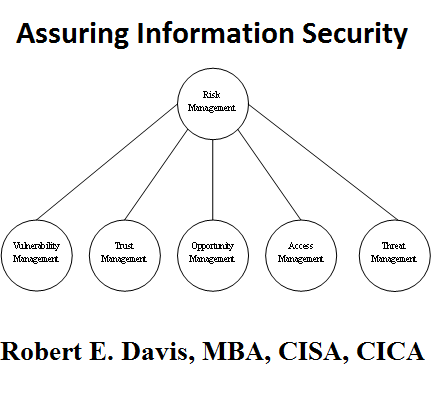 Compliance demonstrates...
---