---
May 14, 2012 4:58 PM
Wallpaper
,
Wi-Fi
,
Wireless
With smartphones, tablets, laptops, smart TVs and even cookers linking up to the internet at home, Wi-Fi is a must for most families. Yet, security specialists are always warning us how vulnerable we are if we don't protect our networks from the outside...
January 24, 2012 3:30 PM
2GB
,
Brookstone
,
Cufflink
,
hotspot
,
USB
,
Wi-Fi
,
Wireless
Believe it or not, for the measly sum of £160 you could become a walking Wi-Fi hotspot. And, as if that wasn't already enough of a killer opening line to use at the bar, you could also have 2GB of USB storage at your fingertips.
Well, wrist-tips if were being...
---
December 6, 2011 10:33 AM
fertility
,
Laptops
,
Wi-Fi
,
Wireless
Laptops may be bad for what lies below and fry more than just thighs when used repeatedly, a study has revealed.
It is not the heat from the batteries that's to blame, however, but the Wi-Fi waves that could damage sperm counts and threaten male laptop users' chances of fatherhood,...
---
July 13, 2010 5:02 PM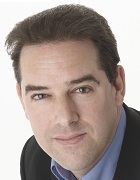 Profile: Bryan Glick
Gadget
,
Mouse
,
Wireless
Downtime has often wondered what is the best seller out of all the apparently pointless items in the executive toys section of in-flight duty-free shopping brochures.
(Yes, we know, this makes us rather sad. But we can't afford an iPad to keep us otherwise occupied on long and boring...
---