---
November 2, 2011 11:41 AM
tweet
,
twitter
Here we have the Tweephone, an analog Twitter client that works using a rotary dial. Why? I don't know but I do know that it does look interesting.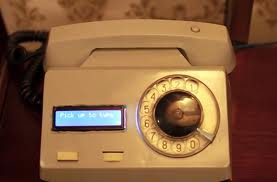 September 15, 2010 5:16 PM
tweet
Traffic cops in South Africa are seeking PigSpotter, a civic-minded motorist who tweets the location of speed traps and sundry law enforcement apparat that minimise the fun you can have on the roads there.
PigSpotter has garnered only some 6,000 followers, despite being interviewed on local...
---