---
February 11, 2010 10:19 AM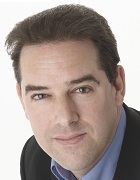 Profile: Bryan Glick
Orange
,
Outsourcing
,
research
Here at Downtime HQ we are accustomed to receiving regular PR-generated research, which on rare occasions sheds some insight into the workings of the IT world. In most cases though, the research exists for no other reason than to attract the interest of an under pressure hack with a quota of...
April 3, 2009 2:23 PM
research
Robots can do some amazing things these days: clean houses, assemble cars, perform surgery... walk.

That's right: computer scientists in Japan have broken through the glass ceiling of robotics by producing a prototype robot that might one day perform the job of a supermodel.

---
March 20, 2009 4:28 PM
Finance
,
research
It has been a year of mixed fortunes for Bill Gates.

The good news: he is back at the top of the Forbes rich list for 2009.The bad news: he has lost £12.2bn.

It is no wonder that the world is plunging into recession. The top five of the Forbes Rich List 2009 have lost about...
---
December 16, 2008 2:34 PM
research
,
Social networking
As all who read Downtime know, technology tends to be pretty predictable (Moore's Law still holds), but what people will do with it remains a mystery.
Take the latest modelling tool from the University of Warwick's department of...
---
November 18, 2008 11:18 AM
Hardware
,
research
In a boost for legacy IT systems, Downtime has learnt that a fridge-sized tape recorder is being used to unlock the secrets of space.
A 1960s IBM729 Mark 5 tape drive at the Australian Computer...
---
November 18, 2008 11:17 AM
crime
,
online
,
research
One in five children under 16 steals money from their parents by buying goods online...
---
November 18, 2008 11:15 AM
health
,
online
,
research
Google staff have devised a way to help predict and manage outbreaks of influenza by collating common flu-related search terms such as "headache" and "runny nose".
The company has compared past search terms to...
---
October 7, 2008 3:39 PM
research
The 21st century will see...
---
September 26, 2008 10:08 AM
research
...
---
September 26, 2008 10:02 AM
National news
,
research
Switching on the Large Hadron Collider underneath the Swiss Alps has had the unintended consequence predicted by chaos theory, namely the implosion of the world's financial system.
---