---
April 2, 2015 4:26 PM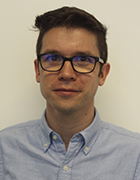 Profile: Alex Scroxton
Pac-Man
There used to be a kind of art to April Fools' Day.

In 1977, for example, The Guardian famously concocted an island state named San Seriffe, which was essentially a series of puns dreamed up by its sub-editors.

The newspaper memorably received a number of angry letters...
April 16, 2012 4:11 PM
Bob
,
Doodler
,
Drawing
,
Google
,
Pac-Man
---
May 24, 2010 10:17 AM
Google
,
Pac-Man
So Pac-Man turned 30 last week, and ageing Googlers glommed onto the chance to reprise it in its title page. Which led to a renaissance of demand for the pill-popping ghost hunter, which has tempted Google to make the game permanently available.
---