---
February 2, 2017 10:29 AM
Broadband
Because apparently, 77% of Brits are more likely to dump their partner than their broadband provider. At least, this was the main finding of a survey of 2,000 UK consumers conducted by broadband comparison site Cable.co.uk. Cable's team of crack statisticians...
September 14, 2016 10:51 AM
Broadband
Frustrated at the slow state of broadband in their area, a family of newts has moved house to take advantage of the opportunities provided by superfast fibre. A BT Openreach engineer found the newts getting comfortable among the telephone cables down a manhole in Coldingham in Scotland. Steve...
---
October 29, 2015 4:02 PM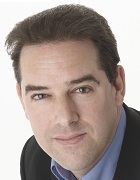 Profile: Bryan Glick
Cats
,
Internet
,
kittens
,
Uber
Downtime regulars may already know that in future, we won't own or buy stuff anymore, we'll all share with everyone else in a big, cuddly, let's-all-have-a-spliff-around-the-campfire, tree-hugging kind of way. To make this concept credible and allow politicians and business leaders not to appear...
---
August 13, 2015 3:00 PM
Broadband
,
BT
,
FTTP
,
Ofcom
Ofcom CEO Sharon White has discovered the secret of time travel, or so it would appear from a consultation document released on 13 August by the telecoms regulator.

The revelation that Ofcom has access to technology that baffles modern-day science was tucked away in a dense and lengthy...
---
March 27, 2015 12:13 PM
Cisco
,
Hacking
,
Hardware
,
Networking
Cisco has hit on a novel way to stop the US National Security Agency (NSA) from tampering with its networking kit by sending its customer orders to the wrong address.
The shady US surveillance unit was previously accused by notorious whistle blower...
---
January 6, 2015 11:10 AM
European Union
,
Website
Panic on the streets of Clacton, panic on the streets of Rochester, after the official website of the UK Independence Party (UKIP) dropped off the internet this morning, leaving the party's supporters bereft of policies and detractors bereft of ammo.

At first it was thought that someone...
---
November 27, 2014 10:06 AM
Load balancing
,
Network security
,
Thanksgiving
,
Turkey
It's fair to say Downtime is a fan of the fine American tradition of Thanksgiving. It's not so much the sentiment behind it (why hello mass genocide of native cultures), more the excuse to binge on massive amounts of food. It's sort of like a...
---
June 2, 2014 4:57 PM
Amazon
,
Apple
,
dash
,
Facebook
,
FItbit
,
Gartner
,
Internet of Things
,
smartphone
,
Wi-Fi
So the latest thing to help users buy more things is Amazon Dash - a grocery tool that connects to users' home Wi-Fi network and allows them to add items to their shopping list by simply saying it or scanning it.
"Say or scan items into your Dash, and...
---
February 20, 2014 12:23 PM
block
,
Porn
,
Wi-Fi
---
February 18, 2014 4:40 PM
Website
We all know political parties and their politicians are some of the most frustrating characters we will come across in our lives. They rarely say what they mean, shout like school children in their workplace and happily expense every cup of tea - or glass of Dom Perignon - out...
---