---
July 12, 2017 10:58 AM
Internet of Things
,
start-ups
To Shenzhen, China, where tech entrepreneur Zhao Shuping has had cold water poured on his business after his sharing economy start-up Sharing E Umbrella rented 300,000 umbrellas to damp locals,


RSS Feed

Email a friend
January 4, 2017 12:29 PM
Internet of Things
,
L'Oreal
Whilst combing through all the emails we over the Christmas holidays, Downtime came across a hair-raising little item; L'Oreal owned Kérastase is launching an internet of things...
---
September 20, 2016 12:36 PM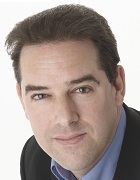 Profile: Bryan Glick
Internet of Things
,
iot
If you believe the hype (which, being experienced Downtime readers, we realise you won't), then you will know that we will all be getting around in driverless cars by about, ooh, Wednesday next week. Meanwhile, as manufacturers test their driverless dream machines, they are finding one or two...
---
March 18, 2016 9:26 AM
Internet of Things
,
twitter
Someone has finally found a use for London's ubiquitous pigeon population that involves fitting their fat, feathery bodies with tiny air pollution-detecting backpacks.
The bird-brained scheme has seen the Air Pigeon Patrol, as they are known, tracking...
---
June 2, 2014 4:57 PM
Amazon
,
Apple
,
dash
,
Facebook
,
FItbit
,
Gartner
,
Internet of Things
,
smartphone
,
Wi-Fi
So the latest thing to help users buy more things is Amazon Dash - a grocery tool that connects to users' home Wi-Fi network and allows them to add items to their shopping list by simply saying it or scanning it.
"Say or scan items into your Dash, and...
---