---
July 8, 2010 2:48 PM
Cringely
,
Dating
,
Google
Mature readers may remember Robert X Cringely, who wrote Accidental Empires, one of the first good looks at the Silicon Valley heroes of the 70s and 80s. The subtitle of the tome, which is still a Good Read, was "How the boys of...
May 24, 2010 10:17 AM
Google
,
Pac-Man
So Pac-Man turned 30 last week, and ageing Googlers glommed onto the chance to reprise it in its title page. Which led to a renaissance of demand for the pill-popping ghost hunter, which has tempted Google to make the game permanently available.
---
April 8, 2010 12:08 PM
fibre
,
Google
,
Network
When Google announced it would connect the US city of Topeka with a 1gbps fibre network for free, the mayor promptly renamed the city "Google" for the month of March.

The internet firm has been trialling a 50,000-user 1gbps fibre optic network as part of its "Think Big With A Gig"...
---
March 23, 2010 2:55 PM
Google
,
judge
A federal appeals court has said it is OK for a judge to search the net to confirm an intuition about a matter of common knowledge, in this case a yellow rain hat that featured in a criminal trial, reports the Grey Lady, aka, the New York Times. The appeals court endorsed the judge's effort...
---
March 11, 2010 9:37 AM
Google
According to the Wall Street Journal, Google has been testing its "television programming search service" for the past twelve months.

The idea is that viewers will be able to...
---
January 13, 2010 1:15 PM
China
,
Google
Less than a week passed before Google responded to Downtime's prod to stop censoring search results delivered to Chinese web users.
Well, we'd like to claim the credit, but we suspect...
---
January 7, 2010 10:35 AM
competition
,
Google
,
YouTube
Google, which in 2006 kowtowed to the Chinese government by censoring search results to Chinese internet users, is sponsoring three $10,000 prizes for contributions to online freedom of expression.

Google, in association with Global...
---
December 14, 2009 9:26 AM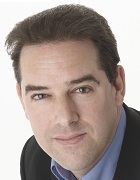 Profile: Bryan Glick
advertising
,
Google
,
Metro
,
Web
Imagine if you can, for a moment, that you are Google.
You have revolutionised the advertising industry. Billions of marketing dollars now flow your way. Traditional outlets for ads, such as newspapers and magazines, are facing disaster and many have already shut down. You are under...
---
---
---